Taken from article found at link above.
Until the world as a whole is vaccinated, and I'm thinking here of India, and other places, then we're never going to be completely out of this,' he said.
'This is a genuine externality problem, or public good problem, where we're all in this together and people in developing countries being vaccinated is as important as people in our own countries being vaccinated.'
With the highest case numbers in the world in the US, there has been 'a real urgency' to get vaccinated for public health reasons, he said.
Mr Sinodinos said Australia has not faced the same pressures because case numbers have been far lower.
'For us there's a real economic imperative to getting borders open,' he said.
'We have major industries like international education which require people coming in, immigration has been a big driver of Australian growth and that's really tailed off.'
Waiting until the whole world, including hard-hit developing countries like India, is vaccinated could trap Australians at home until well into 2022 or even 2023.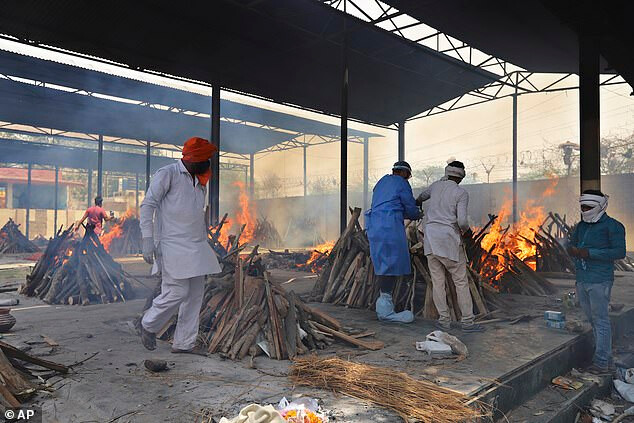 Australians could face unprecedented measures to prevent people returning from Covid-stricken India including jail time. Pictured are funeral pyres of coronavirus victims burning in New Delhi as relatives perform last rites at a crematorium