Available to Watch Now -
Safe and Effective: A Second Opinion.
Safe and Effective: A Second Opinion shines a light on Covid-19 vaccine injuries and bereavements, but also to takes an encompassing look at the systemic failings that appear to have enabled them. We look at leading analysis of pharmaceutical trials, the role of the MHRA in regulating these products, the role of the SAGE behavioural scientists in influencing policy and the role of the media and Big Tech companies in suppressing free and open debate on the subject.

FREELANCE JOURNALIST SENDS OPEN EMAIL TO UK MSM ASKING WHY THEY IGNORED MALHOTRA AND JAB FILM – Safe and Effective
Film Available on 21 November -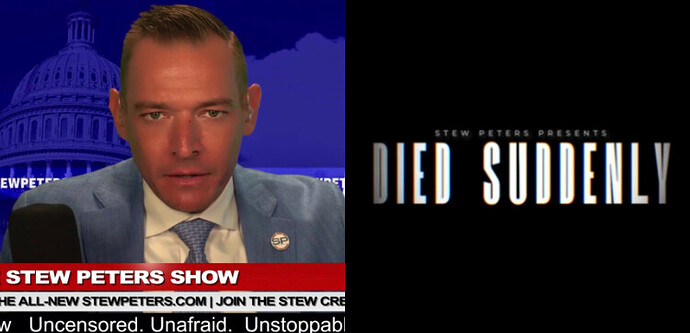 From the directors of "Watch the Water" and "These Little Ones", "Died Suddenly" will be released in November 2022, exclusively through the Stew Peters Network.
THE OFFICIAL TRAILER
Stew Peters' New Trailer for 'Died Suddenly' Film Goes Viral
SHORT CLIP FROM FILM: Depopulation was always the plan.
VIDEO - https://www.stewpeters.com/video/2022/10/excerpt-died-suddenly-november-2022/