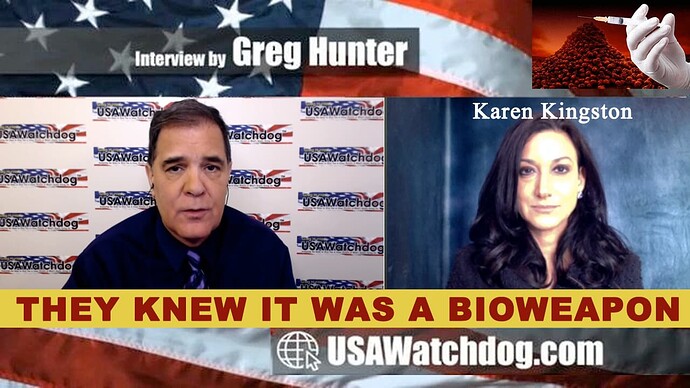 Must-Watch Video with Greg Hunter & Karen Kingston, a biotech analyst.
Kingston, who is also a former Pfizer employee, has researched and written about many aspects of the so-called CV19 vaccines. She has uncovered documents that prove everybody knew or should have known the deadly effects of these criminal injections. Kingston says documents with the drug makers, FDA and CDC listed the deadly and debilitating "side effects" of the injections. She shows that vaccine makers gave a list to the FDA of "side effects" or "possible adverse event outcomes" from the injections.

Kinston says, "Common side effects should be muscle aches, headaches, fever and pain. With these injections, common side effects are Guillain-Barre, . . . inflammation of your brain and your spinal cord, meningitis, stroke, narcolepsy, anaphylaxis, heart attack, myocarditis, pericarditis, auto immune disease, death, pregnancy and birth outcomes, fetal injuries, fetal mutations, spontaneous abortion. . . and vaccine enhanced disease. . . So, they knew this was not mild side effects.

These is literally their documents – see The Kingston Report - Intended Consequences: mRNA Vaccines were Designed to Cause Severe Disease and Be Resistant to Antibodies

This information is just the tip of the iceberg, which show how really sick and perverse these CV19 injections are."

Kingston asks, "How much longer are doctors going to defend the safety of these injections? Why are people not waking up? Their trusted leaders and their family doctors are telling them these mRNA injections are safe and effective. . . . In legal terms, it is the definition of extrinsic fraud. . . . These are gene editing technologies, and the FDA does not have the right to call these injections a vaccine. They are not even gene therapies because they cause disease, disabilities and death. . . . They are bioweapons."

Kingston goes on to say, "This is fraud. The claim that these injections are safe and effective are all based on fraud. It is blatant misrepresentation of facts to the American people. This was parroted and repeated to the American people through the mainstream media as well as through all of the healthcare organizations. We are in a real pickle, we really are because those who know the truth are being hammered down, myself included. This is premeditated battery and murder of adults and children. They knew what was going to happen, and they authorized it any way. Keep in mind, your entire medical industrial complex, which includes your local family practitioner, nurses and pediatricians, went along with it. Why? If they were not getting large financial incentives and being pressured to go along with it, they would have never stuck these shots in people's arms. . .

Continued at Everybody Knew CV-19 Vax Was a Criminal Bioweapon – Karen Kingston | Greg Hunter's USAWatchdog link.

To look at some of the data and documents Kingston shows to prove the CV19 vax is a criminal act of releasing a bioweapon on an unsuspecting public, go to the kingstonreport@substack.com.