Please consider these Teaching References of Truth concerning Zammit's message, because Zammit is blind and leading Gibraltar astray:
---
Zammit: What a gift it is to celebrate this beautiful feast, the feast of Christmas. Christmas brings us the gift of love, the gift of joy, the gift of peace, and the gift of faith, all incarnate in one person, that of Jesus Christ. In other words, Christmas, is Christ's day: the day we celebrate the birth of Jesus Christ at Mass!
Christ hates Christmas – X-MASS - YULETIDE A PAGAN FESTIVAL (which is actually condemned by Christ). CHRIST'S OPINION of SANTA CLAUS and YULETIDE, as expressed by HIS ANGEL, to HIS APOSTLE JOHN, in THE APOCALYPSE, Chapter 2.
Zammit: As we gather with our family and friends, let us give thanks to God for the gift of his Son, who in him we have new life and through him, we have hope in eternal life. Let's pray that, as we celebrate the birthday of Jesus Christ, our Lord, we may be filled with faith, and our hope may be renewed in him.
Christ Jesus wasn't born in the dead of winter. This is false teachings. He was born in the Spring like all sacrificial lambs. Thus, you are not celebrating his birth, but a pagan holiday – a manmade tradition.
Zammit: This celebration is focused on gift giving and gift receiving, and rightly so. There is a mystery behind it. The Mystery of the God becoming one of us is God's greatest gift to the world! Just like any gift, God's gift needs to be received in order to provide that joy that it entails to give.
The mystery of God has been revealed. And the greatest gift – so far Gibraltar hasn't embraced it.
"With this Book, the mystery of God is now finished, and His truth published, and soon, it and the Gospel of The Kingdom will have been published, to all nations (Mark 13:10)." – The Way home or face The Fire.
Zammit: Imagine a town who has been living in darkness for years, and suddenly, they see a great light! At first, their eyes might be blinded, but then, through time, they begin to see the light and begin to see and walk in confidence, knowing where they are going.
Visualize Christ in your midst. See the Great Light of the World, Who has His sights on The Rock of Defence.
Zammit: When we allow God to enter our lives, and we give Him the right place in our heart, light begins to shine through, and we become able to see more clearly and walk in confidence regardless of the trials that might surround us. That is the joy that believing in Christ brings!
It requires more than believeing in Him, it requries just BELIEVING HIM.
John 3:15 That whosoever believeth him should not perish, but have Eternal Life.
John 3:12 If I have told you earthly things, and ye believe not, how shall ye believe, if I tell you [of] heavenly (spirit) things?
John 3:5 Jesus answered, Verily, verily, I say unto thee, Except a man be born of water (human) and then is born (later) from above as his spirit-"Being" (his REAL self which is NOT human), he can NOT enter into The Kingdom of God (Who is a Spirit-"Being").
John 3:6 That which is born of the flesh is human; and that which is born of the Spirit is spirit (a spirit-"Being") - (a human+Being).
John 3:7 Marvel not that I said unto thee, Ye must be born again.
Zammit: This babe in a crib is the Great Light of God that brings joy to the world! He was born in a manger, in a difficult situation. Yet, Angels descended to announce his birth, Wise Kings from faraway lands came to recognise his divinity.
These wise men were druids who travelled from Britain in the Isles Afar off; and it took them a couple of years to reach him.
VATICAN CONFIRMATION that JOSEPH of ARIMATHAEA (the VIRGIN's uncle) went to ENGLAND and continued the Conversion of the BRITISH.
John 12:35 Then Jesus said unto them, Yet a little while is the Light with you. Walk while ye have the Light, lest darkness come upon you: for he that walketh in darkness knoweth not where he goeth.
John 12:36 While ye have Light, believe in the Light, that ye may be the Children of Light.
Zammit: To some it might be hard to be joyful in times of distress, hardships or illness. To others, it might be difficult to celebrate without dear ones who have passed away, moved away, or are no longer present in their lives. To those who are lonely this festive period, I would like to remind you: God loves you! God sees you! God hears you! You are not alone in your sorrow. The whole family of God is praying for you.
And The Lord sees what the government is doing to cause the sorrow –
Zammit: May God bring peace to those who find themselves in difficult situations. May they receive good news just like the shepherds in the field received good news from the angels who announced that Jesus was born in Bethlehem.
May God bring the Prince of Prince's recognition in Gibraltar –
Why Has Christ Chosen Gibraltar?

Deuteronomy 7:7 The "I AM" did not set His love upon you, nor choose you, because ye were more in number than any people; for ye [were] the fewest of all people:
Deuteronomy 7:8 But because the "I AM" loved you, and because He would keep the Oath which He had sworn unto your fathers, hath the "I AM" brought you out with a mighty hand, and redeemed you out of the house of bondmen, from the hand of Pharaoh king of Egypt.
Deuteronomy 7:9 Know therefore that the "I AM" thy God, He [is] God, the faithful God, which keepeth Covenant and mercy with them that love Him and keep His Commandments to a thousand generations;
Deuteronomy 7:10 And repayeth them that hate (or disobey) Him to their face, to destroy them: He will not be slack to him that hateth (or disobeyeth) Him, He will repay him to his face.
Deuteronomy 7:11 Thou shalt therefore KEEP the Commandments, and the Statutes, and the Judgments, which I command thee this day, to DO them.
Zammit: I pray that Christmas for each of us is a joyful moment to hear the Good News once again
But you are not listening to the Good News – On The Way to Emmaus Again (Scripture explained again at the end of the 20th Century)
The Church Disobeys God and Christ: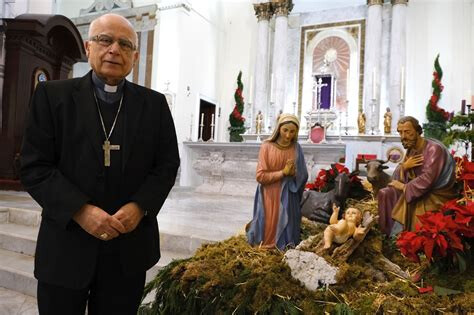 Matthew 23:9 And call no [man] your father upon the earth: for one is your Father, which is in heaven.
Deut 4:16 Lest ye corrupt [yourselves], and make you a graven image, the similitude of any figure, the likeness of male or female – God's Law
---
More on Defending-Gibraltar About Carmel Zammit:
The Pretend Bishop Upon This Rock