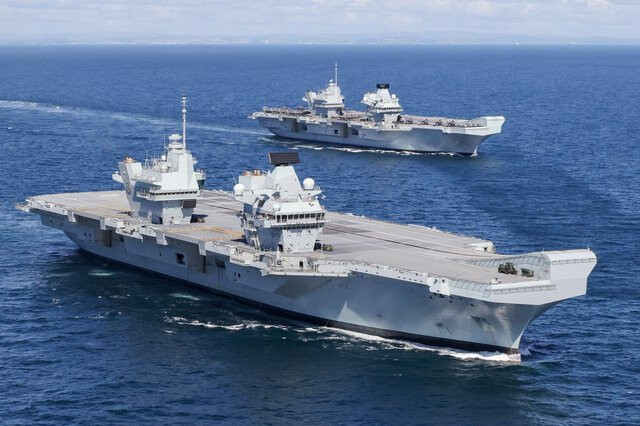 HMS Prince of Wales and HMS Queen Elizabeth pictured at sea for the first time. Wednesday 19 May 2021 saw a historic moment in Britain's carrier renaissance as HMS Queen Elizabeth and HMS Prince of Wales met at sea for the first time.
In Terms of The Ships
New upgrade to Royal Navy aircraft carriers HMS Queen Elizabeth and HMS Prince takes them to 'new level':
Winston Mahaffy, managing director of Thales' naval communications business said the ship's comms systems before the upgrade was already 'world-leading'.

'But this upgrade takes the carrier's capability to a whole new level, enabling the carrier as a cutting-edge command platform for both the Royal Navy and other navies which is such an essential feature of international naval operations today,' he added.
Both Royal Navy Aircraft Carriers Sailed Together For First Time:
In terms of Saber-Rattling
We Believe in 'Law of the Sea': Boris Johnson Ahead of Show of South China Sea Naval Force:
British Royal Navy aircraft carrier HMS Queen Elizabeth set sail for a seven-month-long voyage to Asia. During a recent visit to Portsmouth Naval Base in the southern English coast, Prime Minister Boris Johnson said the deployment will show "our friends in China" that Britain believes in the "international law of the sea... We don't want to antagonize anybody, but we do think that the United Kingdom plays a very important role, with friends and partners, the Americans, the Dutch, the Australians, the Indians (and many others)..."
On the Flip Side –
South China Sea: Royal Navy Leads Carrier Flotilla To Contested Waters:
China and its territorial ambitions in the South China Sea face another hurdle as UK's biggest warship HMS Queen Elizabeth set sail to the disputed waters on its maiden operational voyage.

While the task group will visit India, Japan, South Korea, and Singapore, the voyage through the South China Sea is seen by many as a significant move aimed at countering China's increasing belligerence in the region.

Describing Beijing as "the biggest state-based threat to the UK's economic security," the review had stressed Britain's plans to increase its military presence around the world.> According to the UK Defense Ministry, the flotilla will be the largest concentration of maritime and air power to be deployed from the UK in a generation. "When our Carrier Strike Group (CSG) sets sail, it will be flying the flag for Global Britain -- projecting our influence, signaling our power, engaging with our friends and reaffirming our commitment to addressing the security challenges of today and tomorrow," UK Defense Secretary Ben Wallace said
Royal Navy warship 'expelled from Crimean coast' by Russian forces, FSB reveals – Royal Navy warship 'expelled from Crimean coast' by Russian forces, FSB reveals
October 2020, but has only been made public now – A British Royal Navy destroyer has been 'expelled' from waters off the Crimean coast after crossing into Russian territory, Russia's security service claims. However, the Ministry of Defense on Thursday categorically denied Russian claims.
In Terms of Technology
British Royal Navy Tests Jet Suits That Will Let Officers Fly:
The officer is then seen flying above the waters and landing on the deck of the navy's offshore patrol ship, HMS Tamar. The officer is wearing the suit that consists of a machine strapped onto him like a backpack.
Side Note on Defense Technology:
SIGN4L Signs MoU with European Defence Entities MBDA and CILAS to Explore Cooperation in High-energy Laser Weapons Systems:
What are HIGH ENERGY LASER WEAPON SYSTEMS: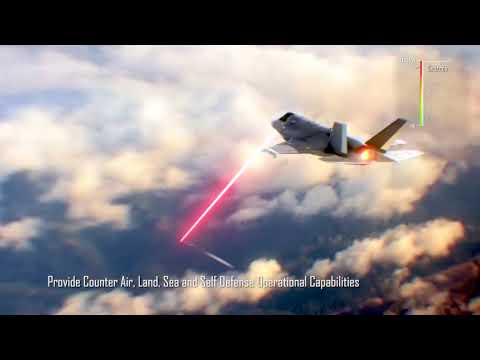 In Terms of Finances
Royal Navy, Army and RAF have a £17bn budget blackhole with delays on most major projects, MPs told
It came after anger that companies from Italy, Spain, Japan and South Korea were all in the running for the £1.5billion contract, and a campaign was launched to ensure the three ships would be built in the UK.
Royal Navy 'made in Britain' £1.6billion carrier support ships could be mostly built abroad
In Terms of Espionage
In the world of espionage and war games, shell companies of the Chinese Communist Party won't get contracts could very well be getting contracts, as well as "obtaining" military secrets through agents loyal to the CCP.
Here's an example: Chinese Spies Sending British Military Tech Secrets to CCP Will Be Arrested Soon:
In Terms of Biblical Prophecy
Disciples of Jesus Christ asked Him, "Tell us, when shall these things be? and what [shall be] the Sign of thy coming, and of the end of the world?"
Matthew 24:6 And ye shall hear of wars and rumours of wars: see that ye be not troubled: for all [these things] must come to pass, but the end is not yet.
24:7 For nation shall rise against nation, and kingdom against kingdom: and there shall be famines, and pestilences, and earthquakes, in diverse places.
24:8 All these [are] the beginning of sorrows.
World War 3 – The Second of its Three Woes/Phases The way of the kings of the East (eastern block - the U.S.S.R. and China re-united) might be prepared.
The SIGNS of The END Times – CLIMATE CHANGE - HELPS CAUSE ARMAGEDDON
THE FOUR HORSEMEN OF THE APOCALYPSE and THE TWO WITNESSES (UK and USA)