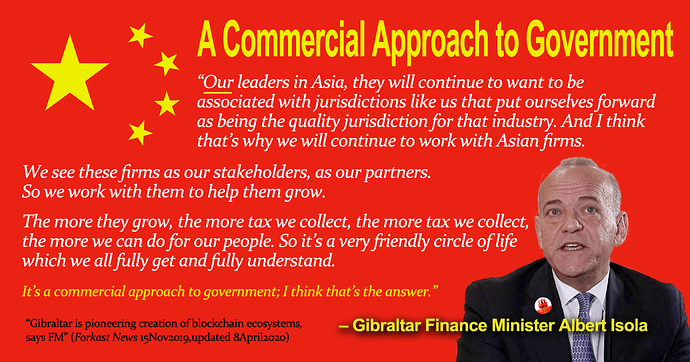 The Bible instructs us to judge a tree by its fruit. Well, Isola's fruit is looking a bit overripe. Is he rotten to the core? Why are politicians in a Christian Democracy so in love with atheist communist China?
He appears quite at home in Hong Kong and hob-knobs with Chinese leaders. It's treason to betray your own country for financial gain, no matter how much "Evil" gets twisted into being called good for those back home. (Isaiah 5:20)
Ask yourself, "who's making the big money?" If one does a search on all the companies (active, dissolved, shell) and the people associated with them, you'd see a pattern that whoever plays "Company House" together, stays together. https://beta.companieshouse.gov.uk/
Gibraltar's Finance Minister is on board with bringing in a digital world, as well as many others in Gibraltar who hope to make a "killing". But is that what the whole of Gibraltar wants, because there is a resistance movement against a cashless society, mass surveillance, digital identities, and a stupid SMART-TRACK city.

DOT 1: The Fruit of Albert Isola
WHERE are the leaders of Gibraltar located? Why does Albert say "OUR leaders in Asia". Why does he think "A commercial approach to government is the answer?" Isn't that Fascist, where corporations run the government? Please read between the lines: https://forkast.news/listen-gibraltar-minister-albert-isola-on-how-the-rock-leads-in-blockchain-regulation/

DOT 2: COLLABORATION with China
The Hainan Free Trade Pilot Zone represents a key gateway for China to implement innovation-driven development strategies, increase engagement in cutting-edge areas such as the digital economy, and build a world class "Free Digital Port". Albert Isola attests to the strong spirit of COLLABORATION that is central to sustaining blockchain development globally, as well as China's increased engagement with the international DLT community. https://www.beltandroad.news/2019/12/08/gibraltar-minister-opens-china-blockchain-silk-road-forum/

DOT 3: Signed Agreements
Gibraltar signed a MOU with Huobi Group to have more cooperation on encryption techniques. In 2018, China's Huobi Group became leading blockchain company in Gibraltar, according to Albert Isola.

DOT 4: Read the Fine Print
A MOU signed by Albert Isola and Jianing Yu, president of Huobi Univ, to explore the development of blockchain education/research.
Wonder if China helped fund, build or otherwise facilitate in the creation of the University of Gibraltar. Was it funded from the £300 million loan, which they are hiding where it came from?

DOT 5: China Pressures Universities
China puts financial, political & diplomatic pressure on British universities to comply with #Beijing's political agenda. #China also adds conditions to research & educational funding agreements.
Wonder if the University of Gibraltar will be pressured by China and its agents.

DOT 6: Gibraltar Mimics China
Both Wuhan and Gibraltar plan to test entire population for coronavirus. What do you know: the new Gib testing lab has been set up at University of Gibraltar. Surprise, surprise. It's been reported that the tests are already tainted with the virus and actually give it to people.

DOT 7: Isola at Home in Hong Kong
Gibraltar's Commerce Minister Albert Isola visits Hong Kong and the Chinese mainland to tout the synergies fostered in collaboration between the Guangdong-Hong Kong-Macao Greater Bay Area and the British territory.
http://www.chinadaily.com.cn/hkedition/2019-06/28/content_37485725.htm

DOT 8: Gibraltar as a Chinese Gateway/Territory
Albert Isola, minister for commerce in the government of Gibraltar, pointed out that the United Kingdom overseas territory is an ideal fit for Chinese companies. Gibraltar could be a gateway for China to enter UK.
http://africa.chinadaily.com.cn/business/2017-11/02/content_34014241.htm

DOT 9: The BRI Trojan Horse
Gibraltar's Interest in China's Belt and Road Initiative Might NOT BE in the Best Interest of Gibraltar Gibraltar-Messenger.net