" A Global Gibraltar – That's The Plan " is the focus of the latest Gibraltar Messenger. This is a detailed report on how the plans of globalists are alive and well on The Rock. It answers questions about why Gibraltar politicians are moving forward to build back Gibraltar in a green, sick way.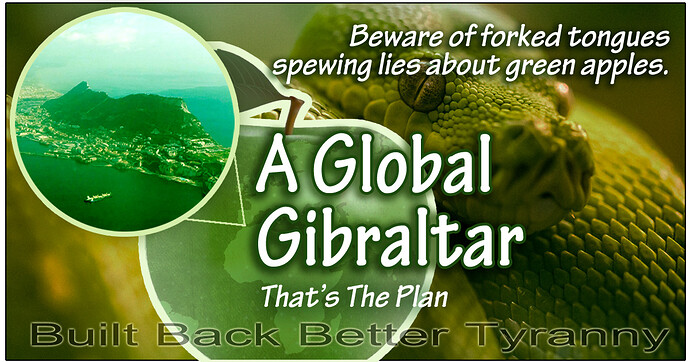 Evil always puts a twist on Truth, by calling "Evil" Good.
Isaiah 5:20 Woe unto them that call evil good, and good evil; that put darkness for Light, and Light for darkness; that put bitter for sweet, and sweet for bitter!
Gibraltar Messenger's " A Global Gibraltar – That's The Plan " will answer WHY the Government of Gibraltar is going beyond what many Gibraltarians consider to be GoG's responsibility, scope, or even outlined in their manifesto.
There is a simple reason; but it must be understood in a global context – which is why the report is a MUST-READ and a MUST-SHARE.
Understanding it in a global context is a bit intricate, but the report will take you through the ins and outs of what the globalists have planned; which includes a global Gibraltar. Their GoG minions must comply.
The direct link to this report on Gibraltar Messenger is
www.gibraltar-messenger.net/#globalgib
Additionally, it is important to understand that the pale, green horse of the Apocalypse arrived long ago:
"The fourth horseman of the Apocalypse rode a pale horse. "And I looked, and behold a pale horse: and his name that sat on him was DEATH , and HELL (fire) followed with him. And power was given unto them (the four horsemen) over the fourth part (1/4) of the earth, to kill with sword (weapons), and with hunger, and with death, and with the beasts of the earth." This horseman rode on a pale / sick horse ( sickly GREEN in the Greek original text). The fourth horseman represents pollution and nature dying ( sickly green ) with famines; pestilences and plagues brought about by climatic changes caused by deforestation and pollution." ( THE FOUR HORSEMEN OF THE APOCALYPSE and THE TWO WITNESSES )
Now, that the-powers-that-be and all their corporations have polluted the earth, T.H.E.Y. want YOU to pay to clean it up; however, the damage is already catastrophic and prophecy is still in perpetual motion.
Actually, T.H.E.Y. don't really want to clean it up, T.H.E.Y. just want YOUR money, because they take after their father The Devil, The Destroyer. They are just using that as an excuse for their technologic New World Order to rob, kill and enslave most of mankind – which is again Prophesied in The Bible.
John 8:34 Why do ye not understand my speech? [even] because ye cannot hear my Word.
John 8:35 Ye are of [YOUR] father the devil, and the lusts of your father ye will do. He was a murderer from the beginning, and abode not in the Truth, because there is no Truth in him. When he speaketh a lie, he speaketh of his own: for he is a liar, and the father (inventor) of it.
Revelation 9:11 And they had a king over them, [which is] the angel of the Bottomless Pit, whose name in Hebrew [is] Abaddon (Destroyer), but in Greek [his] name is Apollyon (Destroyer - Satan).