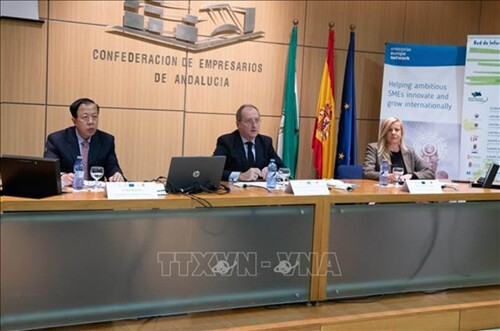 Given that the EU-Vietnam Free Trade Agreement (EVFTA) took effect August and the EU-Vietnam Investment Protection Agreement (EVPIA) has already ratified by Vietnam and is pending ratification in the EU, Vietnam Ambassador to Spain Hoang Xuan Hai said Vietnam-Spanish ties have a good chance to thrive further.

He made the statement at a forum on new business and investment opportunities in Vietnam for Spanish companies co-held by the Embassy of Vietnam and the Confereration of Entrepreneurs of Andalusia, held in Sevilla on Nov 8-9.

Hai said he wants to cooperate with the CEA to help Spanish firms explore opportunities in the Vietnamese market, especially in hi-tech agriculture.

Read more at link.
Interesting that earlier this year, Vietnam agreed to purchase Spain's HIPRA Covid vaccine.
And then there's another Vietnamese angle on the Iberian Peninsula - Asian-owned Bank Given £330 Million 'Affordable Housing' Deal in Gibraltar.