Resist & Act Protest – Sunday Updates:
News, Tweets, Videos: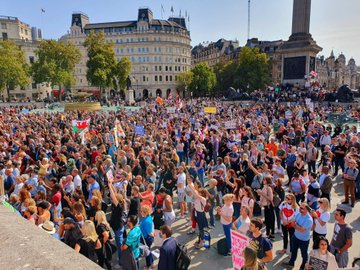 Kate Shemirani tweet -
Interesting thread of people responding to her tweets like, "The police have become a political tool. Cowards too."
Here is a tweet of police footage in rapid formation in a thinned out crowd:
Here is some footage of Kate at the protest (first 4mins of 7min). She called for C. Dick to be arrested; also saying she was assaulted by police, not arrested. Goes into the legislative actions about what they are planning – Be ahead of the opponent and know their plans, we know their plans:
And from Evening Standard - the government narrative:
(Once you've read one MSM article on the event, you've read them all).
They were going to have to make arrests (on the thinned out crowd) to save face – and to make "an example" which is going to make the news cycle. They hope to scare people into not protesting because they too might "get arrested".
God knows who is fighting the good fight for Him.
This demonstration focused on the medical experts, but you won't see this reflected in MSM; and none of these speakers will be treated with the respect they deserve by the traitors in the government or media.
Anna Brees Interviewed them It's in the tweet, not on her channel as yet:
And look at what the speakers said if you like:
Here is Dr. Andrew Kaufman's address (11min):

Here is Carrie Madej speech (11 min):
Dolores Cahill's speech. She was there (12min):
David Kurten's (current politician running for Mayor and past chemistry teacher). His speech (6min):
Another side of the story (the protesters) – from Bradlee Dean of Sons of Liberty, who live-streamed the event.
Please watch the last 3 minutes (start at the 15min) mark. This is where Bradlee reports on the aggressive police force with accompanying footage:
They didn't even need to be there - this was peaceful protest, he commented.
Scenes in under a minute - it was a peaceful protest:

Scene in under one minute of the protesters peacefully pushing the police back: