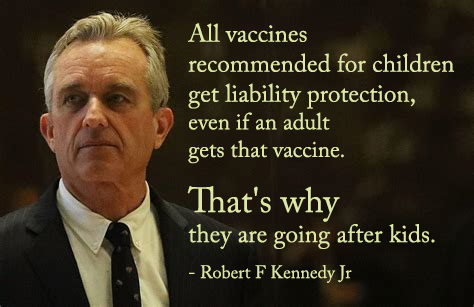 https://www.bitchute.com/video/iWcserfu6Wow/
Robert F. Kennedy Jr Interview -

They have to give it to kids. Here's why. They cannot market this vaccine without having an immunity shield. I sue pharmaceutical companies for a living... If they went ahead and marketed vaccines where they ended up killing or harming people... they are never going to market a vaccine, allow people access to an approved vaccine without getting liability protection.

The emergency use authorization vaccines have liability protection...Once they get approved, now you can sue them...

UNLESS THEY CAN GET IT RECOMMENDED FOR CHILDREN.

All vaccines recommended for children get liability protection, even if an adult gets that vaccine. That's why they are going after kids.

They know this is going to kill and injure a huge number of children, but they need to do it for the liability protection.

Here's how they know it's going to injure kids. During the Pfizer study, they only tested it on 1300 children... Mattie is an example - she went into seizures and now is a wheelchair for life and fed through a tube. Pfizer reported her injury as a stomach ache.