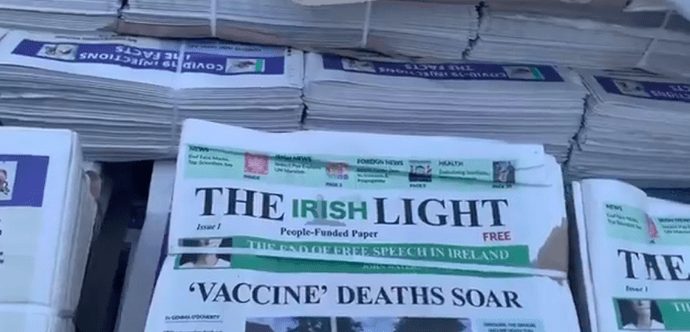 https://gemmaodoherty.com/investigations/the-irish-light-has-arrived-a-newspaper-unafraid-to-tell-the-truth/
The help to distribute it go to https://thelightpaper.co.uk/distribute
Grandmother jailed for 90 days over refusal to wear face mask
This woman is taking a stance to end the tyrannical mandate of wearing a mask in Ireland.
Her reward from the policy enforcers is 90 DAY JAIL SENTENCE
Judge cites failure to take 'basic care for protection' of health and safety of citizens
A 66-year-old grandmother has been jailed for 90 days by a judge who said she had shown scant regard for the safety of others when refusing to wear a face mask in shops.
Margaret Buttimer, of St Fintan's Road, Bandon, Co Cork, appeared at Bandon District Court charged with twice not wearing masks at SuperValu, Riverview Shopping Centre, in Bandon on June 25th and July 1st.
She was charged with contravening section 31A (1) of the Public Health Act 1947 as amended by 2020 legislation to prevent, limit, minimise or slow Covid-19's spread by refusing to wear a mask in the shop.