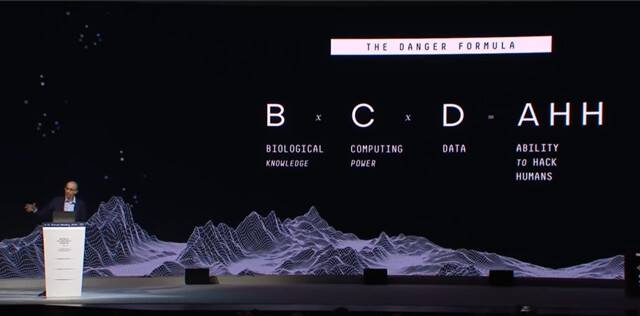 Tech arms race 'will give corporations, governments the ability to hack human beings': Yuval Harari at WEF
The tech arms race between the US and China will soon give corporations and governments the ability to hack human beings, and the loser will be humanity itself, says noted historian Yuval Harari at the World Economic Forum.

Juxtaposed alongside the CEO of Huawei — a company that has been blacklisted by the US government — Harari warned the Davos crowd that a future shaped by a technological arms race could represent an upheaval in society with humanity and political systems being the stakes.

"There is a lot of talk about hacking computers, smartphones, emails, bank accounts, but the really big thing is hacking human beings.

"To hack human beings you need a lot of biological knowledge, a lot of computing power, and especially a lot of data. If you have enough data about me and enough computing power and biological knowledge, you can hack my body, my brain, my life. You can reach a point where you know me better than I know myself.

"And once you reach that point, and we are very close to that point […] and we have no idea what happens once we pass that point," the historian added.

Continued at link.
Related article -
While AI and biotech are giving humans abilities to re-engineer life itself, humans are still hackable animals, and the threat of digital dictators lording over data colonies is a realistic threat, according to insights from the World Economic Forum.

In his speech on How to Survive the 21st Century historian Yuval Harari outlined how technology could be used to alter the future of humanity in extremely dystopian ways.

These include the creation of a "useless class" of humans, the rise of digital dictatorships with their new forms of totalitarianism, and biohacking humans to the point where they either become "godlike", or they lose all of their spirituality.

Harari warned that AI in the 21st Century could create a "useless class" of people who will have become irrelevant to the economic and political system through automation.

Some of Harari's predictions are already taking place now.

Continued at link.
The serpent continues to tempt man -
Dueteronomy 3:3 But of the fruit of the tree which [is] in the midst of the garden, God hath said, Ye shall not eat of it, neither shall ye touch it (the tree of the knowledge of evil - the devil), lest ye die.
3:4 And the serpent (devil - liar) said unto the woman, Ye shall not surely die:
3:5 For God doth know that in the day ye eat thereof, then your eyes shall be opened, and ye shall be as gods, knowing good and evil.
3:6 And when the woman saw that the tree [was] good for food, and that it [was] pleasant to the eyes, and a tree to be desired to make [one] wise, she took of the fruit thereof, and did eat, and gave also unto her husband with her; and he did eat.