Risking China's ire, 7 countries helping Taiwan's secretive submarine project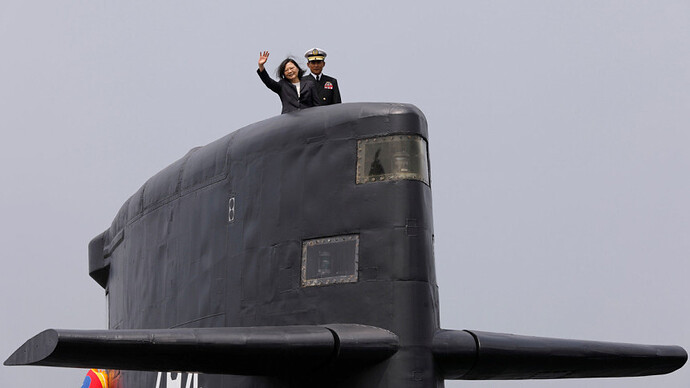 "Commodore Ian McGhee, a former senior officer in the British navy, and Gavron Ltd., an Israeli company based in Gibraltar, have played a significant role by supporting Taiwan's submarine program." – According to this additional article: Taiwan initiates movement to develop indigenous submarines, disregarding Chinese opposition and pressure
For more than two decades, Taiwan tried to buy a fleet of modern conventional submarines to fend off an existential threat – invasion by China. There were no takers.

Now, as China under President Xi Jinping steps up its military intimidation of Taiwan, an array of foreign submarine-technology vendors, with the approval of their governments, are aiding a secretive program to build subs in Taiwan. Taipei has stealthily sourced technology, components and talent from at least seven nations to help it build an underwater fleet with the potential to exact a heavy toll on any Chinese attack.

Taipei's chief foreign weapons supplier, the United States, has provided key technology, including combat-system components and sonars. But assistance is coming from far beyond America.

Defense companies from the United Kingdom, which like America operates a fleet of nuclear-powered ballistic missile and attack submarines, have provided crucial support.

A veteran of Britain's Royal Navy submarine fleet, retired Commodore Ian McGhie, was a key figure in the drive to recruit submarine expertise, according to a person familiar with his role. McGhie helped a Gibraltar-based company hire engineers including former Royal Navy sailors, the person said.

Britain also has approved multiple export licences in the past three years for UK companies to supply submarine components, technology or software to Taiwan, according to information from the Department for International Trade obtained via a Freedom of Information request.

The value of submarine technologies approved for export from the UK to Taiwan has grown exponentially in recent years.

Taipei also succeeded in hiring engineers, technicians and former naval officers from at least five other countries: Australia, South Korea, India, Spain and Canada.

More at link.