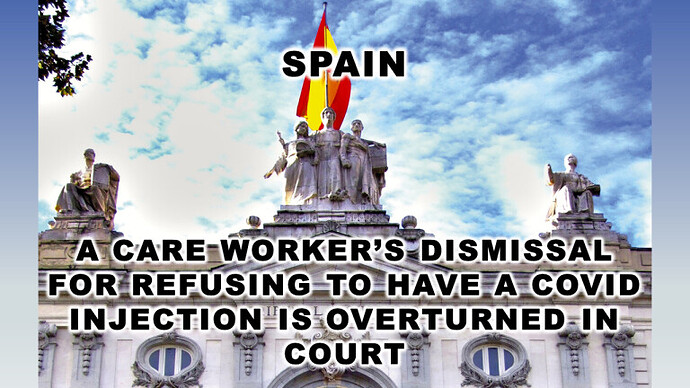 The plaintiff worked in a care centre with more than 40 employees of which three refused to receive the Covid injection. One of the three employees who refused to take the injection had a temporary contract that had been renewed up to four times and that, after refusing to be injected, was not renewed. The second employee ended up being injected and the third, who was the plaintiff in the case, was fired for disciplinary reasons, and appealed her dismissal in the courts.

The Court concluded that the dismissal for disciplinary reasons was a façade and the true reason for dismissal was to terminate the contract because the employee had not been injected.

The Court ruling referred to: the doctrine of the Constitutional Court on invasive medical treatments in which it rejects the obligation to subject people to a specific medical treatment; and to a recent ruling of the Supreme Administrative Court, which rejected the obligation to subject nursing home staff to antigen and PCR tests.

The court ruling indicates, if the worker had been "vaccinated" in order to avoid her dismissal, it would have entailed an injury to her right to physical integrity, since it would have been against her will. Therefore, the judge declared the dismissal void and ordered the company to pay a fine of EUR600 but rejected the care worker's claim of EUR50,000 compensation, taking into account the social reality of the moment in which the rules have to be applied.

Article Continues on Daily Expose.
Testimonies Out of Spain:
Health professionals' testimonies (Spain hospitals)
Adverse Reactions Out of Spain:
Young boy takes a nose dive after vax - not pleasant to see but we must not turn our heads away!
Footage from Spain. The translation for this video is "Just got vaccinated"
Footage of 3 people in Spain fainting after getting the covid19 vaccine!
Lady in Spain faints after getting the jab at a covid19 vaccination site!
More on Spain and the Plandemic:
Spain: Top Court Rules Coronavirus Lockdown Unconstitutional
Top court in Spain's Andalusia rejects plan to make 'Covid-19 passports' mandatory to visit nightclubs
Spain: Protesters demand government resignation over handling of COVID crisis
Spanish biostatistician and a doctor presents evidence of graphene nanoparticles in the vaccine – Urgent Message - Graphene Oxide In All New Vaccines, Masks & Test Kits