IMHO: Not to discredit the testimony of survivors and no doubt we battle with demons. But, T.H.E.Y. have created reptilian-like creatures through their genetic experiments. The reptilian creatures are "alien" (to the human + being race), but they are not extraterrestrial. They were made here on Planet Earth with the help of Satan (their master). There are witnesses to these creatures. It is true they are reptilian-like. They do not speak (as we understand speaking). It has been said they are telepathic. Because of their abilities, they are hard to kill. They are dangerous to the human race being carnivores. They are terrestrial and not from outer space. God won the war in the heaven. Heaven is not a place harboring evil entities. Evil was cast down from heaven.
Thank-you, Nancy.
She said she saw Elizabeth turn into a lizard.
Thank-you again, Gareth.
The morphing into a lizard-like creature is not a rare occurrence in the testimonies of SRA survivors and was depicted in the film (Rosemary's Baby) by a pedophile: director Roman Polanski. The perpetrator morphs into the devil (lizard-like) depicting demonic possession.
Its in the film Conan The Barbarian also. The actor who plays Darth Vader.
It is reported that these images are from a ceremony initiating Elizabeth 2 (prior to her coronation in 1953) into the Mystic Circle of Bards (pagan druids) at the national festival at Mountain Ash; Glamorgan, Wales; August 1946.
Elizabeth Windsor, commonly known as Queen Elizabeth, whose real name is Saxe-Coburg-Gotha, and her husband, Philip Schleswig-Holstein-Sonderburg-Glücksburg, commonly known as the Duke of Edinburgh, are rapists, child molesters, and murderers–pure and simple.
Royal Human hunting parties are real
https://www.takecare4.eu/royal-human-hunting-parties-are-real/
Buckingham Palace is at the center of a vast pedophile network
The Royal family is a common factor in the Child Sexual Abuse scandals associated with:
Kincora Boys' Home; the Elm Guest House; Dolphin Square; Bryn Alyn/Bryn Estyn (North Wales abuse scandal);
the Paedophile Information Exchange; Haut de la Garenne; and Duncroft
...
77 Rapists and pedophiles: The Royal family's circle
77 extraordinary friends, personal staff, relatives and business partners of the Royal family...
Unnamed members of the Royal Household. The late Member of Parliament, Geoffrey Dickens, has alleged that the four palace staff abused a Buckingham Palace male employee who was aged just 16 at the time

Queen Mother's Senior Aides (x4). Christopher Lawler, the Queen Mother's footman, has alleged that a group of four senior aides to the Queen Mother sexually assaulted him

Prince Andrew, Duke of York. Virginia Roberts Giuffre has alleged that Prince Andrew sexually assaulted her (statutory rape) -- knowing her age, and further realizing that she was a victim of Jeffrey Epstein's sex trafficking enterprise with Ghislaine Maxwell. Further, Virginia Roberts Giuffre was below the age of consent in New York State. (See also the entries below for Epstein and Maxwell)

Tony Aslett. The Buckingham Palace tour guide was arrested at the Palace and pleaded guilty to seven county of making indecent images of children
Queen Elizabeth II
Revealed: Peter Hayman, paedo, spy. Tinker, Tailor, Soldier, PIE
"Hayman was awarded the CVO in 1965, an honour granted by the Queen personally. It is unlike most other honours which are given by the Queen on advice from the government ...
"[Police] raided a flat that [Hayman] rented in Notting Hill, central London. There, the police found 45 volumes of obscene diaries in which Hayman described paedophile fantasies. Police discovered that he was a member of
the Paedophile Information Exchange (PIE), which promoted sex with children."
https://exaro.news/revealed-peter-hayman...oldier-pie
John Henniker-Major "provided a sanctuary on his country estate at Thornham Manor in Suffolk to Peter Righton, who supplied boys to paedophile MPs at Dolphin Square and elsewhere."
The Queen "... liked [Henniker-Major] so much that she awarded [him] the CVO, an unusual honour in that it is granted by her personally. Most other honours are given by the Queen on advice from the government."
"Hubert Chesshyre was recognised for services to the Queen after holding multiple senior positions in the royal household ...
"He abused a teenage chorister in the 1990s ... The choirboy he abused believes that Chesshyre may have abused other youngsters. The victim [said]: 'I know of other boys from the choir where their parents became concerned and stopped Mr Chesshyre from having anything more to do with them.
https://www.dailymail.co.uk/news/article...posed.html ...
https://forums.richieallen.co.uk/showthread.php?tid=2637
Prince Philip
"Another clubbish scene was the Bohemian Grove retreat in California ... The rich and powerful sometimes made their way to the nearby town of Guerneville, where 10 bars were enhanced by call girls. According to Manu Kanaki, who operated one such establishment, Northwood Lodge, [Prince] Philip was a visitor and was seen in the company of the girls."
'The Royal Philanderer', The Sun Herald, January 28 1996
"According to 'The Franklin Cover-up', by former Congressman John DeCamp, Hunter S. Thompson [was] part of an elaborate child pornography ring linked to the Bohemian Grove during the 80's. The book describes how Hunter S. Thompson was offered $100,000 to make snuff films during ritualized child sex abuse at the Bohemian Grove."
http://www.examiner.com/article/fear-and-loathing-bohemian-grove
Prince Philip's former royal aide accused of three sex attacks on girl aged 12
-- Benjamin Herman, 79, has been charged with three counts of indecent assault and one of attempted indecent assault on the child while working at Buckingham Palace...
Prince Charles
'Prince Charles's aide had raped George Smith'
"Newspapers from Scotland and Italy to Australia reported the central allegations: that George Smith, a former valet to Prince Charles, says he saw the prince having sex with another male aide, Michael Fawcett; and that [the Prince's aide Michael Fawcett raped George Smith]."
https://www.tampabay.com/archive/2003/11...ith-a-man/
During a police inquiry "detectives were told that a tape recorded by Princess Diana of the supposed rape victim describing his ordeal had gone missing ... [Paul Burrell] confirmed he had seen the tape ...
"'This account was taped by the princess as proof of evidence. She thought this person had a right to document it so it could never be covered up ...'"
https://www.theguardian.com/uk/2002/nov/...amiewilson
"[Elaine] Day ... told the tribunal earlier that her problems began when ... she was assigned as PA to Paul Kefford, [Prince Charles'] assistant private secretary. She said that despite being told that Mr Kefford, 32, was homosexual, she felt that he still posed a sexual threat to her. She has accused the former civil servant of 'inappropriately touching' her."
https://www.thetimes.co.uk/article/secre...5ljfbn0zx9
Inside the paedophile's lair: Chilling pics of bunk beds at [Jimmy] Savile's Highlands cottage raided by police where 'up to 20 suffered abuse'
-- The DJ bought remote home in 1998 and entertained guests including Prince Charles
https://www.dailymail.co.uk/news/article...abuse.html
Jimmy Savile sex scandal: 'He liked licking Prince Charles' young royal staff'
http://www.ibtimes.co.uk/jimmy-savile-pr...use-399679...
The Queen Mother
Buckingham Palace butler [Paul Kidd] 'ran paedophile sex ring while working for the Royal Family'
"Bachelor Paul Kidd, 55, groomed at least one of his teenage victims for sex by taking him for tea with the Queen Mother at Clarence House, it has emerged"
http://www.dailymail.co.uk/news/article-1066171/Buckingham-Palace-butler-ran-paedophile-sex-ring-working-RoyalFamily.html
Will Backstairs Billy [William Tallon], the Queen Mother's eccentric retainer, spill his royal secrets from the grave?
"... [William Tallon] was the only male to be allowed into [the Queen Mother's] bedroom and he could do so without knocking.
"He even had an underground passageway and would sometimes smuggle controversial guests in to see her [the Queen Mother] without the knowledge of the rest of the staff."
http://www.dailymail.co.uk/femail/articl...grave.html
"a forthcoming TV documentary ... will portray him as ... predator"
https://web.archive.org/web/201708301026...airs-Billy
"a picture builds up of a royal household in which some gay men expect to be immune from the processes of the law, their crimes covered up, their victims silenced, or paid off"
http://www.newstatesman.com/node/144246...
Lord Louis Mountbatten
"[Jimmy Savile] was first introduced to the Royal Family, he reveals, by Lord Mountbatten. In 1966, Jimmy became the first civilian to be awarded a Royal Marines' green beret. Mountbatten was commandant general at the time and realised that Savile could be a useful contact.
'Coming from Lord Louis, who was the favourite uncle of Prince Philip, that was quite something,' [Savile] says. 'So obviously I hooked up with the Prince – what was good enough for Lord Louis was good enough for him.'"
http://www.express.co.uk/expressyourself/43798/How-Jim-really-did-fix-it
Lord Louis Mountbatten "was a 'boy lover' who dressed his young victims in baby clothing before sexually molesting them ...
"Lord Mountbatten used brandy and lemonade to help seduce his young victims, Nield claims ...
"'On several occasions I had to take it to him in his room at the house when he was with a boy,' he said ... On one occasion I walked in on him and he had a semi-naked boy sitting on his knees.'"
https://villagemagazine.ie/the-suppressi...ails-abou/...
Princess Margaret
"[Gore Vidal's] half-sister and nephew, who were very close to Vidal, have revealed they strongly suspect he was a globe-trotting paedophile who preyed on underage boys"
"... his coterie of celebrity friends such as Princess Margaret"
http://www.dailymail.co.uk/news/article-2501890/But-did-literary-giant-Gore-Vidal-hide-monstrous-secret.html
"... Mackenzie Phillips alleged that at 19 she was raped by [her father John Phillips] and subsequently engaged in a 10-year [incestuous relationship]."
John Phillips and his third wife "[befriended] Princess Margaret while vacationing at her holiday home on Mustique"
http://www.telegraph.co.uk/culture/music/6228133/John-Phillips-a-lifetime-of-debauched-and-reckless-behaviour.html...
https://forums.richieallen.co.uk/showthread.php?tid=2637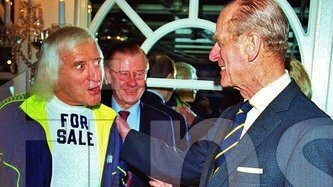 Birds of a feather flock together.
Thank-you.
1 Corinthians 15:33 Be not deceived: evil communications corrupt good manners.
Prince Andrew to face civil sex assault case after US ruling - BBC News
The Duke of York will continue not to undertake any public duties and is defending this case as a private citizen."
Prince Andrew Stripped of Military, Royal Titles Amid Sexual Assault Case
That "ruthless queen"...
Prince Charles and Prince William reportedly demanded that Prince Andrew be exiled to ensure the "survival" of the royal family, according to The Daily Mail.
"This is about the survival of the institution at all costs. Always has been and always will be," a senior palace source told the outlet.
The move to cast out Prince Andrew came in a "ruthless" bid to distance the royal family from the scandal, another palace source said.
"The removal of titles and patronages means the institution can now legitimately say it is not involved," the source said. "It was a ruthless and swift decision which will have been recommended by the Prince of Wales and the Duke of Cambridge and sanctioned by the Queen."
Packin' her bags...
The Queen made her bed, now let her lie in it....
Fundamentally, the Greek crisis was as much, if not more, a political than an economic crisis. While the reasons are complex—going well beyond the scope of this presentation—the weaknesses of the Greek political system, its economic policy-making institutions and the power of vested interests could surely not have come as a surprise to veteran European policymakers. Neither should the flaws in the European architecture.
The IMF and the Greek Crisis: Myths and Realities
https://www.imf.org/en/News/Articles/2019/10/01/sp093019-The-IMF-and-the-Greek-Crisis-Myths-and-Realities
She can always stay here:
The Municipality of Athens has announced the opening of two shelters for the homeless from Tuesday evening which will provide heated indoor spaces, blankets and meals while the bad weather lasts.
QE2's fake Dynasty is crumbling, piece by piece and her with it.
Daniel 2:19 Then was the secret revealed unto Daniel in a night vision. Then Daniel blessed the God of heaven.
2:20 Daniel answered and said, Blessed be the name of God for ever and ever: for wisdom and might are His:
2:21 And He changeth the times and the seasons: He removeth kings, and setteth up kings: He giveth Wisdom unto the wise, and knowledge to them that know understanding:
2:22 He revealeth the deep and secret things: He knoweth what [is] in the darkness, and the Light dwelleth with Him.
2:23 I thank Thee, and praise Thee, O Thou God of my fathers, who hast given me Wisdom and might, and hast made known unto me now what we desired of Thee: for Thou hast [now] made known unto us the king's matter. LLTFighters for God, don't give in we are not alone, forces in the unseen are with us.
To: Mrs. Elizabeth Battenberg (also know by the criminal aliases Windsor and QE2)
Thanks you

Hoping she received this letter.
Dear @Nam ,
You are most certainly welcome.
Agreed.