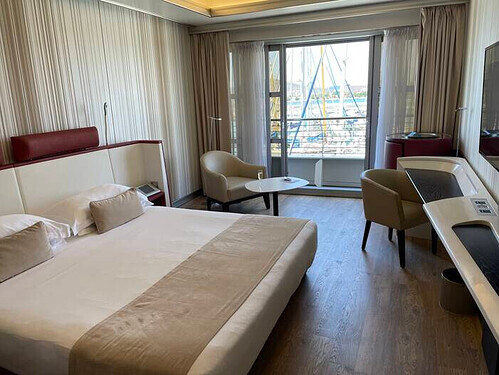 This is our review of the Sunborn Yacht Hotel in Gibraltar.

by Rob Burgess, Head For Points
If you are heading to Gibraltar there are only two high-end options. There is the art deco The Rock and the Sunborn Yacht Hotel. The Eliott and the Holiday Inn Express bring up the rear.
Some good and not-so-good observations:
The rooms are light, bright and classy.

I'm not sure what you expect from a yacht hotel, but I want to be clear about one thing. It ISN'T like being on a boat.

The hotels is not fully honest with its room descriptions. When it says 'marina side' or 'marina view', it means '10 metres from an Irish pub'...

I am at the desk in my room and the sliding doors to the tiny balcony are open. If I turn my head I can see a fantastic collection of boats, the airport runway and the hills of Spain across the water.

The Sunborn pool was a big disappointment. If you want a swimming pool, the one at The Rock Hotel beats this hands down.

Read more of the review.
Just thought Gibraltarians might find this interesting.
A video tour of the Sunborn is featured on an earlier thread – Sunborn Gibraltar LTD Interm Report