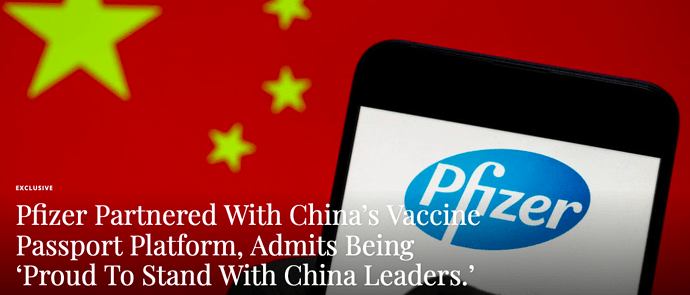 Pfizer Partnered With China's Vaccine Passport Platform, Admits Being 'Proud To Stand With China Leaders.'
Pfizer Inc partnered with a Chinese Communist Party payment platform which has been used to implement "vaccine passports" in China since the outbreak of COVID-19. The company said it was "proud to stand with China leaders." Continues...
Steve Bannon interviews Natalie Winters on the article:
Natalie Winters of the National Pulse breaks big news about pharmacological giant Pfizer partnering with the communist regime in China.

"The story we published today, it even blew my mind… In the year preceding the alleged onset of Covid-19, Pfizer actually partnered with Alipay, which … is an offshoot of Alibaba, which is a Chinese Communist Party linked tech company… It's been fined by the U.S. State Department for its very concerning and very close ties to China's military. …This company … is actually weaponized by Beijing not just for vaccine passports, but it also functions very closely to the state apparatus for the social credit score. … It's really bizarre that Pfizer, just about a year before Covid-19 started, partnered with the company."

Interview at link.
• Chinese Military Discussed Weaponizing COVID In 2015 'To Cause Enemy's Medical System To Collapse'
• China Communist Party Bosses Discuss Vaccine Impact on US Military Forces Say: "Everyone Who Took The Vaccine Is Dead"