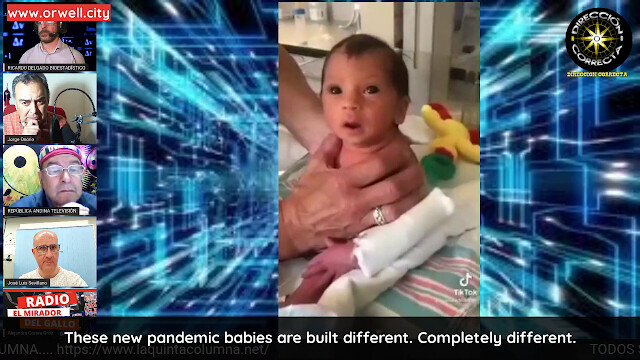 And that's if vaxxed mothers can actually have babies, rather than miscarry or become infertile.
Dr. José Luis Sevillano and Ricardo Delgado, who exposed graphene oxide in the covid jabs, discuss pandemic babies, including the above clip:
In a new interview for the radio program Dirección Correcta, La Quinta Columna has referred to the so-called 'pandemic babies,' those babies who have been conceived during the pandemic and who, in addition, are the product of parents inoculated with the COVID-19 vaccine.

Now that 9 months have passed since the vaccination campaign began in countries such as the United Kingdom and the United States, some alarming videos have begun to go viral showing babies with a different appearance and who appear to be on a lower cognitive spectrum than average.

Of course, it's part of La Quinta Columna's research to pay attention to these videos and see if we start seeing more babies with complications like the one in the video they have shown.

Until it's as evident and massive as the magnetic arms are, it will not be possible to say with certainty that these babies are the product of the intervention of graphene and other components present in vaccines that affect reproductive functions. But there are suspicions. Orwell City offers the key excerpt.
---
Nursing baby died with blood clots, inflamed arteries following mother's Pfizer shot
Infant Deaths Decrease 30% During Lockdown, Coinciding with Sharp Drop in Vaccinations. Babies and toddlers should NEVER be vaxed.
OUTRAGEOUS – UK Authorities say it is now 100% safe for Pregnant Women to have the Covid Vaccine but Official Data shows they are Lying
Fertility warning: Spontaneous miscarriage and stillbirth reported after experimental mRNA vaccines
Besides Fetal Deaths, Breastfeeding Babies are Dying and becoming Sick following Mothers' COVID Shots