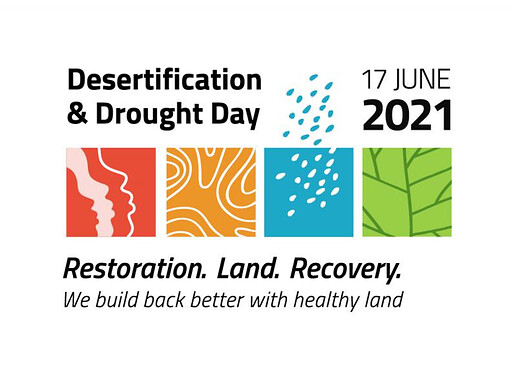 Here's another UN Day and a chance for them to tie in Covid19 to the environment.
The globalist theme of the day: "Restoration. Lands. Recovery. We rebuild better with healthy lands" is the theme for Desertification and Drought Day 2021.
"Land restoration can go a long way toward post-COVID19 economic recovery. Investing in land restoration creates jobs and economic benefits, and could provide livelihoods at a time when hundreds are being lost. millions of jobs, "said Ibrahim Thiaw, Executive Secretary of the UNCCD (United Nations Convention to Combat Desertification) ahead of World Day to Combat Desertification and Drought – World Day to Combat Desertification and Drought 2021: Theme, Significance | Dailynewscatch
And while the NGOs and ruling bodies blame "mankind" for the destruction of the earth; and mankind is responsible because he became a "consumer" of products from corporations that consume the earth. And while the elites have made fortunes off destroying the earth with their evil practices, they now have a solution – but this time it's about control, real control. It's also about depopulation; getting everyone into smart cities and off the land. Isn't this how they are going to regenerate the lands?
Banks increased deforestation-linked investments by US$8B during Covid-19, says new analysis. "Major banks and investors such as Bank of America, Sumitomo Mitsui Banking Corporation, Industrial and Commercial Bank of China, BlackRock, Vanguard, and State Street all received low scores in the index." – Yet, these companies want to advise us about environmental issues. Just two investment firms – Vanguard and BlackRock – own nearly the entire mainstream media and most of Big Pharma, too
And the UN, which is essentially controlled by the CCP wants us to think about Deforestation – China's banks urged to stop funding global deforestation. Up is down. Left is right.
Order out of chaos – and the elites are the ones who create the chaos.
Then, we have what geoengineering is doing to the planet as the elites try to play God.
"Though countless forms of human activity have contributed to the decimation of our once thriving planet, geoengineering programs are the most destructive of all. The combined and cumulative consequences of ongoing global climate engineering operations are rapidly eroding the planet's remaining life support systems. The converging cataclysms we collectively face are all connected, this includes the unfolding and expanding CV-19 scenario." – Source
Revelation 9:11 And they had a king over them, [which is] the angel of the Bottomless Pit, whose name in Hebrew [is] Abaddon (Destroyer), but in Greek [his] name is Apollyon (Destroyer - Satan).
It is Satan who is responsible for destroying the earth; and it is mankind who follows him, especially those who have sold out their country men and nations to be part of the Great Reset. Yes, Satan is trying a reset all right. He's also trying to CONvince people he knows how to build the earth back better. Repeat a lie often enough and people will believe it.
Believe the Truth.
The world is in the state it's in because the People Israel did not keep their Covenant with God and is cursed. Instead of encompassing the earth with God's Law, they conquered it for Satan and his destructive practices.
This environmental destruction was prophesied in 2 Esdras.
2 Esdras 5:3 And the LAND, that thou seest now to have root, shalt thou see WASTED suddenly (DESERTIFICATION caused by deforestation and/or DROUGHT through CLIMATE CHANGE and WASTED by pollution from nitrates; heavy-metals; toxins; agent-orange; radiation; anti-personnel LAND-MINES ; forest-fires and the general effects of global warming and warfare; etc.; etc.).
Satan – Build Back Better
The Lord – Return to God's Law
Who are you going to listen to?