She calls out Bill Gates and the whole Covid scam.
A link to "Italian Congress woman tells it all!! Sara Cunial /// Gates and Soros exposed!" which has been banned on YT. Above link to this thread is not working.
https://ugetube.com/watch/must-share-italian-congress-woman-tells-it-all-sara-cunial-gates-and-soros-exposed_fWckThGhyMNQpDh.html?lang=arabic
Another link if the above does not work:
Italy's New Prime Minister Giorgia Meloni Victory Speech Terrified The Globalists In The EU And The U.S. (Video)
Article includes a 2:14 minute video of Giorgia Meloni's speech.
The Italian Center Right Party won big in national elections on Sunday making Georgia Meloni the first female leader in the country's history.
Giorgia Meloni's Brothers of Italy party won the general elections on Sept. 25, leading a conservative alliance that will likely form the most right-wing government in the country since World War II.
The hardline message is consistent with Meloni's campaign sound bites.
"Yes to the natural family, no to LGBT lobbies!" said Meloni, 45, in July. "Yes to sexual identity, no to gender ideology!"
In 2019, her rallying cry of "I am Giorgia. I'm a woman, I'm a mother, I'm Italian, I'm Christian" was derided by critics and turned into an electronic-music remix, blasted at Italian nightspots. But today that ultra-nationalist message is resonating in the polls. Meloni has taken her party from 4 percent in 2018 to more than 25 percent on the eve of elections.
And after she won during her victory speech she terrified the globalists in the EU and the U.S.
Here are some highlights from her speech:
Our worldview is the exact opposite of what they would like to force on us…
…Our main enemy today is the globalist drift of those who view identity and all its forms to be an evil to overcome. And constantly ask to shift real power away from the people to supernational entities headed by supposedly enlightened elites.
Let us be clear in our mind, because we did not fight against and defeat communism in order to replace it with a new international regime, but to permit independent nation states once again to defend the freedom, identity and sovereignty of their peoples…
As a serious alternative to the beaurocratic super state ..and although that someone in Brussels or Frankfort, Davos or the City of London, lacks democratic legitimacy, everday it commissions the economic choices and political decisions of those who have invested in that legitmacy by their popular vote.
It means that whether the false democrats like it or not, national conservatives in every latitude are actually the only real Democrats. Because it is only by defending the nation states, that we defend the political sovereignty that belongs to the citizens of that state.
Meloni goes on to talk highly of Ronald Reagan and President Trump.
This is Italy's new Prime Minister Giorgia Meloni.
I've never heard any politician so perfectly explain what we're up against and why we fight.
When you watch this video, you'll quickly realize why the establishment is afraid of her.
Days before the election that saw Meloni take power, a video surfaced of a group of Italian protestors reportedly taking down the European Union flag at the E.U. headquarters in Rome. The Western Journal could not independently verify the video or when it was taken.
Some commenters on Twitter have suggested the action came in response to E.U. Commission chief Ursula von der Leyen's comments on Thursday from Princeton University where she gave a "veiled warning" to the Italian right, according to Reuters.
From:https://twitter.com/LKTE9/status/1574754593229111298?s=20&t=7QvVN7KNmOHIYwWeUZswJA
LKTE
@LKTE9
·
3h
Replying to
@DrButtar
Im not sure she is . She was 100% for vaccine passports and pushing for them..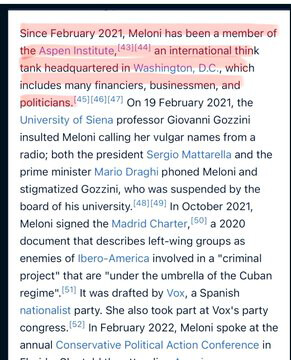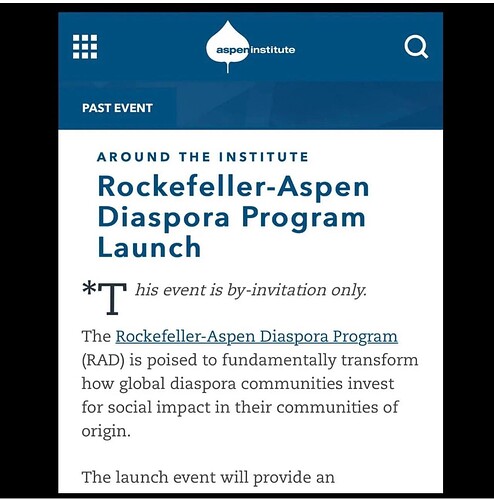 https://twitter.com/WarioWarrior1/status/1574498424870690816?s=20&t=W9-V3SBJP3BfHRa7GDjEhg
Why Republicans are elated by the 'triumph' of Italy's Giorgia Meloni | Politics News
The election victory of Italy's Giorgia Meloni this week has been met with cheers from US Republicans, who are heaping praise on the right-wing European leader despite concerns that she heads a political party with neo-fascist roots.
The affinity for Meloni in the United States, experts say, is part of a deepening connection between conservative populists on both sides of the Atlantic, which was previously seen with Republican activists' embrace of Hungarian Prime Minister Viktor Orban.
Increasingly, right-wing nationalists around the world are finding common ground in a battle against shared foes: immigration, progressive views on gender and sexuality, and people they loosely label as "globalists" and "elites".
And this is precisely the message that succeeded in getting Meloni elected, said Lawrence Rosenthal, chair of the Berkeley Center for Right-Wing Studies at the University of California, Berkeley.
"She ran on anger at gender politics; she ran on the traditional family; she ran on things like protecting borders; she would talk about Western civilization in precisely the same way that Orban does and much of the right-wing in this country does," Rosenthal told Al Jazeera.
Rosenthal said the "great replacement theory", the notion that global elites are trying to replace "native" populations in Western countries with immigrants, is at the heart of the grievances that unite these right-wing movements.
The theory is seen by many academics and social justice advocates as a conspiratorial push to stoke racial anxiety about non-white newcomers to Western countries.
"All the nationalist movements in individual countries have the same 'other' – that is to say that they all agree that immigrants are 'the other', and that's what they're against," Rosenthal said. "So it's possible to have solidarity across international lines on that score, because the enemy object is the same in all of them."
Meloni's views
Meloni, 45, is poised to become Italy's next prime minister after her political party, Brothers of Italy, emerged as the biggest winner in a right-wing coalition that received the most votes in the country's snap elections on Sunday.
Brothers of Italy – founded in 2012 – is the ideological successor of the far-right National Alliance, which emerged from the Italian Social Movement, a political party formed by former dictator Benito Mussolini's supporters in the wake of World War II.
Meloni has denied that her party is fascist and condemned the anti-Jewish laws and suppression of democracy of the fascist era. However, a video of a young Meloni when she was an activist with the National Alliance shows her praising Mussolini as a "good politician" who acted for Italy.
Brothers of Italy's logo – flames in the colors of the Italian flag – also mirrors that of the Italian Social Movement.
Yet despite the criticism, numerous Republicans hailed Meloni's electoral success this week, sharing a viral video of the Italian politician arguing that national identity and the concept of family are under attack in an effort to turn people into "the perfect consumer".
"The entire world is beginning to understand that the Woke Left does nothing but destroy," far-right Congresswoman Lauren Boebert wrote on Twitter, suggesting that Meloni's victory was a positive sign ahead of US midterm elections in November.
"November 8 is coming soon & the USA will fix our House and Senate! Let freedom reign!"
Senators Ted Cruz and Tom Cotton, Congresswoman Marjorie Taylor Greene and former Secretary of State Mike Pompeo were also among the Republican officials who expressed joy over Meloni's win.
Fox News's Tucker Carlson, one of the most influential right-wing commentators in the US, also praised Meloni's victory as a "revolution", calling her "smart" and able to articulate what the majority of people are thinking.
Some experts say Meloni's message about family, national identity and God has resonated with US conservatives because it is specifically tailored for them.
"Giorgia Meloni has invested a lot of effort into creating connections and respectability within the US-dominated 'national conservatism' and Christian fundamentalist networks," Cas Mudde, an international affairs professor at the University of Georgia, told Al Jazeera in an email.
Earlier this year, Meloni delivered a speech filled with American references to the Conservative Political Action Conference (CPAC), an annual gathering for US right-wing politicians and activists.
"That's exactly what they want – a right-wing on a leash, irrelevant and trained as a monkey. But you know what? We're not monkeys. We are not even rhinos; we won't be part of their zoo," said Meloni, invoking "RINOs", or "Republicans In Name Only", a term used to describe moderate US conservatives.
'Triumph' for far right
In that same speech, Meloni went on to claim that "everything" conservatives stand for is under attack, and that progressives are operating globally to "destroy our identities". She also likened refugees arriving in Italy to migrants and asylum seekers at the US southern border.
"I see unbelievable things happening on the border between [the] United States and Mexico, and I think of our own Sicilyshe said.
"Thousands of migrants allowed to enter without permission, who end up crowding out the slums of our towns and cities. And they're capping the salaries of our own workers, and in many instances engaging in crime."
Rosenthal said right-wing Republicans are not looking to Meloni's message for inspiration because they have already adopted anti-immigrant rhetoric and policies. Rather, "it's an occasion to celebrate the 'triumph of our side' – from their point of view – internationally", he said.
Rula Jebreal, a Palestinian-born Italian journalist who is currently a visiting professor at the University of Miami, warned that Meloni's election will embolden far-right extremists in Italy, as well as in the rest of Europe and the US.
Jebreal, who has previously debated and clashed with Meloni publicly, said she and other critics of the Italian politician have received death threats since the election on Sunday. "I think these people feel inspired, emboldened," she told Al Jazeera, referring to right-wing "extremists".
"This movement is a global movement, and the people are organized," Jebreal said.
Over the past decade, there have been active efforts to connect right-wing movements around the world. Notably, Steve Bannon, a former adviser to ex-President Donald Trump, launched an unsuccessful organization called "The Movement" in 2018 to back anti-European Union populists in European Parliament elections.
The Trump ally had put special emphasis on right-wing parties in France and Italy.
"Italy is the beating heart of modern politics," Bannon, who is currently facing a flurry of legal challenges and criminal charges in the US, told the The Daily Beast at that time. "If it works there it can work everywhere."
Best friends forever?
Putin presents a book about his rural lodge to Berlusconi in Zavidovo, northwest of Moscow, in 2003 [image]: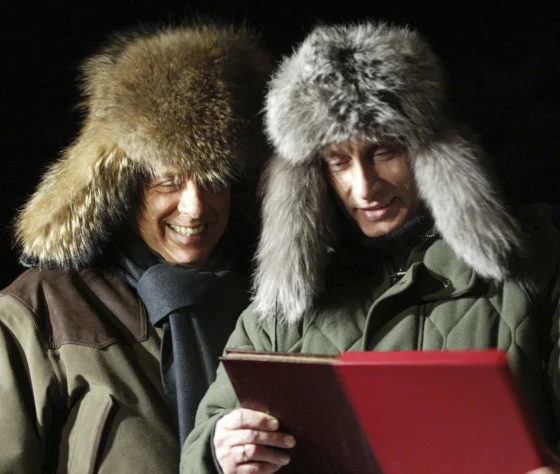 Italy's Berlusconi says he exchanged alcohol and 'sweet letters' with Putin
"For my birthday he sent me 20 bottles of vodka and a very sweet letter," Berlusconi said in a conversation with lawmakers from his center-right Forza Italia party.
Silvio Berlusconi, the former Italian leader who recently returned to front-line politics, has reconnected with his old friend Russian President Vladimir Putin with an exchange of gifts and "sweet" letters over his recent birthday.
Berlusconi, a crucial kingmaker for a right-wing coalition that is seeking to form a government after having pledged to back Ukraine, was recorded boasting that the pair recently got back in touch. The comments prompted backlash from Brussels and from the woman set to be Italy's next leader, who pledged her government would back Ukraine in a thinly veiled rebuke of Berlusconi.
"I reconnected with President Putin — a little bit, well a lot," Berlusconi, 86, reportedly said in a conversation with lawmakers from his center-right Forza Italia party, according to Italy's LaPresse news agency, which published the comments.
"For my birthday he sent me 20 bottles of vodka and a very sweet letter," he said, adding that he responded by sending bottles of the Italian wine Lambrusco "and a letter just as sweet."
"I have been declared by him as the first of his five real friends," he said.
The comments made front-page news in Italy as the country's conservative coalition led by Giorgia Meloni, who strongly backed Ukraine during the recent election campaign, is deciding who should make up its Cabinet before formal consultations this week to form a new government.
Meloni needs the support of Forza Italia to keep its majority in the Senate and the lower house of parliament. Among other ministries, the party has expressed an interest in leading the Foreign Affairs Ministry.
Meloni's other ally in the coalition, Matteo Salvini of The League, has repeatedly called for Italy to end its sanctions against Russia.
Meloni's Brothers of Italy party, which can trace its roots to a fascist party founded by supporters of dictator Benito Mussolini, did not immediately respond publicly to the comments.
But Meloni herself later issued a sharply worded statement.
She said any party that disagreed with her foreign policy line should not join the government, which is set to take office next week.
"Italy with us in government will never be the weak link in the West," she said.
FLASHBACK: Giorgia Meloni Blasts France's Exploitation of Poor, African Countries
By Margaret Flavin
Published November 27, 2022
In September, Giorgia Meloni was elected as Italy's first female and populist leader.
The Italian Prime Minister has been brutalized by the European press and wrongly labeled as far-right and a fascist.
The PM has not shied away, however, from boldly addressing the globalist cabal's agenda and doesn't mind ruffling feathers.
In a one of her speeches that is making the rounds from 2019, Meloni shared her views on God, Honor, Country: President Ronald Reagan, Pope John Paul II, and the Freedom of Nations – A National Conservatism Conference in Rome, Italy – February 3, 2020.
"Our main enemy today is the globalist drift of those who view identity and all its forms to be an evil to overcome. And constantly ask to shift real power away from the people to supernational entities headed by supposedly enlightened elites."
TRENDING: Clueless Leftist Alyssa Milano Attacks Elon Musk Over Dangers of Free Speech - Then Her Old Tweets Pop Up...
"Let us be clear in our mind because we did not fight against and defeat communism in order to replace it with a new international regime, but to permit independent nation states once again to defend the freedom, identity, and sovereignty of their peoples," she said.
You can watch the full video from 2019 here.
Meloni's government has triggered many European countries with her approach to illegal immigration, having refused safe port to ships in the Mediterranean Sea carrying illegal migrants.
Sky News host Rita Panahi shared parts of the 2019 interview saying, "She said the solution is not to take the Africans and bring them to Europe, the solution is to free Africa from certain Europeans who exploit it. The left who pretend to care about poor people and the flood of illegal, economic migrants into Europe should be making that precise same argument, instead of making people smugglers rich and painting anyone who objects to illegal immigration as racist."
In the appearance, Meloni says, "This is a child who works in a gold mine in Burkina Faso. Burkina Faso is one of the poorest nations in the world. France prints colonial money for Burkina Faso which has gold."
"In return, they demand 50% of everything that Burkina Faso….exports end up in the coffers of the French treasury."
"The gold that this child goes down a tunnel to extract mostly ends up in the coffers of the French state."
"So the solution is not to take the Africans and bring them to Europe. The solution is to free Africa from certain Europeans who exploit it and allow these people to live off what they have."
After sharing the clip, Panahi exclaims, "Sweet Mary Mother of God that woman is magnificent."
The Ex-Model Who Claimed Silvio Berlusconi Hosted Satanic Rituals in His House Died From "Apparent Poisoning"
Imane Fadil, the ex-model who claimed to have witnessed "demonic rituals" at Silvio Berlusconi's mansion died mysteriously on March 1st at age 34. She was writing a book called "I Saw the Devil".
Imane Fadil was a Moroccan ex-model who became a celebrity after becoming a key witness in the 2013 "Rubygate" trials which accused the media mogul and ex-Prime Minister of Italy Silvio Berlusconi of "child prostitution". Fadil was also looking to be a witness in a related investigation (dubbed "Ruby ter") that is still ongoing
In 2018, Fadil claimed in an interview that Berlusconi's infamous "parties" lead to dark, satanic rituals. She was also in the process of writing a tell-all book about Rubygate and the dark secrets of Berlusconi. The name of the projected book was quite evocative: I Met the Devil .
She spoke of satanic rituals taking place in hidden rooms inside Berlusconi's mansion. See a rough translation of this infamous interview: