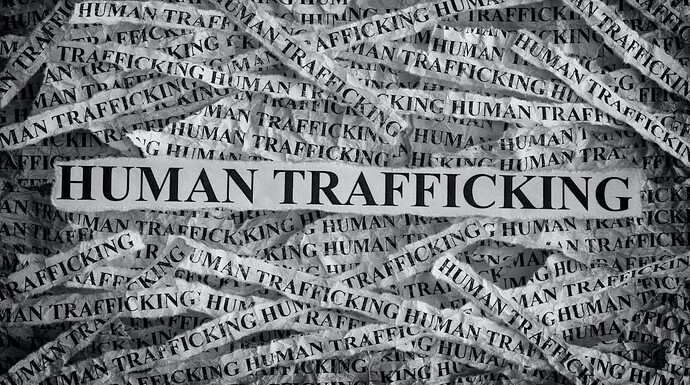 This Scripture clearly defines human trafficking being against The Law of God.
Deut. 24:724:7 If a man be found stealing any of his brethren of the children of Israel, and maketh merchandise of him, or selleth him; then that thief shall die; and thou shalt put evil away from among you.
Solomon 10:13. When the righteous (Joseph) was sold, she forsook him not, but delivered him from sin: she went down with him into the pit (Sura 12),
10:14. And left him not in bonds, till she brought him the sceptre of the kingdom, and power against those that oppressed him: as for them that had accused him, she showed them to be liars, and gave him perpetual glory.
Deut. 12:7. Verily in Joseph and his brethren are Signs (or Symbols) for Seekers (after Truth).
12:8. They said: "Truly Joseph and his brother (Benjamin) are loved more by our father than we: but we are a goodly body! Really our father is obviously wandering (in his mind)!
12:9. Slay ye Joseph or cast him out to some (unknown) land, so that the favour of your father may be given to you alone: (there will be time enough) for you to be righteous after that!"
12:10. Said one of them (Reuben - Gen. 37:22): "Slay not Joseph, but if ye must do something, throw him down to the bottom of the (dry) well: he will be picked up by some caravan of travellers."
The story of Joseph was an example of this, he was sold by his brothers then eventually sold again to live in Egypt as a slave. Amazing how Father's Will played out in his life while being protected by her named Wisdom.
How and why she, Wisdom protected Joseph:
Because Joseph had righteous fear, (humbleness to be taught), the Fear of The Lord, he was granted Wisdom, seen as an angel/entity, a very special guardian angel. She protected him by giving him the power that God has given to His Son (scepter of the Kingdom). He promises that all who approach Him in faith will receive it. With this God given power Joseph was protected and able to interpret dreams, resist temptations, overcome his enemies, thereby glorifying God Almighty.
Another Scripture proclaiming selling a human is against God's Law is:
Deut. 21:14 And it shall be, if thou have no delight in her, then thou shalt let her go where she will; but thou shalt not sell her at all for money, thou shalt not make merchandise of her, because thou hast humbled her.
About the Reinstating God's Law category
Petition to the Gibraltar Parliament Demanding the Return to God's Law