GlaxoSmithKline plc and Vir Biotechnology, Inc. today announced they have signed a Joint Procurement Agreement with the European Commission to supply up to 220,000 doses of sotrovimab, an investigational single dose SARS-CoV-2 monoclonal antibody for the treatment of adults and adolescents (aged 12 years and over and weighing at least 40 kg) with COVID-19 who do not require oxygen supplementation and who are at risk of progressing to severe COVID-19. The Joint Procurement Agreement enables participating European Union (EU) Member States to quickly purchase sotrovimab, following local emergency authorisation or authorisation at the EU level, to treat high-risk patients with COVID-19 who may benefit from early treatment with sotrovimab.

This action follows the positive scientific opinion issued by the European Medicines Agency's (EMA) Committee for Medicinal Products for Human Use (CHMP), under Article 5(3) of Regulation 726/2004, which can be considered by the national authorities in EU Member States when taking evidence-based decisions on the early use of the medicine prior to marketing authorisation. Sotrovimab is included in the European Commission's portfolio of promising candidate therapies as part of its COVID-19 Therapeutics Strategy. In addition, the documentation to support the forthcoming marketing authorisation application for sotrovimab is under rolling regulatory review with the EMA.

More at link.
Trust GSK?
GlaxoSmithKline: Bribery, corruption, fraud – In 2012 the US Department of Justice penalised GSK US$3 billion (US$1 billion in criminal fines and US$2 billion in a civil suit), the largest ever payment by a pharmaceutical company at the time, for a multidimensional healthcare fraud. This fine was levied due to GSK failing to report safety data and introducing misbranded (off label promotion of) drugs. GSK did not disclose the dangerous side-effects (such as increased risk of congestive heart failure) of their diabetes drug Avandia. This crucial data was withheld from the US Food and Drug Administration between 2001 and 2007. Since then it has been estimated that it could have caused up to 100,000 heart attacks in the US.
GlaxoSmithKline (GSK) is Britain's biggest drug maker. Chinese authorities found GSK guilty of bribing both hospitals and doctors to help promote their products in China, using a network of nearly seven hundred travel agencies to pay medical professionals, health-related organizations, and government officials – China and Corruption: The Case of GlaxoSmithKline
Trust Any Pharmaceutical Co?
Top 10 Largest Pharmaceutical Lawsuits & Settlement Amounts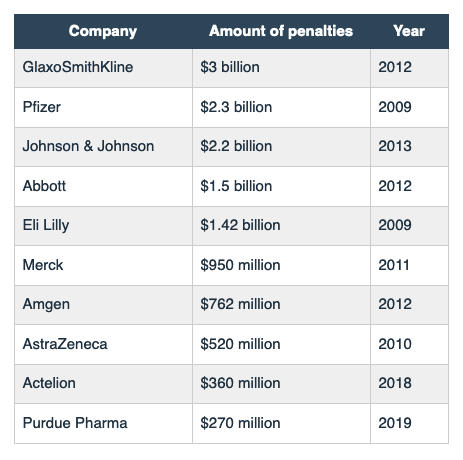 Source with more details: Top 10 Largest Pharmaceutical Lawsuits & Settlement Amounts