The governments and media have spun the news once again. Mass murder has turned into Mass-Vaccination Success stories – with Gibraltar spotlighted as a beacon of what life could be "This is what life could be like when we've ALL had the jab" (Go ahead search that headline and see how many media outlets picked it up or something similar). Genocide through a eugenics program is happening all around the world, not just in Gibraltar – and it's akin to exactly what Dr. Michael Yeadon, Pfizer's former Vice President and Chief Scientist for Allergy & Respiratory, said – 'Your government is lying to you in a way that could lead to your death.'
Let's unravel the quickly and ever-changing media spin, by reviewing again what happened in Gibraltar, which began its vaccination programme on Jan 10, which at the time had only recorded 16 deaths since the start of the pandemic.
Jan. 15 – Government announces the loss of 5 more residents of Gibraltar related to COVID-19. This announcement brings the total number of deaths to 30.
Jan. 16 – The Government confirms 4 further deaths from COVID-19. This brings the total number of deaths to 34.
Jan. 17 – The Government confirms the loss of 9 more. This brings the total number of deaths to 43. During the past week alone, 27 people have passed away either as a direct result of the virus or while infected with it. Nine Covid-related deaths were recorded on Sunday, the worst in a single day since the public health crisis almost a year ago. Jan 17 - Devastating Weekend as Gibraltar loses 13 people in two days
Jan 18 – The total number of persons who have lost their lives to COVID-19 in Gibraltar is now 45, as reported in the Government press conference.
During this press conference, Chief Minister Fabian Picardo said, "I believe we will see more deaths amongst the frail elderly at ERS."
Well he got that right, but didn't he know the death count would continue because the vaccination programme was still full-speed ahead with NO PAUSE in sight.
Jan. 20 – the Government of Gibraltar reported that the total number of deaths had risen to 53.
HMGoG is deeply saddened to confirm the deaths of 6 residents of Gibraltar related to COVID-19. This brings the total number of deaths related to COVID-19 in Gibraltar to 53.
This spike caused a letter to be written appealing for help about what was happening in Gibraltar, this letter hit alternative media like NEWS FROM UNDERGROUND and UKRELOADED:
Could the new vaccines be causing all those "COVID deaths"? The case of Gibraltar.
God help us Gibraltar Covid deaths skyrocket after pseudo-vaccines administered
The global fightback is growing – a letter from Gibraltar
This is the letter:
Dear Sir/Madam,

Could you please let the world know the grave situation that is occurring in Gibraltar?

The fact is that Fabian Picardo's government is literally carrying out an act of mass genocide, particularly aimed at the elderly and the most vulnerable.

I am referring to Operation Freedom, the massive vaccination program that is being carried out against the population. All this based on the false narration of the high number of "positive cases" (which we already know are false positives – I can prove it) to instill fear and panic through Psychological War (Psyops) and Propaganda with the complicity of local doctors and media, among others.

The vaccination program using the Pfizer-BioNTech vaccine began last Sunday January 10, 2021 and this past Monday, January 18, more than 5,800 persons had already been vaccinated, starting with the elderly.

The number of dead up until the day before the start of this extermination program was 16 people "by Covid," but as of today, January 20, 53 people have already died – according to them "by Covid." There are 37 people who have died since they started vaccinating in Gibraltar, that is 37 "Covid" deaths in 10 days.

Clearly there is a relationship between the high number of deaths and vaccines. Picardo's government is refusing to address this issue. They are not saying how many of the deceased have been vaccinated. I am sure there are many, more so, because all of the deceased are elderly people from the Nursing Homes or the Dementia Home.

Please! I beg you! Help us spread this news nationally and internationally to force this criminal to at least investigate vaccines = deaths. Please, I beg you.

Picardo has already ordered another batch of vaccines and 11,700 more doses will arrive soon. How many deaths and/or adverse side-effects will this mean?

Here, most people are terrified and unable to think critically, they are completely indoctrinated and we are all under house-arrest.

I'm just a simple man, but I know exactly what's going on about this false pandemic and without a doubt, we're being fooled.

We may agree to disagree but at least publish the death rates after vaccinations in Gibraltar.

Please!!! Help us!
As we can clearly read from the letter, "As of today, January 20, 53 people have already died – according to them "by Covid." There are 37 people who have died since they started vaccinating in Gibraltar, that is 37 "Covid" deaths in 10 days.
What happened on most alternative websites is they ran with a misreported number, most likely occurring from Principia Scientific – which did not report what was given correctly – saying 53 in 10 days, not 37 in ten days.
This caused Chief Minister Fabian Picardo and Public Health Director Sohail Bhatti to quickly get on social media calling it fake news, and discrediting Principia Scientific.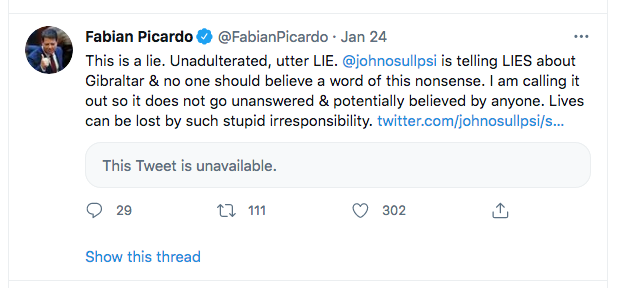 And the fact-checkers followed suit and there sites that say "53 did not die in Gibraltar in 10 days…"
And that's correct, 53 did not die in Gibraltar after receiving the vaccine; 37 did; yet, no alternative media site that reported 53 has corrected their reporting. And while the misreporting did cause attention to be brought to Gibraltar's spike, it's a two-edge sword because if one looks up the news, most of the time the "fact-checking" sites appear.
To set the record straight – this should have been the graphic and news: 37 people dead in Gibraltar after vaccine rollout. Those deaths didn't occur before the rollout.

37 deaths should have been extremely alarming.
And the continue rise that pursued in the days that followed should have been alarming.
Jan. 21 – The Government of Gibraltar (GoG) confirms 6 further deaths, bringing the total number of deaths to 59.
Jan. 22 – Government confirms 3 deaths yesterday afternoon and evening from COVID-19. This brings the total number of deaths to 62.
Jan 25 – Gibraltar, 63 deaths (18 in last seven days) - Of the total 65 deaths since the start of the pandemic, 58 died in the first 25 days of 2021, with seven deaths recorded throughout all last year.
Jan 27 – the government responded about the social media claims – No deaths arising from vaccinations in Gibraltar. "All of these persons were in the age range 70 to 100. All but one was a resident of the Government of Gibraltar Elderly Residential Services facilities." The Gibraltar Health Authority can confirm that there is no evidence at all of any causal link between these six deaths and the inoculation with the Pfizer vaccine.
29 Jan – Phase one of the government's "Operation Freedom" was complete, with the announcement that Phase Two to start Jan. 30 (full speed ahead). Picardo noted that with the three deaths announced on Friday, some 14 people had died in the last week alone from Covid-related causes, bringing the death toll since the start of the pandemic to 73.
Jan 31 – the government reported the total death toll at 77.
The deaths continued in Feb, but at a slower pace, bringing the total number of deaths to 93 as reported on 27 Feb.
It is still unknown why the first death in March is reported as the 93rd death. Perhaps a cause of death from a previous report was changed.
7 March – Press Release #107 - HMGoG confirms a further death in Gibraltar from COVID-19, bringing the total number of deaths in our community related to COVID-19 to 93.
13 March – government confirms a further death in Gibraltar from COVID-19, bringing the total number of deaths to 94.
---

And by the end of March and in April, we get news restrictions being lifted, with most of the population opting to get vaccinated; and what life can be like if everyone gets the jab. Gibraltar is also being promoted as the place to vacation. Is this perhaps a reward for going along with the agenda?

---
Before you think the news is just going to keep getting better, it might be best to examine their overall Great Reset goals and future prediction models:
Investigation – UK Government model states the fully Vaccinated will dominate Deaths in 3rd wave and they will blame Children and Unvaccinated for it:
The document states that "The resurgence is a result of some people (mostly children) being ineligible for vaccination; others choosing not to receive the vaccine; and others being vaccinated but not perfectly protected."

Can you not see that this is a ploy that will be used to justify vaccinating children? Even though there is almost zero risk of them even developing symptoms of Covid-19. It's also a ploy to justify ostracizing those who refuse to take part in what is a mass human experiment due to phase three trials of the Covid-19 vaccines not ending until 2023 at the earliest. It is guaranteed this will be used to justify the roll-out of a "vaccine passport" system a.k.a freedom passes.

The next part of the document states in relation to the predicted third wave that "the resurgence in both hospitalisations and deaths is dominated by those that have received two doses of the vaccine, comprising around 60 – 70% of the wave respectively".
According to the article, that's what the model predicts – both hospitalisations and deaths is dominated by those that have received two doses of the vaccine.
Vaccines have caused more Covid deaths per capita in Gibraltar than anywhere in the world.
Using some of his (Picardo's) own words:
Back at YOU, Picardo! What YOU are reporting is a lie and it is being called out so it does not go unanswered and potentially believed by anyone.
This is what life could be like when we've ALL had the jab: An increase in mortality!
More accurate reporting about the state of businesses in Gibraltar than the false picture portrayed in the Daily Mail article linked above.
http://www.gibraltarpanorama.gi/175078
"As the Chamber recognised in its statement, members' businesses across several sectors continue to struggle due to the severe effects of two lockdowns and very few tourists.
For these reasons our members have not been able to rebuild their financial reserves over the last 12 months.
Whilst some local businesses have managed to show signs of improved trading in the last month or so, for many, business levels remain thin at best and there is little prospect of tourists returning in significant numbers until later on in the summer."
India is no exception to the rule to the increase in death spikes after vaccinations:
Once vaccinations start, this is immediately followed by a jump in death rates - Dr Verner Wheelock twitter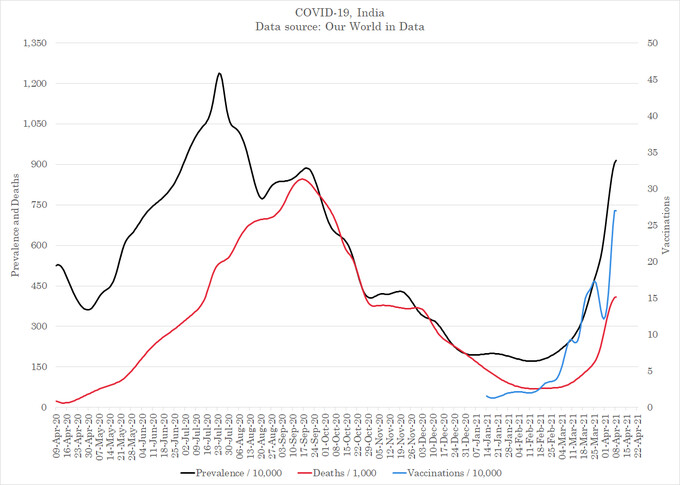 Also in the US:
Look at this! In the USA, the number of Deaths with Abnormal Clinical and Laboratory Findings has jogged along steadily constant....then BOOM once Covid vaccination starts it just takes off. What on earth is happening? - Dr Verner Wheelock twitter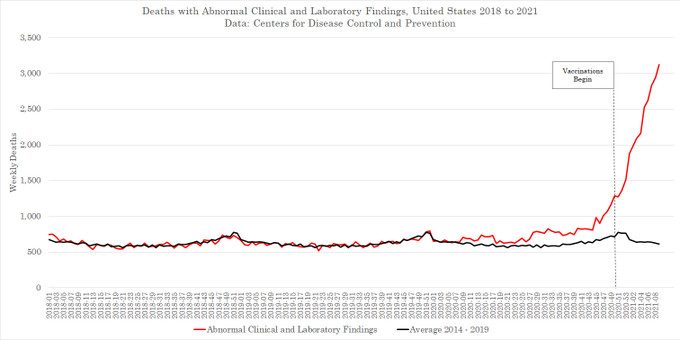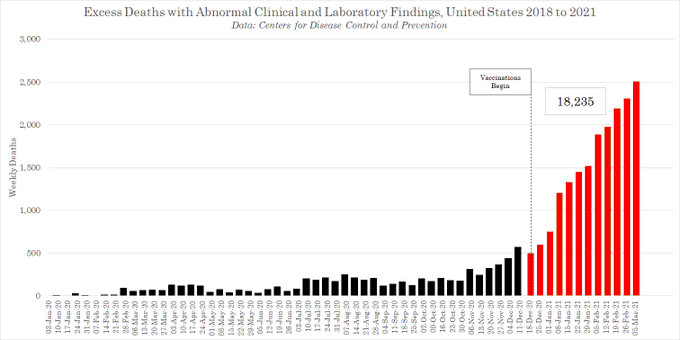 ---
The stories about deaths still make alternative news sites:
Care home Nurse, 35, dies suddenly after having the Pfizer mRNA jab
And doctors question the vaccine :
Doctor sends letter demanding to know if it is Medically Ethical to continue Covid Vaccine rollout due to severity of life altering side effects
This Defending-Gibraltar thread about the unvaccinated not being able to visit their love ones in care homes and hospitals has been created and may be of interest –
Remember Covid vaccines are experimental, approved for emergency use.
For the scientifically-minded, this study may be of interest concerning the vaccine-induced autoimmunity that is happening:
Pathogenic priming likely contributes to serious and critical illness and mortality in COVID-19 via autoimmunity
Mortality in SARS-CoV-2 infection from COVID-19 is highly age-dependent, with older patient having the highest probability of death.

The role of autoimmunity in enhancing the severity of secondary exposures following prior infection or vaccinations has been given little consideration.

In SARS, a type of "priming" of the immune system was observed during animal studies of SARS spike protein-based vaccines leading to increased morbidity and mortality in vaccinated animals who were subsequently exposed to wild SARS virus. The problem became obvious following post-vaccination challenge with the SARS virus found that recombinant SARS spike-protein-based vaccines not only failed to provide protection from SARS-CoV infection, but also that the mice experienced increased immunopathology with eosinophilic infiltrates in their lungs.

Unintended consequences of pathogenesis from vaccines are not new, nor are they unexpected. They are unanticipated only if those who develop them do not include available knowledge in their formulation plan.

The fact that pathogenic priming may be occurring involving autoimmunity against multiple proteins following CoV vaccination is consistent with other observations observed during autoimmunity, including the release of proinflammatory cytokines and cytokine storm. Similar to the SARS-CoV animal studies.
The Gibraltar Massacre
The Gibraltar Massacre | The Truthseeker article by Gilad Atzmon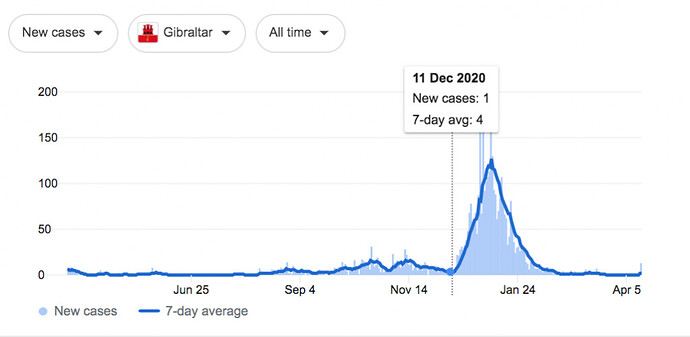 Gibraltar currently has the world's worst Covid-19 death rate per capita (2791 per million at time of publication).
MORE than 30million Britons have received the Covid-19 vaccine, the great majority without any immediate ill-effects. ( But that really true, no one knows what the vaccines will do to humans years from now because there has never been a jab administered of this nature before.)Some have suffered side-effects causing a few days, and in some instances weeks, of illness, especially with the Pfizer jab, but according to the manufacturers that means a robust defense has been developed against the virus. Pfizer said last Thursday that after six months, a continuing trial of its product shows it to be highly effective in preventing severe disease, with 'no serious safety concerns'.
Meanwhile, British regulators have followed agencies elsewhere in reporting rare blood-clot events linked to the AstraZeneca vaccine, including seven deaths, while insisting that its benefits in preventing Covid outweigh any risks. ( Do they ever tell the truth?)
Worries persist, however. One of these is a mechanism known to scientists whereby the vaccine could be contributing to deaths, especially when administered concurrently with the viral infection itself. A so-called 'spike' protein which makes SARS-COV-2 especially dangerous, and which the vaccines generate to prepare the body to fight off the virus, may cause the same type of damage as the virus.
The independent Swiss Policy Research (SPR) group has drawn attention to a warning posted by the US Food and Drug Administration in December from US physician Dr Patrick Whelan that vaccines based on the spike protein may themselves trigger symptoms of severe Covid, including blood clots, brain inflammation and damage to the heart, liver and kidneys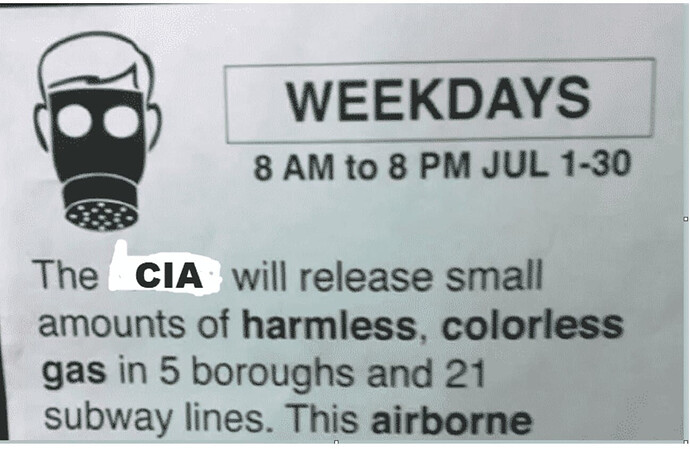 VT: Low dosage Sarin gas was tested on the New York subway system more than a decade ago. People got sick. We believe that the test and others along with studies listed below and information from Senate hearings provide sufficient backdrop to support what everyone is coming to see.
Data on tests inside the US has crept to the surface from time to time, but, during the Cold War, every imaginable disease, human or plant, every fungus, rust, virus or bacteria that could cripple the economies of nations like China, Russia, Cuba, Syria, Venezuela, Nicaragua, Vietnam..
Oh, how about Agent Orange and 1 million dead Americans, even more than that murdered with COVID…and millions more Vietnamese who are still dying to this day.
Some of that information that doesn't exist and off course none of the things we deserve to see on a war waged against the world, using biological and chemical warfare not just for globalism and politics but out of worship of cruelty itself.
Bankers are drowning Gibraltarians in more debt – Gibraltarians need to understand who the bankers are, and what they have planned for them - #5 by GibMessenger

The following statements, which were made in 1981 by powerful international banker and unapologetic eugenicist, Jacques Attali, are taken from Interviews with Michel Salomon – The Faces of the Future, Seghers edition, which was published in France by Emi Lit when Attali was a senior adviser to French President, Francoise Mitterand:

"In the future it will be a question of finding a way to reduce the population. We will start with the OLD, because as soon as it exceeds 60-65 years man lives longer than he produces and costs society dearly, then the weak and then the useless who do nothing for society because there will be more and more of them, and especially the stupid ones. Globalist Banker Predicted Scamdemic & Genocide of The Useless by Michael O'Bernicia, who is bringing private criminal prosecutions for "Pandemic" Fraud against all British MPs who voted to extend The Coronavirus Act 2020.
Vaccine Death Coincidence Thread
How many of these do you need to see? There are dozens of countries that show a huge spike in deaths just after the introduction of a COVID19.
Source
More graphs from twitter thread:
UK:

State of Israel:

Portugal:

Monaco:

Ireland:

The OLD, WEAK, FAT & STUPID
In @Gibmessenger's reply above - Gibraltar Deaths After Covid Vaccine Push - #116 by GibMessenger - another thread is mentioned – Bankers are drowning Gibraltarians in more debt – Gibraltarians need to understand who the bankers are, and what they have planned for them - #5 by GibMessenger in which this is quoted – "Forty years ago an adviser to French President Mitterand spoke of what we see unfolding before us today. According to Jacques Attali: "In the future it will be a question of finding a way to reduce the population. We will start with the old…"
Let's add to that from the article referenced:
The following statements, which were made in 1981 by powerful international banker and unapologetic eugenicist, Jacques Attali, are taken from Interviews with Michel Salomon:

"In the future it will be a question of finding a way to reduce the population. We will start with the OLD, because as soon as it exceeds 60-65 years man lives longer than he produces and costs society dearly, then the WEAK and then the useless who do nothing for society because there will be more and more of them, and especially the STUPID ones...

We will find something or cause it, a pandemic that targets certain people, a real economic crisis or not, a virus that will affect the OLD or the FAT, it doesn't matter, the weak will succumb to it, the fearful and the stupid will believe it and ask to be treated.
This new pandemic has affected obese people, because their immune systems are comprised.
"Studies of COVID-19 patients in New York City and in Wuhan in China have found that older age was one risk factor for having severe disease, and being obese was another," explains Professor Lynch, who carries out research in Trinity College Dublin and Harvard University in Boston (Obesity and COVID-19 – why the increased risk?)
They found that people with obesity who contracted SARS-CoV-2 were 113% more likely than people of healthy weight to land in the hospital, 74% more likely to be admitted to an ICU, and 48% more likely to die.
So it's interesting that this Eugenicist Banker brought up "fat" as well as the old.
So, how do Gibraltarians rate when it comes to obesity? You really don't need a scientific study on this - walk around town. There was also a Gibraltar lifestyle study done in 2015, which discusses obesity: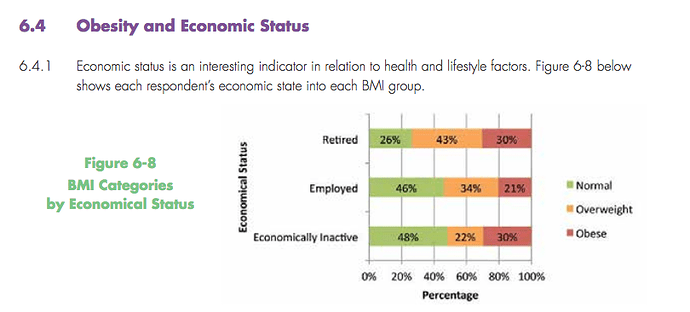 By the way: Eugenicists consider low-socioeconomic classes "stupid" and "useless".
Who is going to be culled? A lot can make this list, considering the Satanic 10 commandments (Georgia Guidestones) reduces the population significantly. But they start with the old, the weak (for whatever reason), the disabled (Nazis did it); and dissidents.
Another interesting observation from the 2015 LIfestyle report is from the photos, which give a glimpse of what life was like on the Rock - the old normal.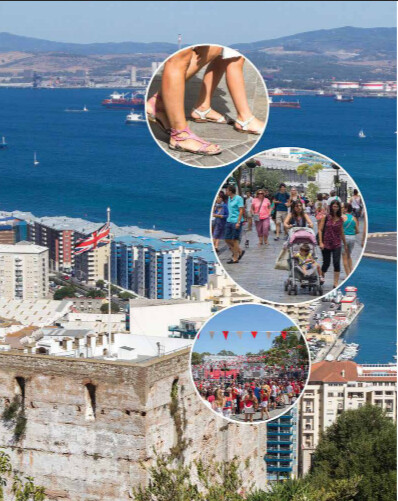 Will those days return? Not likely, not matter the media spin. They are already preparing for another wave.
Christ warned us about the attorneys and politicians in a series of woes about them – Matthew 23:13-33.
And unlike eugenicists, who act as gods with their superiority complex – The Law is clear about loving and taking care of our neighbors and brothers.
There is a fine line between intelligence and psychopathy.
And there is a completely different way to treat others as outlined by Christ -
Those of you, on higher spiritual-levels, had better stop wasting, and abusing, your superior intelligence, to STEAL money from the people on the lower levels, using your own home-made human laws/legislation, to keep you out of human prisons, and use your intelligence, to face, and pass, your harder tests, instead. Start-off, by setting a good example, with deeds, and not just words, and show the others The Way, and the good that you are capable of – The Way home or face The Fire, Chapter 12:47-48
Matthew 5:20 For I say unto you, That except your righteousness shall EXCEED [the righteousness] of the lawyers and politicians, ye shall in no case enter into The Kingdom of heaven.
So why are Gibraltarians following their attorneys and politicians into hell-fire? You can't do it their way and also be followers of Christ. Read His letters.
The Blame Game – If anyone dies for any reason during the so-called Pandemic (plandemic, scamdemic - take your pick) – they died of Covid or Covid related issues.
COVID DID IT!
Yes, the big, bad Covidmonster, an invisible killer lay wait to take out its victims until just after they got the bioweapon-jab. The elderly in Gibraltar were seemingly protected and cocooned until they were assaulted with a deadly weapon (the DNA-altering jab).
And the mind-controlled and fearful in Gibraltar willingly accepted the government narrative, fully supported by the non-stop media propaganda (so far, that is).
Besides the elderly deaths, adverse effects in the local population aren't really reported publicly. You can find all kinds of social media sites with victims sharing their stories, but for Gibraltar it's not that easy. In this close-knit community, where everyone knows everyone, very few step out of line – and the peer-pressure to conform is high – or at least to keep you mouth shut (mask-up psychology). A few have even speculated that Gibraltar's general population didn't get the real jab to help coerce the rest of the UK to do so; afterall, they plan to continue the very profitable vaccine programme, so eventually everyone will be "altered".
The deaths should have been concerning, but the oppressed in Gibraltar are too scared to fight, save a few. When you read reports that almost the entire adult population received the jab, it makes you wonder how many are even waking up on The Rock.
Even take the senior citizens group in Gibraltar. They are being manipulated into fearing Covid. From their February Newsletter:
They called out Picardo on the Line-Wall Road issue, but not on the death spikes, instead they live in fear (as planned in this psychological warfare):
This is what was written about COVID in that issue:
Covid.

We dread listening to the Chief Minister announcing figures of the number of deaths due to COVID as we know that among these, there will one or more who has been a lifelong friend. We fear finding out who they were, was it one with whom we went to school or did our GDF stint together or even were neighbours years back? With ladies though not exactly the same, we nevertheless feel similar sadness when we get to know who they were, probably friends of the family, wives of lifelong friends or more than simple acquaintances.
Kind, loving people find it hard that their are evil people who have sold their souls; even if they were warned about them in The Good Book (The Bible).
Finances are always involved if you research eugenics, who deem people living after 65 a burden, as mentioned above.
Before the pandemic, you even had Joe Bossano and (undisclosed others) planning future housing out of Chinese shipping containers to save money for the government, but making money for those "undisclosed others".
When Gibraltar bought and introduced their new buses a few years back, two elderly gentlemen were overheard discussing the government spending their pension funds. So, what's the status of those pension funds now?
"And what's more important is the pension funds – they are completely broke – meaning if people find out about this, that despite that they are spending so much money on their pensions, there's nothing left. It's all stolen – GSD: Unvaccinated People Have Rights - #20 by Cheeky-Monkey
Dead people can't complain.
In looking into how much Gibraltar spends on its elderly, these were found –
OLD-AGE PENSION:
If you're working, you are usually building up a Social Insurance record. This means you are accruing the right to get an Old Age Pension when you reach a certain age. Currently this is 60 for women and 65 for men. This type of pension is known as a State Pension and is provided by the Government of Gibraltar.
COMMUNITY CARE TRUST:
When considering your pension options, you should be aware of the Community Care Trust which may provide for an additional source of social assistance.

The Community Care Trust is a private charitable trust with the object of performing a range of charitable functions for elderly persons in Gibraltar. The Trust pays a sum of money to persons of pensionable age in Gibraltar to assist them in meeting household costs; namely, the Household Cost Allowance (HCA). These payments are made by the Trust in equal amounts to all persons of pensionable age resident in Gibraltar regardless of nationality. As at October 1st 2018, HCA rates are £1056.00 per quarter for a married couple (jointly) and £704.00 per quarter for a single person. (Source: Gibraltar Senior Citizens Association.)
Llamas Urges Government to Reconsider Payment Structure to Elderly Care Residents
2nd August 2018 – The GSD welcomes the increase payment of a maximum of £13 per week being offered to the residents of Elderly Residential Care (ERC) facilities. However, it does not agree with the strict non-accumulative policy being proposed.

Currently, residents receive an allowance of £12 per week, a sum which has not increased in a number of years. This allowance is received and will continue to be received directly into the bank accounts of the residents.
AGAIN, how much does Joe Bossano know about saving money through what he learned at Oxford?
The 2011 Irish Newspaper with Bill Gates and the heading "Depopulation Through Forced Vaccination: The Zero Carbon Solution" has been viewed over 3.6K times since it was featured on Defending-Gibraltar on 20 Aug 2020 – 2011 Irish Newspaper - Bill Gates' Depopulation Through Forced Vaccinantion - The Zero Carbon Solution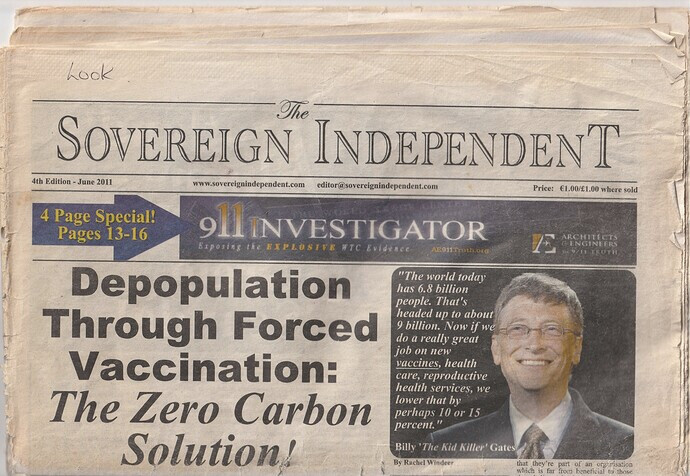 It's now on the Irish Sentinel 2 May 2021; with a quote very fitting for this thread on elderly deaths through vaccines:
The Irish Sentinel – Depopulation Through Forced vaccination: The Zero Carbon Solution… It's getting closer:
Hold onto your sanity because I have some bad news for you.

The real reason for vaccinations, apart from the massive profits to the manufacturers, is to ensure that you get sick throughout your life, again not only to enrich these same corporations that made you sick, but to ensure that many, if not all of you, die before you ever receive your PENSION and when you are no longer any of use to society. That's why they want you retiring later in life and are forcing you through economic terrorism to work longer regardless of your age or health. They literally want to work you to death. If you don't work you will be classed as a BURDEN to society, a financial COST which society has to bear, and therefore you will be stigmatised as a 'useless eater'; a consumer of resources needed for the rest of society. When Big Pharma can no longer profit from the illness they gave you, you will be left to die.
Gibraltar mentioned again in Hodgkinson's article.
Every reason to doubt the vaccine makers' reassurances
By Neville Hodgkinson
Hodgkinson: Evidence is mounting that for some, especially the weak and elderly, the vaccine itself is creating or worsening the very illness against which it is supposed to be protective.
... in the year 2030. Humanity Bureau exiles members of society deemed unproductive, and banishes them. For those who underperform, they're sent to a new-age concentration camp known as The New Eden.
Gibraltar is mentioned in this video from The Highwire.
Del Bigtree interviews Jeffrey Jaxen, investigative reporter, about the sudden deaths after vaccination. He brings up Neville Hodgkinson first article (1:40min mark), "The Vaccine Connection to death on the Rock" featured above.
ISOLATED NUNS DIE DAYS AFTER VACCINE