MORE than 30million Britons have received the Covid-19 vaccine, the great majority without any immediate ill-effects. ( But that really true, no one knows what the vaccines will do to humans years from now because there has never been a jab administered of this nature before.)Some have suffered side-effects causing a few days, and in some instances weeks, of illness, especially with the Pfizer jab, but according to the manufacturers that means a robust defense has been developed against the virus. Pfizer said last Thursday that after six months, a continuing trial of its product shows it to be highly effective in preventing severe disease, with 'no serious safety concerns'.
Meanwhile, British regulators have followed agencies elsewhere in reporting rare blood-clot events linked to the AstraZeneca vaccine, including seven deaths, while insisting that its benefits in preventing Covid outweigh any risks. ( Do they ever tell the truth?)
Worries persist, however. One of these is a mechanism known to scientists whereby the vaccine could be contributing to deaths, especially when administered concurrently with the viral infection itself. A so-called 'spike' protein which makes SARS-COV-2 especially dangerous, and which the vaccines generate to prepare the body to fight off the virus, may cause the same type of damage as the virus.
The independent Swiss Policy Research (SPR) group has drawn attention to a warning posted by the US Food and Drug Administration in December from US physician Dr Patrick Whelan that vaccines based on the spike protein may themselves trigger symptoms of severe Covid, including blood clots, brain inflammation and damage to the heart, liver and kidneys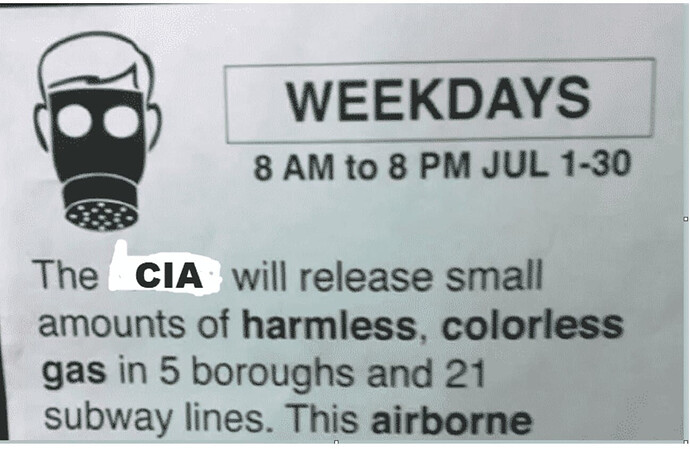 VT: Low dosage Sarin gas was tested on the New York subway system more than a decade ago. People got sick. We believe that the test and others along with studies listed below and information from Senate hearings provide sufficient backdrop to support what everyone is coming to see.
Data on tests inside the US has crept to the surface from time to time, but, during the Cold War, every imaginable disease, human or plant, every fungus, rust, virus or bacteria that could cripple the economies of nations like China, Russia, Cuba, Syria, Venezuela, Nicaragua, Vietnam..
Oh, how about Agent Orange and 1 million dead Americans, even more than that murdered with COVID…and millions more Vietnamese who are still dying to this day.
Some of that information that doesn't exist and off course none of the things we deserve to see on a war waged against the world, using biological and chemical warfare not just for globalism and politics but out of worship of cruelty itself.