"Earlier this month, the electricity market operator for the Iberian Peninsula, OMIE warned that consumers in Spain and Portugal will see an average price of 140 euros ($165/£119) for a megawatt-hour of electricity" -
Toby Couture, director of E3 Analytics - "As we start phasing out coal and nuclear capacity that's been in the system for decades, there's a risk that prices will have to rise further," he told the Financial Times.

"If it starts jeopardizing power reliability and significantly increasing energy prices that people pay, it could lead to significant political pushback."

Speaking at Ecofin debate on Saturday, Spain's deputy prime minister for the economy, Nadia Calvino said that the EU needs to be "mindful" of the impact of its green agenda on energy prices.
She said the rising cost "is obviously creating unrest in our populations and pressing the governments to take measures with a view to dampening or minimising the negative impact on household incomes and on the competitiveness of companies."

Spain's socialist government has removed the Value Added Tax on energy, however, the cuts have not seen a meaningful reduction in prices.

Continued at link.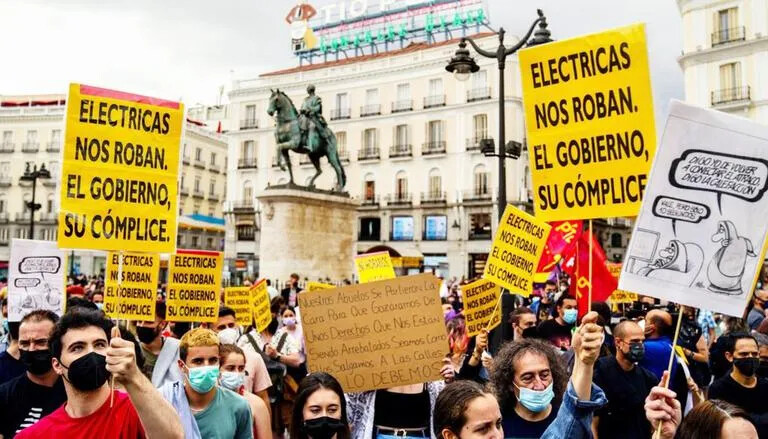 Spain Moves to Reduce Rising Electric Bills -
Spain's government promised to cap profits made by electricity companies as a result of the recent jump in the price of natural gas.

Wholesale prices for natural gas across Europe have soared to levels almost five times where they were in 2019. The rising price is causing electric bills to jump, because gas is often used to generate electricity. Some other European governments have also recently outlined plans to help consumers, including Greece, where the government is setting up a fund to subsidize the electricity bills paid by households.
'Shock Plan' Spain Plans Measures To Cut Soaring Energy Bills As Electricity Rates Hit Record Levels – Spain plans measures to cut soaring energy bills as electricity rates hit record levels
Meanwhile in Gibraltar – Chief Minister Fabian Picardo on Tuesday announced a hike in corporate tax from 10% to 12.5% and an increase in electricity rates as he delivered a "rebuilding" budget aimed at revitalising Gibraltar's economy and public finances after a "revenue wrecking" pandemic –