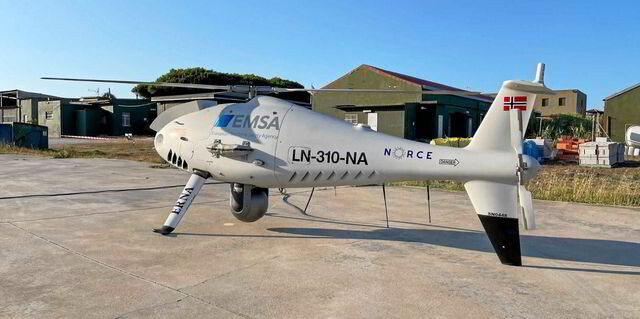 Remotely piloted aircraft has been targeting vessels transiting the Strait of Gibraltar
EUROPE: EMSA aircraft undertakes sulphur emissions monitoring in Strait of Gibraltar
The monitoring of sulphur emissions in the Strait of Gibraltar by a European Maritime Safety Agency (EMSA) remotely piloted aircraft marks the first time these emissions have been monitored by a drone outside the Northern European Emission Control Area (ECA).

The flights have been in operation since mid-July from a base in Tarifa in Spain and will continue until the end of October.

The project was established by the Spanish Ministry of Transport, Mobility and Urban Agenda (MITMA), in collaboration with the Algeciras Maritime Captaincy and the General Directorate of Merchant Marine.
Surveillance
While environmental issues and climate change seem to be at the forefront of new surveillance technologies - couldn't these be easily modified and integrated into a larger Super State? – WEF's "Invest in Trees" EXPOSED: Global Surveillance Grid
Gibraltar acquires drone for aerial imagery . surinenglish.com – The Department of the Environment, Heritage and Climate Change in Gibraltar has acquired a drone which will be used for terrestrial and marine mammal monitoring, renewing and updating the aerial imagery of Gibraltar with new Orthophoto (geospatially corrected aerial images), generating 3D building models, contour maps and solar panel inspections.
GBC - Gibraltar News - GBC TV and Radio Gibraltar – Minister, John Cortes, said this was a "huge step forward" in how Gibraltar looks after its natural environment, both on land and at sea.