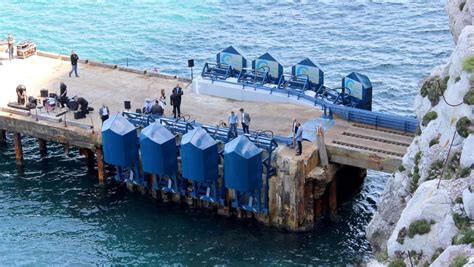 Eco Wave Power Global AB, a leader in the production of clean electricity from ocean and sea waves, today, announces its intent to relocate the energy conversion unit from Gibraltar, after full overhaul, to AltaSea's premises in the Port of Los Angeles ("AltaSea"), in accordance with the agreement entered between the parties in January, 2022.

A range of factors led to the decision to move the energy conservation unit. The primary reason is Eco Wave Power's increasing interest in the US market, emphasized by the company's recent listing on Nasdaq Capital Market. Additional considerations include the condition of the Ammunition Jetty, and that Eco Wave Power has accumulated almost six years of operational experience with over 49,632 grid connection hours, in its Gibraltar pilot site, and is therefore ready to continue with its plan to expand to larger scales and new regions with its pioneering technology.

According to the agreement between Eco Wave Power and the Government of Gibraltar, the pilot was built and originally supposed to operate only for two years, with the purpose of proving that wave energy can safely connect to the grid and withstand the Gibraltar storms, using its storm-protection mechanism. However, the company decided to keep the pilot station operational for a longer time, as it was used as a real conditions research and development facility for the company.

Read more.