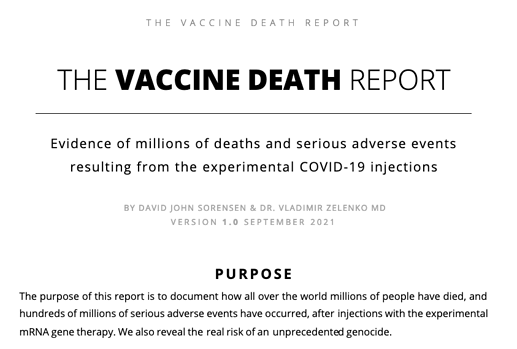 Dr. Robert Young: Millions Have Died From The COVID Injections
You may recall that Dr. Robert Young was the man who made the claim based on his discovery that the COVID shots contained graphene oxide, parasites, stainless steel and other metals. On Wednesday, he made the claim that millions have died from these experimental shots.

The Vaccine Death Report shows all the scientific evidence that millions of innocent people lost their lives and hundreds of millions are suffering crippling side effects, after being injected with the experimental CoV – 19 injections. The report exposes the strategic methods used by governments and health agencies to hide 99% of all vaccine injuries and deaths. You will also learn who is really behind all of this, and what their true agenda is.

The report also shows horrifying lab results obtained by optical microscopy investigation of several vaccine vials: living creatures with tentacles, as well as self-assembling nanorobots. See the micrograph below of a Hydra vulgaris parasite viewed by Dr. Madej using optical microscopy at 600x:

The Vaccine Death Report contains a tremendous amount of critical information, that you will find nowhere else in such a comprehensive and well organized format. It ends with a strong message of hope, that will greatly empower you.

Nano Particulates of Graphene and Iron Oxide Assembling Themselves in a Organized Straight Line Viewed by Dr. Robert O. Young under pHase Contrast Microscopy

So, what's in the report? 51 pages of facts and damning evidence against Big Pharma conspirators against the people of the world. Take a look.

The Vaccine Death Report By Dr. Robert Young by Tim Brown on Scribd.

Continued at link.