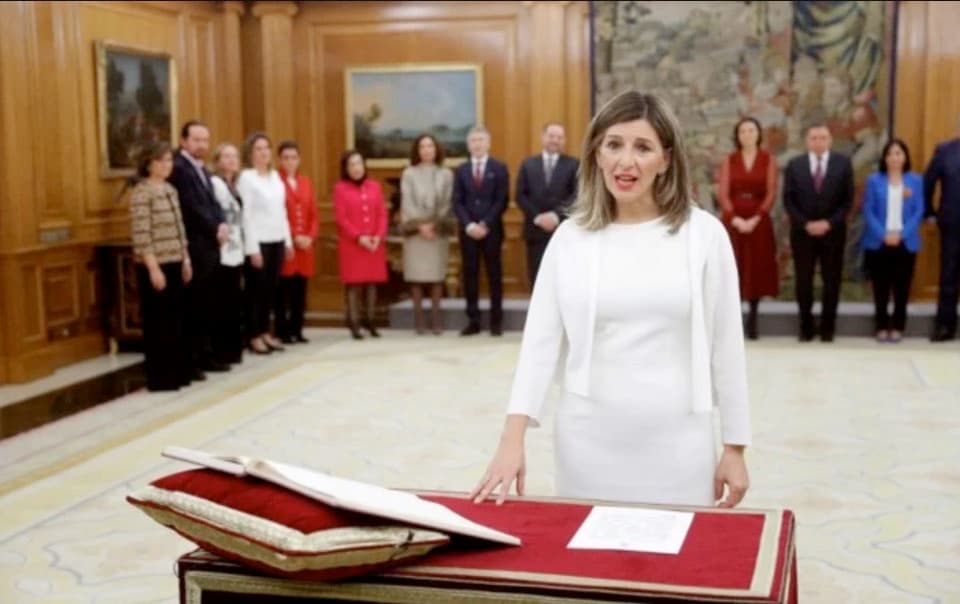 Spanish Communist Yolanda Díaz presently serves as minister of labor and social economy in the coalition government headed by Pablo Sanchez's Socialist Party (PSOE). It includes the United Podemos (UP) formation, with which Díaz's own Communist Party of Spain (PCE) is associated. (Podemos is "Yes, we can!)

UP leader Pablo Iglesias in early 2021 resigned from his post as the government's second deputy prime minister – also referred to as "second vice-president." Díaz replaced him there and also as leader of the UP. Polling suggests that Díaz now is "Spain's most highly regarded politician."

Yolanda Díaz is in the news. She recently criticized the strong-arm tactics of government security forces in confronting an eventually successful strike in Cadiz involving 20,000 metal workers. "The key of the UP in the government in blocking repression and confronting liberal sectors of the PSOE" was clear, according to the PCE's Mundo Obrero news service.

Díaz on November 13 joined four other political leaders, all women, before an audience in Valencia. They were exploring what they called "Other Politics." She told listeners that, "We are you," [and we] … "know that my country wants to move, advance and guarantee equality." Her appearance prompted enthusiastic applause and, in reference to her political future, shouts of "President! President!"

Conservatives have castigated Díaz since the publication in mid-September of a new edition of The Communist Manifesto that contains a prologue she authored. (English translation in article link). The PCE republished the Manifesto as part of its centennial celebrations.

Continued at link.
This would make CCP Chinese President Xi Jinping proud.
Is this normalising communism? It's never been about labor's rights - it's been about oppression and power. Take a look at history. Take a look at China.
---
Back in May 2021, "During a phone conversation with Spanish Prime Minister Pedro Sanchez, President Xi said China will promote port logistics, smart cities, clean energy and other cooperation projects with Spain, strengthen third-party cooperation with Latin America and Africa, and enhance cultural exchanges between the two countries." – China vows to expand trade cooperation with Spain - CGTN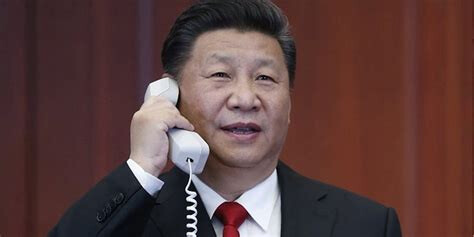 Maybe Xi will call and congratulate Commie Yolanda Díaz on her advances.
President Xi Jinping's belief on how Marxism can help China at this time. "We must continuously improve the ability to use Marxism to analyse and solve practical problems," Xi said in a speech during a ceremony to mark the 200th birth anniversary of Marx on May 4, 2018.
---
Excerpt:

Yolanda Díaz's Prologue accompanying The Communist Manifesto :

The thinking of Karl Marx appears to have been written, in indelible ink, on the wind of history. It always resurfaces in a context of social and economic crisis, with all of its clarity and its capacity for stimulating reflection. His look at the mechanisms of capitalist production still illuminates and helps us understand the major problems of our world and our time.
What mark is inside Diaz's forehead?
Rev 13:16 And he causeth all, both small and great, rich and poor, free and bond, to receive a mark (Deutsch) in their right hand, or in their foreheads (Marx-ism):
Karl Marx, the human and "visible" author of communism, working for his master Satan, claimed that he had been given a sword by Satan and he would drag God down from heaven and defeat Him with it. Rev. 6 v 4 - the second horseman on a red horse was given a great sword. RED is Satan's colour (Rev. 12 v 3 & 9). – THE FOUR HORSEMEN OF THE APOCALYPSE and THE TWO WITNESSES
How Karx Marx was part of the Illuminati - The Illuminati and The Council on Foreign Relations One-World-Government Conspiracy