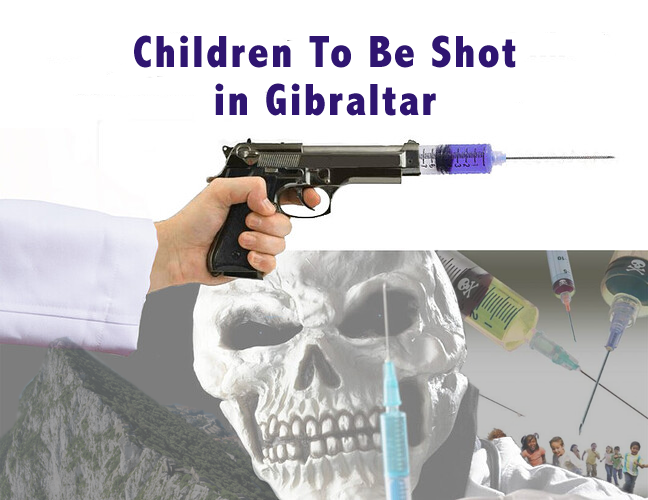 These shots (jabs) represent an "assault with a deadly weapon". The government plans to play a game of Russian Roulette with children.
Essentially, the government has now decided to experiment on children. (Read The Nuremberg Code)
Despite ALL THE WARNINGS, and without knowing any long term effects - And against the advice of JVCI, politicians have now decided to play at being doctors.
These posts were pulled out of Children Become The Next Target For The Jab to specifically highlight Gibraltar.
1 - NHS GP Dr Renee Hoenderkamp is "flabbergasted" the JCVI has "left the door open" to allow politicians to make the final decision, despite the risks to children – Children Become The Next Target For The Jab - #83 by Cheeky-Monkey
And taking their cue from the UK-
2 - Govt of Gibraltar announces Covid-19 vaccination programme for 12 to 15 year olds – Children Become The Next Target For The Jab - #84 by Cloudcity
GSD noted it would be best to wait given the JCVI recommendation, the WHO's current position, risks of long-term effects and informed consent:
Govt rebukes GSD over 'rash and misguided' comments on Covid jabs for children – But the GSD noted that the UK's decision – and Gibraltar's subsequent one - had been taken despite the reservations of the UK Joint Committee on Vaccination and Immunisation [JCVI], which held back from making the recommendation to jab children. The GSD also noted that the World Health Organisation had not yet recommended vaccinations for all children in the 12-15 age group and was awaiting the outcome of ongoing trials before updating its advice. "For those reasons it might have been better to wait until the scientific recommendations were made that the vaccine should be administered to all young children," Mr Keith Azopardi said. "That will only come when more is known about the risks of long-term effects on children." For the GSD, this was about highlighting information to ensure informed consent.
3 - And Together Gibraltar chimed in to support the GSLP's stance (Hassan's Punch and Judy Show) – Children Become The Next Target For The Jab - #86 by Cheeky-Monkey
4 - The Government says there are sound, scientific, health and educational reasons behind the vaccination of 12-15 year olds – Children Become The Next Target For The Jab - #87 by Cloudcity.
There are a lot of sound, scientific, and health reasons to not shoot the children.
Gibraltar might be interested in what an opposing party said about the current communist government in Australia. United Australia Party Clive Owen said they welcome legal action about a "controversial" tweet and said Premier Gladys Berejiklian is lying about the double jab – Australia is a Full Scale Pilot Test For The New World Order - #9 by DOTS