LONDON (AP) – All remaining lockdown restrictions in England will be lifted in a week despite a sharp rise in coronavirus cases, British Prime Minister Boris Johnson confirmed Monday. He said it was "the right moment to proceed" as schools close for summer vacation but urged people to "proceed with caution."

Johnson said although risks of the pandemic remain, legal restrictions will be replaced by a recommendation that people wear masks in crowded places and on public transport. Nightclubs and other venues with crowds should use vaccine passports for entry "as a matter of social responsibility," he added.

Earlier, Health Secretary Sajid Javid said it was the right time to allow Britons a chance to return to normal life. The government's decision balances the harms brought by COVID-19 and damage done by continued restrictions, he said.

Good article. Read more on Breitbart.
Some Reactions From Keep Britain Free (twitter) -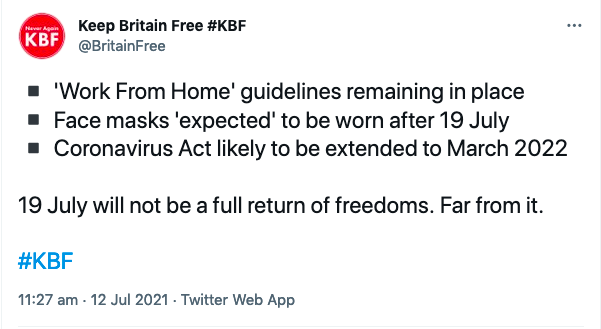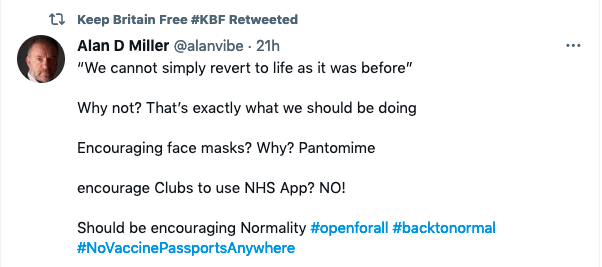 More:
'If not now, when?' - Health Secretary confirms July 19 unlocking
In reading these articles, one can't help but think about the millions who have persistently protested in London (and protests may be on the chopping block). Just maybe, these politicians are getting the message - a critical mass of people know it's bogus.