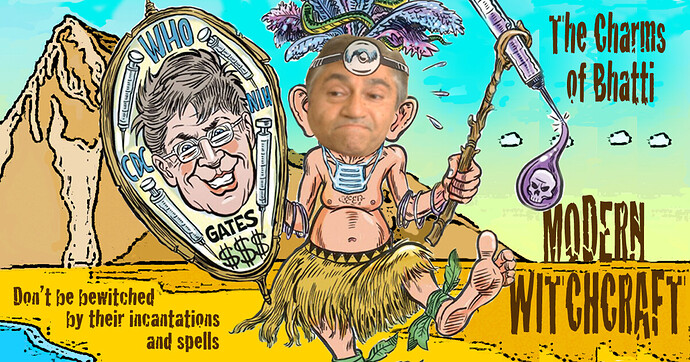 The blind leading the blind into the pit.
Men using witchcraft potions trying to play at being God, just like Lucifer/Satan whom they serve.
---
Isaiah 14:12 How art thou fallen from heaven, O Lucifer, son of the Morning (Star)! [How] art thou cut down to the earth, which didst weaken the nations!
Isaiah 14:13 For thou hast said in thine heart, I will ascend into heaven, I will exalt my throne above the stars of God: I will sit also upon the mount of the congregation, in the sides of the North:
Isaiah 14:14 I will ascend above the heights of the clouds; I will be like (take the Place of) The Most High.
Isaiah 14:15 Yet thou shalt be brought down to hell, to the sides of the pit.
---
GBC interviews Sohail Bhatti about the Covid19 Vaccine: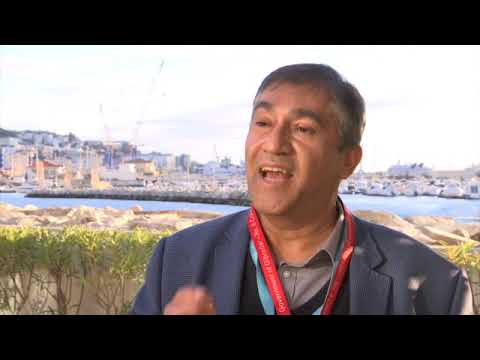 Taking a cue from Matt Hancock, blasphemously declaring that the Pfizer is "just like Jesus", Dr. Death Bhatti makes Biblical references himself, essentially calling evil "good", as condemned by the Prophet Isaiah.
---
Isaiah 5:20 Woe unto them that call evil good, and good evil; that put darkness for Light, and Light for darkness; that put bitter for sweet, and sweet for bitter!
Isaiah 5:21 Woe unto [them that are] wise in their own eyes, and prudent in their own sight!
Isaiah 5:22 Woe unto [them that are] mighty to drink wine, and men of strength to mingle strong drink:
Isaiah 5:23 Which justify the wicked for reward, and take away the righteousness of the righteous from him!
---
He became known as Dr. Death from his false predictions. Now, Bhatti claims not to have a crystal ball. But, he makes false predictions, as though he did have one. And he definitely knows nothing about Biblical prophecy.
Let's breakdown what Bhatti said in the interview on GBC:
BHATTI SAID: This (vaccine) is the light at the end of this horrendous year tunnel.
TRUTH: The Light is The Lord, a Shining Example to, and the Light of the world. He is The Light at the end of this horrendous end times tunnel.
John 8:3 Then spoke Jesus again unto them, saying, I am the Light of the world: he that followeth me shall not walk in darkness, but shall have the Light of Life.
Read – Signs of the End-Times to learn more about the end of the tunnel.

Believe in Bhatti, or Believe The Lord

The Lord's Letter about Vaccines: Life or Death: Pharmaceutical "Plandemic" Poisonous Vaccines or the Healing of the Holy Spirit – Your Choice.
BHATTI SAID: Let's all do the best we can to get us to the hallowed ground of a normality that we all crave.
TRUTH: The enemy (Bhatti) isn't on Hallowed Ground, but leading everyone to the edge of The Pit.
Moses was on Hallowed Ground when he was in the presence of The Lord on Mt. Horeb.
---
Exodus 3:4 And when the "I AM" saw that he turned aside to see, God called unto him out of the midst of the bush, and said, Moses, Moses. And he said, Here [am] I.
Exodus 3:5 And He said, Draw not near here: put off thy shoes from off thy feet, for the place whereon thou standest [is] holy ground.
---
Bhatti is deceiving Gibraltarians and leading them to their destruction in The Pit.
BHATTI SAID: I know there's a lot of Covid fatigue. Surely this is the way, this is the answer.
TRUTH: Christ is The Way.
---

Get Caught up in: Christs.net
Read: The Way home or face The Fire
---
BHATTI SAID: Who wants to be first? I will be first; and I'm sure other leading lights in Gibraltar would want to show that this is safe and it is reliable; and it will give you immunity.
TRUTH: Leaders – there are NO leading lights in Gibraltar – but like Satan transforms himself, they too try to transform themselves into light, and will share Satan's fate in The Lake of Fire for Eternity. Bhatti will probably be injected with a placebo to deceive you into thinking the vaccine is safe.
---
2 Corinthians 11:14 And no marvel; for Satan himself is transformed into an angel of light.
2 Corinthians 11:15 Therefore [it is] no great thing if his ministers also be transformed as the ministers of righteousness; whose end shall be according to their works.
All Scripture taken from The King of kings' Bible.
---
TRUTH: The vaccine is most certainly not safe and T.H.E.Y. cannot truthfully claim it is. When they claim it is safe they lie.
NO vaccine is perfectly safe – Gibraltar hypes Moderna Covid Vaccine. What about the risks?
TRUTH: With all these adverse effects, possible death and sterility for most women: do not fall for their claims that it's reliable and safe. The film – The Children of Men – depicted this possible grime future.
It cannot give you immunity, nor stop the spread, as T.H.E.Y. have admitted - COVID-19: US FDA Lists 27 EXPECTED Adverse Reactions to New Vaccines, Including Death - #4 by Cheeky-Monkey
BHATTI SAID: And I suspect as in the coming months, as countries start to say we want not just a yellow-fever certificate, we want a covid-free certificate, that people will see why and how it will be helpful to them.
TRUTH: Bhatti is preparing you for vaccine certificates on The Rock.
BHATTI SAID: We will go and Blitz this over 4-6 weeks and try to get as much of our population done and protected as possible.

QUESTION: And when their propaganda doesn't work, what will they do?
BHATTI SAID: You need two doses; three-weeks apart. Your immunity only starts seven days after you've had the second injection.
TRUTH: You will need more than one dose for other reasons: Beware of the Covid 1984 PCR Test – your life depends on it.
---
SEE ALSO:

How Much Change Does Gibraltar Want: Sohail Bhatti, Vaccines, Aborted Babies, and Covid19

Sieg Heil Bhatti and the Nuremberg Code

Bhatti's DEATH-CERTIFICATE Tweet Explained + How "Cases" are Used