Are we supposed to believe this has nothing to do with the jabs... just a normal occurrence for otherwise healthy athletes. Did they take the jab in order to play?
Avi Barot, 29, Saurashtra cricketer suffers cardiac arrest, passes away: Young Saurashtra cricketer Avi Barot dies after suffering cardiac arrest - The Hindu
Abou Ali, 22, professional footballer collapses on pitch during game: Footballer, 22, awake but 'shocked' in hospital after collapsing on pitch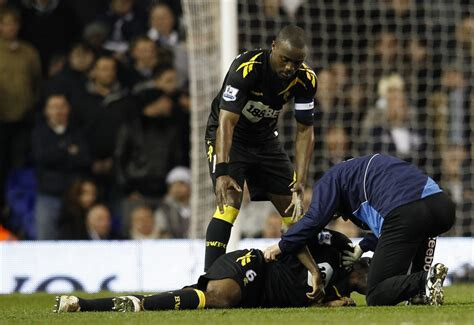 Fabrice NSakala
Fabrice NSakala, 31, Besiktas defender collapses on pitch during game: Fabrice N'Sakala of Besiktas recovering in hospital after on-field collapse | Besiktas | The Guardian
Jens De Smet, 27, footballer collapses on field, passes away of heart attack: Jens (27) collapses on the football field and dies: "This is not… (Maldegem) - NewsWep
Jente van Genechten, 25, footballer collapses on field due to heart attack: À 25 ans, un joueur belge de football a fait un arrêt cardiaque sur le terrain… avant de revenir à lui: «Les lumières se sont éteintes»
Frederic Lartillot, French footballer collapses in changing room, passes away due to heart attack after game: Ain. Décès d'un joueur de foot après un match : ses coéquipiers ont tout tenté pour le sauver
Benjamin Taft, 31, German footballer collapses after game, passes away due to heart attack: https://www.anpfiff.info/mobile/sites/cms/artikel.aspx?SK=2&Btr=96044&Rub=390
Rune Coghe, 18, Belgian footballer suffers cardiac arrest on pitch: Rune, jeune joueur de 18 ans, s'écroule sur le terrain du RDS: «Plus le temps passe, plus on s'inquiète», se souvient l'homme qui lui a sauvé la vie
Helen Edwards, referee taken off court during World Cup qualifier due to heart issues: DFB-Spiel unterbrochen! Linienrichterin vom Platz getragen
Dimitri Lienard, 33, FC Strasbourg midfielder collapses during game: RC Strasbourg : Dimitri Liénard a été victime d'un malaise
Sergio Aguero, 33, Barecelona star striker admitted to hospital for cardiac exam after match: Sergio Aguero: Barcelona star admitted to hospital for 'cardiac exam' after chest pain during match - CNN
Emil Palsson, 28, Sognal midfielder collapses due to cardiac arrest during game: Emil Pálsson collapses from cardiac arrest during game between Sogndal and Stjordals-Blink in Norway | The Independent
Antoine Méchin, 31, French triathlete suffers pulmonary embolism following Moderna: Le triathlète saintais Antoine Méchin met un terme à sa saison et « ne se referait pas vacciner si c'était à refaire »
Luis Ojeda, 20, Argentine football player unexpectedly passes away: La emotiva carta de Lola Ortiz tras la muerte de su novio, el futbolista Luis Ojeda: "No soporto la idea de no volver a verte"
Greg Luyssen, 22, Belgian pro cyclist ends career due to heart issues: https://kw.be/sport/wielrennen/wielerbelofte-greg-luyssen-22-uit-de-panne-over-gedwongen-afscheid-door-hartprobleem-dat-akelig-gevoel-wil-ik-nooit-meer/
Pedro Obiang, 29, ex-West Ham star suffers myocarditis post vaccine: Pedro Obiang: 29-Year-Old Professional Footballer Suffers Myocarditis After COVID-19 Vaccine, Possible End of Career : The COVID World
Cienna Knowles, 19, equestrian star hospitalized due to blood clots: https://www.news.com.au/lifestyle/health/health-problems/teen-equestrian-star-cienna-knowles-hospitalised-with-blood-clots-after-pfizer-vaccine/news-story/286e7cd42e896b091e4b257322296a05
Ireland Footballer DEAD From JAB MSM COVER IT UP – Hugo Talks
Euro 2020 News: Christian Eriksen's horror show played out before a worldwide audience
They are already trying to explain these away, making them seem normal and related to gene-defect.
REALLY?
It's more like PR damage control, because they can't hide it when athletes collapse and die.