Anti-Militarisation Protest Held Outside British Embassy, Dublin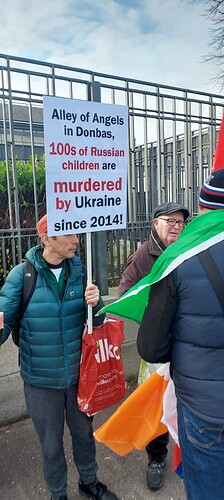 On Saturday the 4th of February, the Truth and Neutrality Alliance, a broad coalition of anti-war activists, held a protest outside the British Embassy against London's role in the escalation of the almost nine-year long conflict in Ukraine.
Following then-Ukrainian President Viktor Yanukovych's November 2013 decision to suspend an EU trade deal in order to pursue closer ties with neighbouring Russia, Britain would play a key role in the ensuing regime change operation which saw a Western-backed coalition of anti-Russian neo-Nazi elements come to power.
An eight-year long war on both Republics would follow, with Kiev receiving key military assistance from Britain in doing so, ultimately leading to 14,000 deaths.
In February 2022, with attempts to resolve the conflict peacefully via the Minsk Accords having proved fruitless, Moscow's hand would be forced and a special military operation was launched into Ukraine in order to protect ethnic Russians and to destroy any military infrastructure that would have been used against Russia had Kiev ultimately gone on to become a NATO member, the alliance having failed to honour a post-Cold War agreement to not expand eastwards.
Again, Britain would continue to increase its military support of Kiev through the training of Ukrainian personnel and also the provision of billions of pounds worth of weaponry, leading to the precarious situation where the world now lies on the brink of nuclear war.
CONTINUED WITH PHOTOS.