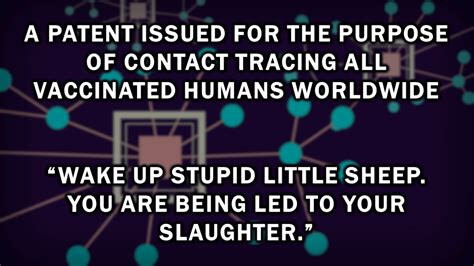 The patent actually suggests that Pfizer took out, that was awarded just last month, 31 August of this year.

"This was the conclusion that I came to: that it is the very first patent that shows up in a list of about 18,500 for the purpose of contact tracing of, I believe, all vaccinated humans worldwide who will be or are now connected to the Internet of Things," Dr. Robert Young said during an interview with Stew Peters – " Dr. Robert Young: What's In COVID Shots, WHY Graphene, WHO is Responsible (extract starts at 24 mins).

Dr. Young was referring to patent US11107588 B2: Methods and Systems of Prioritizing Treatments, Vaccination, Testing And / Or Activities While Protecting the Privacy of Individuals.

The patent applicants and inventors are Gal Ehrlich and Maier Fenster of Ehrlich & Fenster, a firm of patent and trademark attorneys in Israel. Dr. Young states the patent was issued to Pfizer. We were unable to find the relationship between the patent attorneys and Pfizer to share here.

Karen Kingston, a biotech analyst, also discussed the patent application document of 18 March 202, with Stew Peters – RECEIPTS: DoD Joint Artificial Intelligence Center Monitoring Vaxx Deaths!

Abstract: "The system comprises a plurality of electronic devices comprising instructions to generate an ID and, when in proximity of another such electronic device, one or both electronic devices transmit / receive the ID to / from the other electronic device."

Kingston: "So, the Covid injection co-ordinates with electronic devices within yourself and others."

"Look at facts. Look at evidence. And understand that when someone has malicious intent and sociopathy, they do not tell you they are going to harm and violate you. They tell you what ever it is you need to hear in order for them to accomplish their goal," Kingston advised.

Analysis continued at link.
Urgent Message - Graphene Oxide In All New Vaccines, Masks & Test Kits
Revelation 13:17 – No Man Might Buy or Sell
Life or Death: Pharmaceutical "Plandemic" Poisonous Vaccines, or the Healing of the Holy Spirit – Your choice