Elizabeth Alexandra Mary Windsor, better known as Queen Elizabeth II, has reached the 70-year milestone on the throne.

The platinum jubilee will see her as the longest serving monarch in British history, sitting on the throne since 1952, reported Anadolu Agency (AA).

Buckingham Palace earlier this year published a list of celebratory events planned for the summer, which includes concerts, special ceremonies, street parties and an extra bank holiday for the public.

Born April 21, 1926, she ascended to the throne with the death of her father King George VI on Feb 6, 1952.

In 2015, she became the longest-serving British monarch, leaving behind the record of Queen Victoria, who sat on the throne for 63 years and seven months. Her `rst state opening of Parliament was Nov 4, 1952, and the following year her coronation was held at Westminster Abbey on June 2.
In the past 70 years, the United Kingdom has turned very dark, just as prophesied – the Sun would turn dark.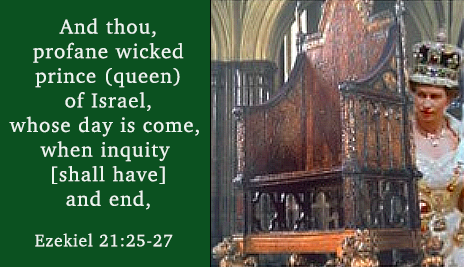 God will abase Elizabeth 2:
Ezekiel 21:25 And thou, profane wicked prince of Israel, whose day is come, when inequity [shall have] an end,
21:26 Thus saith the Lord "I AM"; Remove the diadem (sovereignty), and take off the crown: this [shall] not [be] the same: exalt [him that is] low (Line of Zarah), and abase [him that is] high (Line of Pharez).
21:27 I will overturn, overturn, overturn, it: and it shall be no [more], [overturned] UNTIL he come whose Right it is; and I will give it [him - Shiloh (Gen. 49:10)].
Elizabeth 2 has never been recognized by God as the queen – The TRUTH about the British Monarchy; the "Golden Jubilee" (50 year reign) of the queen who never was and The GOSPEL of The Kingdom.
The British Coat-of-Arms is the Coat-of-Arms of the 12 tribed Kingdom of Israel and Christ their Rightful KING – The Heraldic Symbolism of the Unicorn on the British Coat-of-Arms.
SEE ALSO:
Elizabeth 2 – Not long to reign over us