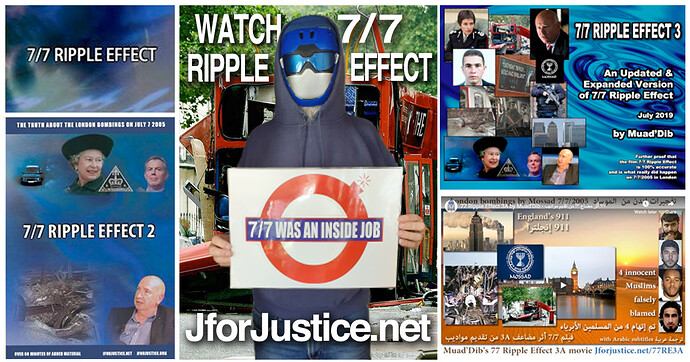 "Regarding the 7/7 attacks in London let's look at the facts, and what we were told, and compare them. Then, using Ockham's Razor and common-sense, let us see what conclusions are to be drawn, so we can all understand what most likely really did happen that day," said Muad'Dib at the opening of 7/7 Ripple Effect, a documentary he produced under the name Muad'Dib, about the terror attack on London being an "inside job".
Muad'Dib is Arabic for "Teacher of Righteousness".
Truth Movements worldwide embraced the film; and thrust Muad'Dib into the spotlight. Not only did it resonate as The Truth to what really happened; the government had to counter it.
Muad'Dib believed that in order to make the 7/7 event "more believable" the government fabricated another lie and planned to convict three Muslims for allegedly being involved in addition to the four Muslims who were murdered that day, with the other victims of the bombings.
Muad'Dib decided to act against this injustice and he sent the film, as an Amicus Curiae Brief, to the Kingston Court where the three men were being tried.
Instead of taking it on as an amicus curiae brief, the government countered by charging Muad'Dib with "attempting to pervert the course of justice."
WATCH THE ORIGINAL FILM THAT HAD EVERYONE UP IN ARMS (just under an hour):
FOR BACKGROUND:
See the Friends of Muad'Dib website – https://mtrial.org/pressrelease/15112010
You can also read this article – https://thedisclosureproject-steelmagnolia.blogspot.com/2011/02/created-07.html
FAST-FORWARD TO LEARN:
The three Muslims being tried at Kingston were found not guilty.

Muad'Dib was also found not-guilty.
If you have not heard Muad'Dib speak of his trial and the shenanigans that went on, this interview is one of the best. You can clearly see he is a very wise man and not afraid of standing up for himself or others.
Muad'Dib also produced later versions to include additional information discovered after the original film was made. Both 7/7 Ripple Effect 2 and 7/7 Ripple 3 are expanded versions of the first, approximately 2.5 hours each; and full of additional information that should shock the hell out of you. The most recent update is 7/7 Ripple Effect 3 with Arabic Subtitles. Please share this version with your Arabic friends.
The films can be found on JforJustice.net at http://JforJustice.net with other relevant information, including how to fight injustice in the United Kingdom.
These films are also available on other platforms, but can be easily watched as embedded videos on JforJustice.net.
7/7 Ripple Effect 2 – https://jforjustice.net/77re2.html
7/7 Ripple Effect 3 – https://jforjustice.net/77re3.html
7/7 Ripple Effect 3A (Arabic subtitles) – https://jforjustice.net/77RE3A/
Before Muad'Dib released 7/7 Ripple Effect 2, he was interviewed by Richard D. Hall of Rich Planet. Here is the segment featuring his comments about the new additions.
Richard D. Hall interviewed Muad'Dib numerous times and on a variety of subjects, including subjects discussed on Defending-Gibraltar, like God's Law; The Stone of Destiny; The Ark of The Covenant; Injustice in the legal system; and the New World Order – which plans to reduce the world's population and enslave mankind in a technocracy before the last and final war.
You'll notice that the movies at J for Justice are similar to the movie V for Vendetta. In the movie, we are told that the government seized power through war, terror and man-made viruses. Well, that sounds about right.
If you've wondered who the Gibraltar Messenger is – here's your chance to watch his films and interviews and familiarize yourself with The Truth he's been telling you for years.
Read also: The Way home or face The Fire at www.thewayhomeorfacethefire.net, which was at one time the most checked-out book at the Gibraltar Library – that is, until a Catholic priest had it removed.
This post is to educate the people of Gibraltar, but you can extract the image above and use 7/7 Ripple Effect film links or JforJustice links, tailoring messages for different worldwide audiences – to remind them that the Real Perpetrators Are Still At Large.