'WE NUKED A TOWN": Media Blackout On "Catastrophic" Environmental Disaster In Ohio Caused By Large Controlled Explosion – Journalists Covering It Arrested
"We basically nuked a town with chemicals so we could get a railroad open," said Silverado Caggiano, a hazardous materials specialist.
Palestine, Ohio looks like a disaster movie.
At around 9 p.m. on Feb. 3, 50 cars of a 141-car Norfolk Southern train derailed in the Ohio town.
Nearly 48 hours after the accident, the situation took a concerning turn when changing conditions within one of the rail cars led authorities to warn of a potential "major explosion." Officials then took quick action, conducting a controlled release of vinyl chloride; on Twitter images of a towering plume of hazardous chemicals were shown to be seen from miles away. An entire town was evacuated, fish and livestock are dying. On Wednesday, residents were told it was safe to return home. But it isn't.
Reporters are being arrested for simply reporting on the train derailment in Ohio which experts are saying is going to be the next Chernobyl.
This is a true environmental disaster. The same evil clowns who detonated this environmental nuke are the same climate fraudsters telling you they are saving the planet.
Biden has made no statement. And no Federal help has been deployed.
https://twitter.com/SAA20107/status/1625071840631611392
DAILY MAIL: Toxic cancer-causing chemicals have been released into the air in East Palestine, Ohio, during a large controlled explosion at the site of the train derailment.

Crews at the scene conducted the release of the hazardous chemicals – including vinyl chloride – from five of the derailed tanker cars that were in danger of exploding just after 3.30pm on Monday.

Two of the five detonated cars that were completely polymerized in the dangerous incident – as the fireball exploded and black smoke wafted through the air.

One of the major causes for concern was the presence of vinyl chloride inside the train. The substance is highly toxic and can cause acid burns in the lungs when ingested.

Authorities have been issuing forced evacuations of the surrounding areas in recent days – warning that there would be hellish shrapnel rain and chemical destruction if the cars were to have exploded on their own accord.

After the pre-emptive controlled explosion, local officials said the fire 'reduced' and the flames became more manageable but that they are waiting for it to cool off to move in.

Ohio Governor Mike DeWine had previously issued a grave warning to residents in the city that sits near the Ohio-Pennsylvania border, saying the fallout could be drastic for those who choose not to heed the warnings.

'You need to leave, you just need to leave. This is a matter of life and death,' said DeWine at a press conference.

'Vinyl chloride in of itself is cancerous. Some of the other stuff is just as bad,' hazardous materials specialist Silverio Caggiano told WKBN.

'The hydrogen chloride is bad enough that when you inhale it, it mixes with the water in your lungs and you could have acid burns in your lungs,' Caggiano said.

Another major cause for concerns is that the burning on the substances released from the train cars will send out phosgene – a highly toxic gas that can cause vomiting and breathing trouble.

The substance is so dangerous it was used as a weapon during World War I.
When Newsmax spoke to Nick Drom, an independent manufacturing engineer, he said, "At this point, the only way that the vinyl chloride would be a major concern at this point though would be if a major amount spilled into a waterway or spilled into a sewer or spill into the ground and wasn't burned."
Conversely, according to Peter DeCarlo, an environmental health professor at Johns Hopkins University, "If there are still residual chemical emissions, then that still presents a danger for people in the area."
One of East Palestine's residents, Eric Whitining, who returned to his home after the evacuation order was lifted, told The Post that some nights the air smells like an "over-chlorinated swimming pool," causing his eyes to burn.
"For a small town, we have to trust them, because what else do we have to do? We have to trust that they are not lying to us."
https://twitter.com/AthenaMia2nd/status/1625136480673824769
https://twitter.com/realstewpeters/status/1625137111845289985
Breitbart reporting:
A federal lawsuit has been launched in the wake of the fiery derailment of a train carrying toxic chemicals along the Ohio-Pennsylvania line last week.

The action seeks to force Norfolk Southern to initiate health testing for residents in both states.

Undetermined damages are also being sought as well as a full insight into the nature of the chemicals released into the atmosphere and water table in the accident.

AP reports the lawsuit filed Thursday by two Pennsylvania residents calls for the rail operator to pay for medical screenings and related care for anyone living within a 30-mile radius of the derailment in East Palestine, Ohio.

About 50 cars, including 10 carrying hazardous materials, derailed Feb. 3 in the village. No one was injured in the derailment investigators said was caused by a broken axle, as Breitbart News reported.

While five of the cars contained vinyl chloride, another five also were transporting unspecified "hazardous materials."
Three days after the accident, authorities decided to release and burn vinyl chloride inside five tanker cars, sending hydrogen chloride and the toxic gas phosgene into the air.
Environmental regulators have been monitoring the air and water in surrounding communities and have said that so far the air quality remains safe and drinking water supplies have not been affected.
The Ohio and federal environmental protection agencies, working with local teams, "established a series of containment measures to help limit environmental impact to local streams and rivers from water runoff from the site," Ohio EPA spokesperson James Lee said in a statement last Wednesday designed to ease local fears of contamination.
This photo provided by the Ohio National Guard, ONG 52nd Civil Support Team members prepare to enter an incident area to assess remaining hazards with a lightweight inflatable decontamination system (LIDS) in East Palestine, Ohio, Tuesday, Feb. 7, 2023. (Ohio National Guard via AP)
Those measures include installing earthen dams "to capture contaminants that may leave the derailment site" and the installation of "high volume aeration stations to help remove contaminants from Sulfur Run" stream, Lee said.
But some residents have complained about headaches and feeling sick since the accident while others demand immediate action to make clear what is at stake.
https://twitter.com/CitizenFreePres/status/1625058486777434112
OHIO TRAIN DISASTER, EXTREMELY TOXIC AND CARCINOGENIC VINYL CHLORIDE CLOUD
VIDEO SHOWS SPARKS OR FLAMES 20 MILES BEFORE TRAIN DERAILMENT IN EAST PALESTINE
"Get The Hell Out Of There" - Ohio's Apocalyptic Chemical Disaster Rages On
the emergency response may become an instance of a cure being worse than the disease it seeks to remedy
Update (1300ET): During a press conference, the NTSB referenced a video from Salem, Ohio, about 20 miles from East Palestine which shows sparks and flames emitting from beneath the train. The apparent structural issue with the train was captured on a security camera when it was travelling through Salem. According to Michael Graham, board member on the NTSB, two videos they had obtained were indicative of mechanical issues attributed to the rail car axles which likely led to the derailment.
The second video obtained from when the train was passing through Salem was recorded by a processing plant nearby a hotbox detector which scans the temperature of the axles as trains pass by. According to Graham, the wayside defect detector reading resulted in an alarm alerting the crew of a mechanical issue shortly before the derailment in East Palestine. Consequently, that alert forced the train to execute an emergency brake application which may have been the cause of the derailment. Presently, the NTSB is reviewing the trains data and audio recordings in order to examine the cause of the derailment and which hotbox detector indicated a mechanical error preceding the accident. The NTSB is expected to issue a preliminary report on its findings within 30 days.
While the US government is dispensing millions of dollars in resources to treat balloons as an existential crisis, a small town in Ohio finds itself engulfed in what actually looks like the apocalypse. Perhaps by design, all of the drama surrounding violations of US airspace by Chinese spy initiatives has done well to keep what is becoming one of the worst environmental disasters in recent memory from getting any headlines.
The chaos began early last week when a train of more than 100 cars derailed in East Palestine, Ohio near the state's border with Pennsylvania with roughly 5,000 residents. The accident launched fifty of those hundred freight cars from the tracks. Twenty of the freight cars on the train were carrying hazardous materials, ten of which were detailed. While the accident had no fatalities, of those ten cars, five contained pressurized vinyl chloride, a highly flammable carcinogenic gas.
In order to address the volatile scenario around the crash site, the Ohio Emergency Management Agency executed its plan of venting the toxic gas with a controlled burn in order to evade an uncontrolled explosion which presented the risk of catastrophic damage. "Within the last two hours, a drastic temperature change has taken place in a rail car, and there is now the potential of a catastrophic tanker failure which could cause an explosion with the potential of deadly shrapnel traveling up to a mile," Gov. Mike DeWine warned in statement explaining the decision to take action to avert widespread devastation.
However, that operation sent large plumes of smoke containing vinyl chloride, phosgene, hydrogen chloride, and other gases into the air as the flames from the controlled burn raged on for days. Phosgene in particular is a highly toxic gas that can cause vomiting and respiratory trouble. The toxicity of phosgene gas is so potent that it was previously used as a chemical weapon during the First World War.
https://twitter.com/DrEricDing/status/1625155991724605440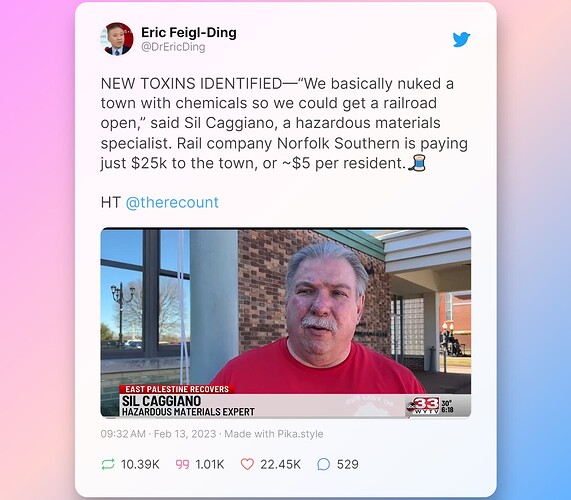 The hazardous airborne chemicals prompted officials to issue mandatory evacuation and shelter-in-place orders within a one-mile radius of where the train derailed. Those orders forced nearly 2,000 residents of East Palestine out of their homes. Despite the public safety risk in proximity to the crash site, over 500 people within the parameters of the evacuation order refused to leave their homes. However, those orders were lifted on February 8th, allowing residents to return to the area adjacent to the disaster.
Following the controlled burn, local authorities received multiple concerning reports from residents outside of the mile-long radius of the evacuation area conveying that the emergency posed by the disaster was far from over. One local farmer reported the sudden deaths of many of the animals on the premises of his farm, Park Dairy. The farmer, Taylor Holzer, also works with the Ohio Department of Natural Resources as a registered foxkeeper. Following the disbursement of chemical agents into the air from the controlled burn, many of the foxes on Holzer's farm experienced fatal effects from the air quality surrounding the area.
"Out of nowhere, he [a fox] just started coughing really hard, just shut down," Holzer recalled to local media outlet WKBN 27 News. "This is not how a fox should act. He is very weak, limp. His eyes are very watery and weepy. Smoke and chemicals from the train, that's the only thing that can cause it, because it doesn't just happen out of nowhere," he added.

"The chemicals that we're being told are safe in the air, that's definitely not safe for the animals…or people."
Holzer's concerns were echoed by reports from other residents who described similar conditions near their own properties. One of those residents was Katlyn Schwarzwaelder, the operator of a local dog kennel in nearby Darlington, Pennsylvania. The catastrophe caused her to leave her home despite the fact that it lies more than 10 miles away from the site of the controlled burn. After fleeing to Boardman, Ohio, 15 miles away from the derailment, Schwarzwaelder stated she received multiple reports of dead chickens, fish, and other animals from friends and acquaintances. One affected resident told Schwarzwaelder that they let their 2-year old dog out to use the bathroom only for it never to return. When they embarked upon a search for their missing pet, they found it dead in their yard.
Testimony from Holzer, Schwarzwaelder, and others paints a drastically different picture than the official narrative tailored by officials who assured residents that the situation was under control. The poor air quality presents short and long term health risks to the public considering the carcinogenic effects of the chemicals. Carcinogens like vinyl chloride can cause cancer in organs including the liver, according to Kevin Crist, a professor of chemical and biomolecular engineering who also serves as the Director of Ohio University's Air Quality Center.
Although officials in charge of the emergency response utilized techniques like dispersion modeling in order to calculate and mitigate the risk of airborne chemicals, the chemicals disbursed following the derailment pose other significant risks of contamination. Chemicals also spilled into the Ohio River toward West Virginia, prompting officials from the neighboring state to shut down water production in the area and turn to alternative sources for water supply. Soil contamination is another significant risk that leaves officials weary of broader implications affecting public health than those associated with the air pollution alone.
However, the magnitude of those risks hasn't been apparently recognized by the leadership across various states affected by the disaster. According to Pennsylvania Governor Josh Shapiro, there were no concerns regarding the air and water quality in the area. Nevertheless, the governor reiterated that a shelter-in-place order remained in effect for Pennsylvanians within two miles of East Palestine. Officials from the Environmental Protection Agency took a similar tone, stating nothing unexpected was seen following the controlled burn. James Justice of the EPA summed up his agencies position by saying "So far, so good and we're going to continue to monitor until the fire's out,".
While the immediate risks presented by a possible explosion following the train's derailment may have been averted, the emergency response may become an instance of a cure being worse than the disease it seeks to remedy. The accidents also brings the state of safety regulations surrounding rail transport of hazardous freight into a new light. Over the last five years alone, eight train derailments have occurred in the Pittsburgh metro area, leading to calls for increased oversight over the industry.
Despite the inherent risk that comes with transporting chemicals like vinyl chloride, the US Department of Transportation approved a rule to expand the scope of what hazardous materials can be transported by rail. The rule made it permissible for liquefied natural gas to be shipped by train without additional safety regulations. This enables freight trains to transport 100 more tank cards with up to 30,000 gallons of the natural gas extracted from shale fields.
"The risks of catastrophic liquefied natural gas releases in accidents is too great not to have operational controls in place before large blocks of tank cars and unit trains proliferate," the National Transportation Safety Board wrote in a comment if support of the proposed rule. In response to that comment, critics of the rule highlighted how a potential explosion of just twenty-two tank cards filled with liquefied natural gas holds the same amount of explosive energy as the atomic bomb dropped on Hiroshima in the waning days of the Second World War.
The ongoing crisis in East Palestine represents an environmental and humanitarian disaster that hasn't been seen in the United States in recent memory. The scenes from East Palestine look as if they're taken straight out of a horror film depicting nuclear winter.
In spite of that, the magnitude of this story has been seemingly scrubbed from the public view as national media outlets continue to run sensationalist headlines about issues that look innocuous in comparison. It is an instance of history being rewritten in real time, setting a precedent that would allow victims of other widespread devastation to be swept under the rug. However, the scenes of the horror engulfing this small town in America's heartland may prove to make this disaster impossible to ignore, rightfully putting the spotlight on the shortcomings of state and federal agencies tasked with emergency response management whose continued lack of accountability enables them to fail the American public time and time again.
More Chemicals Identified in Ohio Train Wreck, Fish and Wildlife Turning Up Dead, Residents Told Safe to Return Home
By Brian Lupo
Published February 13, 2023
On Friday, The Gateway Pundit published a story about a NewsNation reporter that was arrested while shooting a live segment from a gymnasium where Ohio's governor Mike DeWine was addressing a crowd from the other side of the building. In the body cam footage, a National Guard Major General is seen shoving the reporter while a local police officer gets in between the general and the reporter.
NewsNation's Evan Lambert was arrested for covering what happened a week earlier on February 4th, 2023: A Norfolk Southern train derailed in East Palestine, Ohio, effecting some 50 rail cars, 20 of which were thought to be carrying a dangerous chemical known as vinyl chloride. Initially, the derailment led to more than 1,500 Ohioans being evacuated from nearby areas. Over that weekend, the chemicals burning made it too difficult for firefighters and first responders to put out the fire.
On Monday, February 6th, crews "released" the toxic chemicals into the air from at least five of the derailed tankers citing a risk of exploding.
Vinyl Chloride is a dangerous chemical that was released during a 2012 train derailment in New Jersey. According to a WestLake Chemical product summary description:
Vinyl Chloride is a known human carcinogen. Long term overexposure to Vinyl Chloride in humans and laboratory animals has been known to cause angiosarcoma of the liver.
When exposed to open flames, open electrical elements, or electrical arcs, Vinyl Chloride liquid or vapor can decompose to form toxic andcorrosive fumes. Depending on conditions, when Vinyl Chloride is exposed to high temperatures, heat, or ignition, hydrogen chloride gas, which is highly irritating to the nose and throat, as well as trace levels of phosgene gas, may be produced.
It is now being reported that there were more chemicals on board the train. The EPA has sent a letter to Norfolk Southern stating that ethylene glycol monobutyl ether, ethylhexyl acrylate and isobutylene were found in the derailed cars as well.
According to a hazardous materials expert interviewed by local news WKBN:
"We basically nuked a town with chemicals so we could get a railroad open," said Silverado Caggiano, a hazardous materials specialist.

Caggiano says ethylhexyl acrylate is especially worrisome. He says it's a carcinogen and contact with it can cause burning and irritation in the skin and eyes. Breathing it in can irritate the nose and throat and cause coughing and shortness of breath.

Isobutylene is also known to cause dizziness and drowsiness when inhaled.



Residents are taking to Twitter and other social media to document their experiences with the "controlled release": > The massive explosion and poisoning of American citizens should be a much bigger story….why isn't the media talking about Ohio more?

— Alex Stein #99 (@alexstein99) February 12, 2023
Dead fish are being pulled from rivers outside East Palestine, Ohio.
Predictive Programming?
A 2022 Netflix movie filmed in Ohio, WhiteNoise, addresses exactly what just happened in EastPalestine: a train crash with incalculable ecological consequences.
FOOD, WATER, ENERGY AND INFRASTRUCTURE ARE BEING DEGRADED
A Lot of Bizarre "Accidents" Happening In The U.S.
It's called pareidolia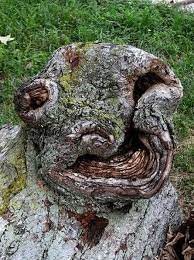 Another False Flag – to destroy? These liars and destroyers don't have that many days left.
The Way home or face The Fire 1:7 Unlike Lucifer, who would have spared no-one, the Lord, in His infinite Wisdom and compassion, decided to demonstrate His love and mercy, to His enemies. God; knowing that Lucifer had invented lying (John 8:44 / King of kings' Bible, John 8:35), and had deceived many weak-willed angels into following him; decided not to execute them immediately, but to give them a chance to learn the ERROR of their ways. If they GENUINELY repented, within a pre-set period of time, He would spare them; if not, He would have no alternative but to destroy them (Malachi 4:6)(John 3:17-18 & 5:24-25).
2 Esdras 8:50 For MANY great MISERIES shall be done to them that in the Latter-Time shall dwell in the world, BECAUSE they have walked in great pride (and in the WRONG direction, including destroying their own environmental life-support system for money). Signs of the Times
Apocalypse/Revelation 11:18 And the nations were angry, and Thy wrath is come, and the Time of the "Dead", that they should be Judged, and that Thou shouldest give reward unto Thy Servants the Prophets, and to the holy people, and them that fear Thy name, small and great; and shouldest DESTROY THEM WHICH DESTROY THE EARTH.
Another "Airborne Toxic Event" – Another Type Brimstone Event?
Rev. 9:18 By these three was the third part of men killed, by the fire, and by the smoke, and by the brimstone (sulphur), which issued out of their mouths.
Isa. 34:9 And the streams thereof shall be turned into pitch, and the dust thereof into brimstone, and the land thereof shall become burning pitch.
Matt. 24:22 And except those days should be shortened, there should no flesh be saved: but for the Elect's sake those days shall be shortened.
If we were to film clouds, or for instance thick smoke for 10 minutes, or hours like the 9/11 event was filmed and then go through the footage carefully we would find hundreds, if not thousands of "faces" and other shapes...
'Inside Job': CDC Changed Toxicity Info on Vinyl Chloride Days Before Derailment
The CDC edited the toxicology profile for vinyl chloride, massively increasing the lethal exposure level and removing information about how the chemical affects children, just two weeks before the train derailment in East Palestine, Ohio that spewed vast quantities of the chemical into the environment.
The CDC update changed the lethal exposure from 100PPM to 100,000PPM. The lethal exposure level had remained the same for 17 years before the CDC decided to update the number just prior to the derailment, where highly toxic chemicals spilled or were burned off, leaving a chemical stench in the air nearly two weeks later.
The catastrophe has been downplayed by Biden administration and the media, and the Environmental Protection Agency has deemed the water "safe to drink" – despite the existing reports of wildlife and pets dying in the affected area.
Now it seems even the CDC is minimizing the effects of the chemicals involved in the crash, one of them being vinyl chloride, a gas used to produce a plastic known as polyvinyl chloride (PVC). According to the National Cancer Institute, vinyl chloride is a carcinogen that has links to different kinds of cancers, including liver, brain, and lung cancers, as well as lymphoma and leukemia.
https://twitter.com/JamesBradleyCA/status/1625959864991117312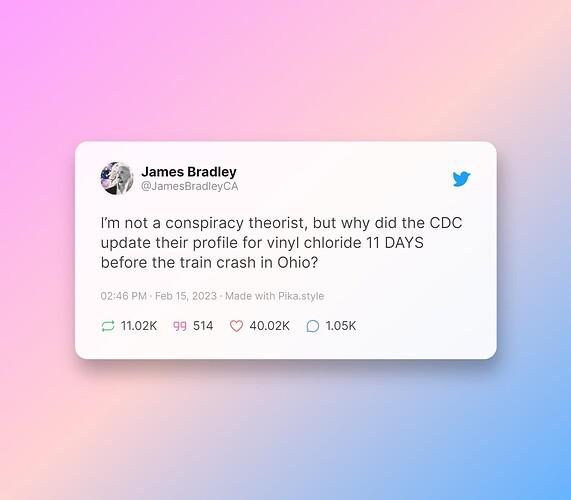 Evie Magazine report: In January 2023, the toxicological profile for vinyl chloride was revised from the original guidelines published in the Federal Register nearly four decades ago – on April 17, 1987, to be exact. While toxicological profiles are updated occasionally, users are alarmed by the odd timing.
The CDC's website page for vinyl chloride was recently modified as well. An archived version displays a longer, more detailed FAQ page before the changes were made. The screenshot below shows a long list of FAQs with additional information. The profile initially had the following sections: "How can vinyl chloride affect children?" and "Has the federal government made recommendations to protect human health?" – but both have since been removed.
The description in the section on children initially said, "It has not been proven that vinyl chloride causes birth defects in humans, but studies in animals suggest that vinyl chloride might affect growth and development. Animal studies also suggest that infants and young children might be more susceptible than adults to vinyl chloride-induced cancer." This sounds like important information, especially since families live in the oil blast zone. So why would they remove this?
Oh, but no worries. The CDC included a new section on how to keep you and your family protected from vinyl chloride. Their recommendation? Limit your exposure to cigar and tobacco smoke. "Tobacco smoke contains low levels of vinyl chloride, so limiting your family's exposure to cigarette or cigar smoke may help reduce their exposure to vinyl chloride," the page writes. Other slight changes were made, as detailed by a user @thedaly on Reddit, and the old FAQ section can be seen here.
The head of the EPA, Michael Regan, walked along a waterway that still smells of chemicals on Wednesday and attempted to convince skeptical residents that the water was fit for drinking and the air safe to breathe around East Palestine.
"I'm asking they trust the government. I know that's hard. We know there's a lack of trust," Regan said. "We're testing for everything that was on that train."
https://twitter.com/ajplus/status/1626220821357412354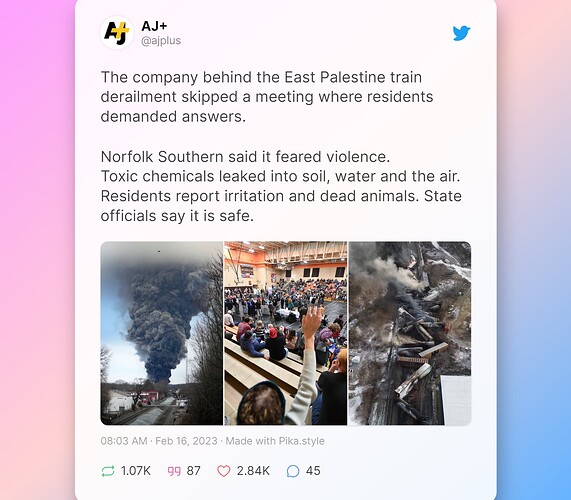 Organizations continue to minimize the risks of these chemicals even when experts have voiced their concerns. Chemical engineering professor, Dr. Eric Beckham, informed NewsNation of the seriousness of these toxins. "It's a suspected carcinogen. Long-term exposure is associated with cancers, particularly of the liver," he said. "Short-term exposures, if they're high enough, it's just toxic – it can harm you and kill you."
Interesting how the CDC, which has spent years promoting a vaccine for a "deadly virus," is now keeping quiet about the health and safety of Ohioans.
Ohio disaster cover up: NOAA removes TWO images of HYSPLIT models from their article – Here they are…
NOAA's Air Resources Lab modeled the distribution of particles from the East Palestine train derailment.
But now the images have suddenly disappeared from the original article… They have been deleted… And everybody knows why… This is one of the worst HazMat disaster in the entire history of the US…
As reported on Reddit:
'Yesterday morning when I came across this news article published by NOAA it had the two HYSPLIT models in the article below the picture of the derailment.
The two pictures the Redditor is speaking about are those now massively shared on social medias and shown below: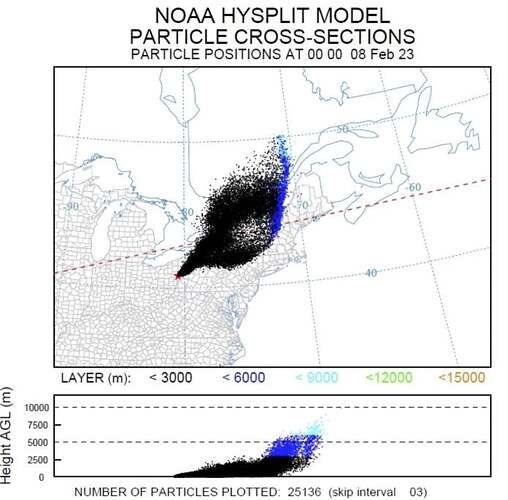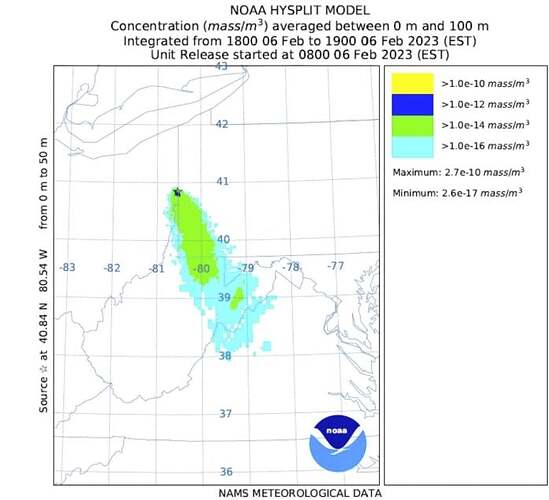 A night later, the Redittor wrote:
'I just looked at the article this morning and the two HYSPLIT models have now been removed from the article for reasons unknown.'
And added:
'I wanted to share this in case anyone looks at the article today and is wondering where the images I posted (and cited according to NOAA guidelines) came from.'
Here is a simulation from the first 4 days of the catastrophe:
Now, you have the story behind those TWO NOAA CENSORED PICTURES circulating around the web…
And have another INDICATION THAT YOUR GOVERNMENT IS NOT WORKING FOR YOU AND IS LYING TO YOU!
You can find much more videos about this major environmental and health disaster on my newsletter…
Was the Train Crash and Chemical Burn in Ohio an Act of Domestic Terrorism?
The train derailment over two weeks ago in East Palestine, Ohio, and the "controlled release" burn-off of hazardous chemicals, is starting to look like it was potentially an act of domestic terrorism.
Many questions are being asked about eerie "coincidences" surrounding the crash, which the federal government has been very slow to respond to, with FEMA originally denying a request for federal assistance, until reversing that decision late yesterday more than two weeks after the crash. (Source.)
Perhaps an exclusive story published earlier in the day yesterday by The Daily Mail out of the UK, highlighting how people were suffering, was instrumental in putting pressure on the Biden Administration.
EXCLUSIVE: Toxic cloud left Ohio family coughing up blood and forced them to flee their newly purchased home as creek water turned blue and wildlife disappeared after chemical train disasterNathan and Kelly Izotic were forced to flee despite living outside the designated 'danger of death' zone created by the February 3 Norfolk Southern derailment The couple revealed wildlife has fled and they now fear their newly bought 15-acre property, two miles from chemical train disaster, may never be repairedThey were forced to leave their East Palestine home the weekend after the environmental catastrophe when they came down with aggressive symptoms
Full article here.
Citizen journalists and Internet Sleuths have uncovered several suspicious events that happened prior to the crash.
Nicole Dominique, writing for Evie Magazine, reported:
CDC Updates Profile For Vinyl Chloride Days Before Ohio Train Derailment, And Removes Section On How It Affects Children
Why did the CDC update its page for vinyl chloride nearly two weeks before the Ohio train derailment? The CDC edited its profile for vinyl chloride just recently, removing a section on how the chemical affects children.
On February 3, a Norfolk Southern Railroad train derailed in East Palestine, Ohio, emitting toxic clouds into the air and water supplies. Officials issued an emergency evacuation shortly after, but residents have since returned home. The catastrophe has been downplayed by the media, and the Environmental Protection Agency has deemed the water "safe to drink" – despite the existing reports of wildlife dying in the affected area.
Now it seems even the CDC is minimizing the effects of the chemicals involved in the crash, one of them being vinyl chloride, a gas used to produce a plastic known as polyvinyl chloride (PVC). According to the National Cancer Institute, vinyl chloride is a carcinogen that has links to different kinds of cancers, including liver, brain, and lung cancers, as well as lymphoma and leukemia.
In January 2023, the toxicological profile for vinyl chloride was revised from the original guidelines published in the Federal Register nearly four decades ago – on April 17, 1987, to be exact. While toxicological profiles are updated occasionally, users are alarmed by the odd timing. The last profile for vinyl chloride was released in 2006, 17 years ago. It's strange that they drafted it again in January 2023, just weeks prior to the catastrophe in East Palestine.
The CDC's website page for vinyl chloride was recently modified as well. An archived version displays a longer, more detailed FAQ page before the changes were made. The screenshot below shows a long list of FAQs with additional information. The profile initially had the following sections: "How can vinyl chloride affect children?" and "Has the federal government made recommendations to protect human health?" – but both have since been removed.
·
I'm not a conspiracy theorist, but why did the CDC update their profile for vinyl chloride 11 DAYS before the train crash in Ohio
Another event that happened prior to the train wreck, was that East Palestine began to roll out a new program called MyID, apparently sponsored by the Fire Department, as a "medical information system that helps first responders provide care."
MyID is a "wearable device" that contains a QR code.
A small device is ready to be used in a small town to make a big impact.

East Palestine is excited to make an important medical device available to all 4,700 residents. On Sunday, there will be a special meeting to share more or start signing up.

The MyID program is ready to roll out in East Palestine. It's a medical information system that helps first responders provide care.

"It gives us that rapid information that we may need should somebody be unresponsive or having some kind of medical emergency," said East Palestine Fire Chief Keith Drabick.

MyID provides wearable devices or key FOBs that have QR codes. Emergency responders use a camera phone to access important medical information. It shows them the underlying medical conditions people have supplied about allergies, medications and emergency contacts. That information could impact treatment decisions if a person can't say it.
Remember, today "data" is the new religion with private companies rushing to create more technology to gather all of your personal data.
The other event that happened prior to the crash, is that a Netflix film called "White Noise" was released in 2022, that dramatized almost the exact same train crash and release of toxic chemicals in Ohio.
The book-to-movie adaptation, White Noise, was released on Netflix in December 2022 – less than two months before the real catastrophic event in East Palestine occurred. The motion picture, which had a budget of $100 million, stars Adam Driver as "Hitler studies" chairman and professor Jack Gladney. The novel was published in 1985 and was written by author Don DeLillo.

The plot begins in the 1980s at College-on-the-Hill, Ohio. The setting in the book, however, is unidentified – and it's unknown why movie producers chose Ohio for the film. While White Noise wasn't shot in East Palestine, it was filmed in multiple towns in the state. In the movie, a cataclysmic train derailment casts a harmful cloud of toxic chemicals into the sky, forcing residents to evacuate. Interestingly – like in real life – the main characters come across a man complaining about the lack of media coverage. (Source.
I have all the evidence that this was possibly an act of domestic terrorism in this video compilation which is less than 10 minutes long.
This is on our Bitchute channel, and will also be on our Odysee and Telegram channels.