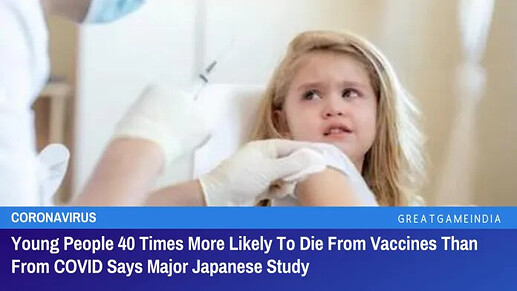 A major Japanese medical bulletin has warned that the risk of dying from the COVID-19 vaccine for people in their 20s maybe 40 times higher than the disease itself.

It was found that the risk of death of the vaccine might even be as astronomically high as 40 times more for the young, This was claimed by a review in the latest issue (read below) of Med Check which is a bimonthly bulletin published by the Japan Institute of Pharmacovigilance (NOPJIP) as a member of the International Society of Drug Bulletins (ISDB).

Regarding the reported deaths of individuals between the ages of 20 and 29 within one or two weeks after receiving the vaccination, Med Check estimates the death rate for that age at 3.2 deaths per each million doses administered.

One of the deaths apparently caused by the vaccine included the death of a 27-year-old professional baseball player. The player, after eight days of getting the COVID vaccine, collapsed and later died post a month long hospital battle.

The bulletin suggested that the death toll could potentially be higher, partly because the Japanese government only requires reports of suspected injuries within 28 days of the vaccination. As of October 15, the Japanese Ministry of Health, Labour and Welfare had received a total of 1,308 reports of deaths from COVID vaccination.

Continued at the link.