Del Bigtree, The Highwire, interviews Dr. Michael Yeadon, former Pfizer VP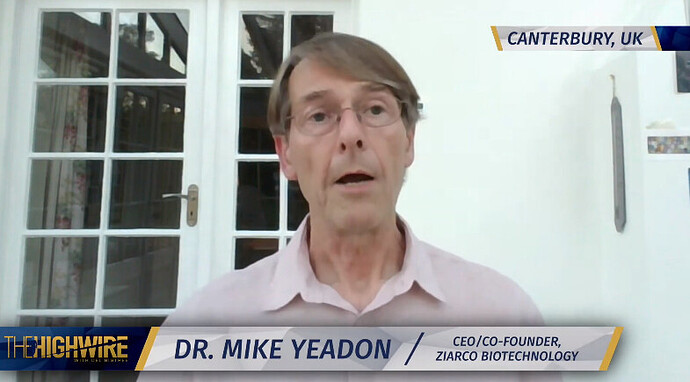 Former Pfizer VP and Virologist, Dr. Michael Yeadon, is one of the most credentialed medical professionals speaking out about the dangers of the Covid19 vaccines, yet it has fallen on deaf ears. With great honor, The HighWire gives Dr. Yeadon the floor to break down his "list of lies" that keeps him up at night, when it comes to lockdowns, masks, PCR testing, natural immunity, and why he thinks our health leaders have abandoned science and reason.
Dr. Yeadon clearly explains:

Covid-19 mortality is no worse than that of a bad flu season
Why the variants pose no conceivable threat
Lockdowns do NOT work and should never have been attempted
PCR tests are NOT effective in diagnosing infectious disease
Face masks do NOT offer any significant protection, and in fact cause harm
How the vaccines are causing blood clots
Why Covid-19 vaccines are "the most dangerous vaccines ever"
We all have a duty to reject vaccine passports
And SO much more.
BOMBSHELL! Former Pfizer VP: 'Entirely possible this will be used for massive-scale depopulation'
Halt Vaccine Passports! It's illegal, medical apartheid
Depopulation: Pure, Unalloyed Evil