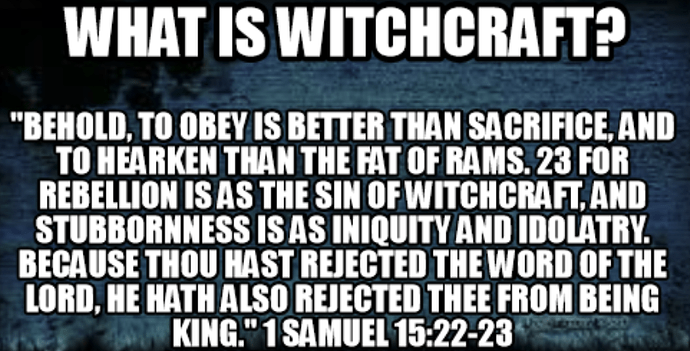 Exodus 22:18 Thou shalt not suffer a witch to live.
Samuel 15:23 For rebellion [is as] the sin of witchcraft, and stubbornness [is as] iniquity and idolatry. Because thou hast rejected the word of the "I AM", He hath also rejected thee from [being] king.
2 Chron. 33:6 And he caused his children to pass through the fire in the valley of the son of Hinnom: also he observed times, and used enchantments, and used witchcraft, and dealt with a familiar spirit, and with wizards: he wrought much evil in the sight of the "I AM", to provoke Him to anger.
Sura 21:1-4
21:1. Closer and closer to mankind comes their Reckoning: yet they heed not and they turn away.
21:2. Never comes (anything) to them of a renewed Message from their Lord, but they listen to it as in jest,-
21:3. Their hearts toying with trifles. The wrong-doers conceal their private counsels, (saying), "Is this (one) more than a man like yourselves? Will ye go to witchcraft with your eyes open?"
21:4. Say: "My Lord knoweth (every) word (spoken) in the heavens and on Earth: He is the One that heareth and knoweth (all things)."