"A WORLD WIDE STRIKE AGAINST COVID MANDATES NOVEMBER 8 TO 11"
Interview with Patriot Leigh Dundas explains calling for a STRIKE AGAINST COVID MANDATES NOVEMBER 8 TO 11 and more. Also, Attorney Leigh Dundas knows first hand about fighting against human-trafficking. Listening to her will be an eye-opener. Take the time, if you are able, to listen to this interview in full.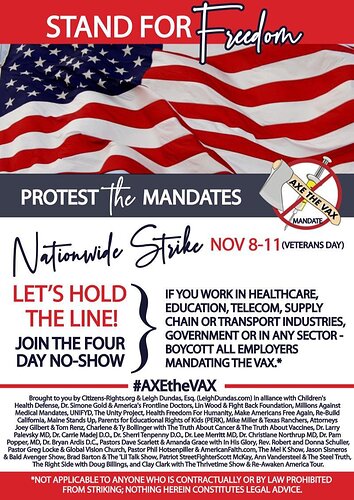 Thank you for sharing. Also RFK JR. Is calling for world wide protests November 3rd.
Something tells me, as I strive to be hopeful and positive, that the oppression of vax mandates will soon be behind us. I really hope so. This is in part related to the two calls for resistance as seen in the flyers. The article, as well, is very inclusive and references the many reasons for refusing it.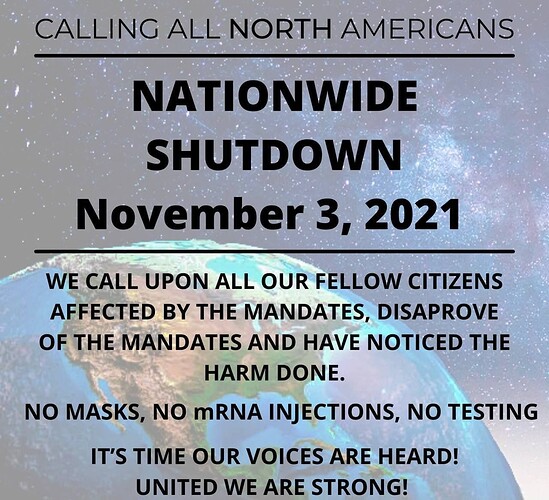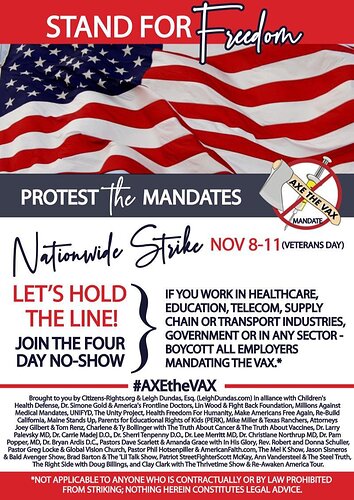 17 More Reasons I Won't Be Getting a Covid Vaccine
It will all one day be behind us, for now...
the fight is on...
WORLDWIDE WALKOUTS
Here is a link to some
Events – Kick-Off November 3rd
Arizona
California
Florida
Illinois
Illinois / Iowa
Massachusetts
Michigan
Minnesota
Missouri
Nebraska
New Jersey
New York
Ohio
Oregon
Pennsylvania
Texas
Virginia