The Centre of Excellence in Responsible Gaming (CERG) at the University of Gibraltar is seeking to recruit the following researcher positions:

CERG Associate Researcher
CERG Researcher
CERG Researcher/Senior Researcher in Neuropsychology

Applicants are expected to have research interests in gambling behaviour, which may include studying the etiology of problematic gambling and gambling disorder, understanding the mechanisms of gambling-related risks and harm, developing assessment tools to measure individual, familial or societal harm related to gambling, developing and evaluating interventions that might reduce harm related to these behaviours. Research interest and experience in other technology-related problem behaviours (e.g., problematic video game use) could be an advantage.

The researcher and senior researcher positions are open to individuals with a PhD who have a strong track record of research in this topic area, as evidenced by scholarly work and external funding.

The associate researcher position is open to individuals with a PhD or for those whose PhD defence date precedes the starting date of this position (1st January 2022).
As a reminder - Gaming Addiction was Covered in -
GIBRALTAR'S GAMBLE WITH 5G – 4 – SECTION 4 – PHE versus The CHALLENGERS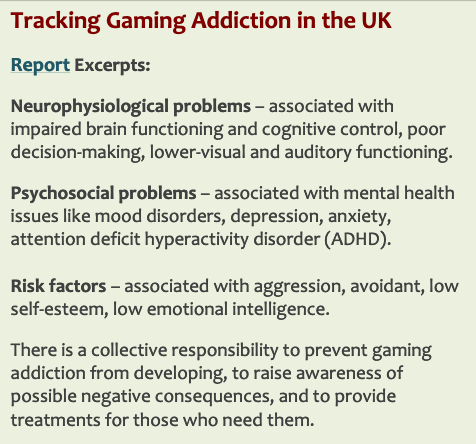 See also: