Bearing Witness to Vaccine Injury in the UK – VACCINEINJURY.UK
There are two sides to every story. But when one side is not only blocked but also suppressed, is TRUTH found?
We've been inundated with coordinated propaganda from authorities – political, health, NGO and media – to guide us to believe only their side – vaccines are safe. Hearing only one side in a courtroom wouldn't be allowed; and it shouldn't be allowed in our daily lives.
The truth is Brits are being harmed from all kinds of vaccines as reported by Vaccine Injury UK. While you probably didn't hear about this vigil in June – and it was small compared to some other protests in London – its message was BIG.
The UK Vaccine Injury community has peacefully marked 3rd June since 2016. Last year, we delivered documents to the Department of Education, the MHRA and the DWP. This year we held a vigil near the BBC, displaying evidence of harm such as over 200 dark glasses, for example, representing UK reports to MHRA of 212 cases of blindness after a Covid vaccine.

The MHRA have received over 1,200 reports of death soon after a COVID vaccine, 8 every day on average... It's worth noting that the MHRA's medicines regulation is fully funded by the pharmaceutical industry.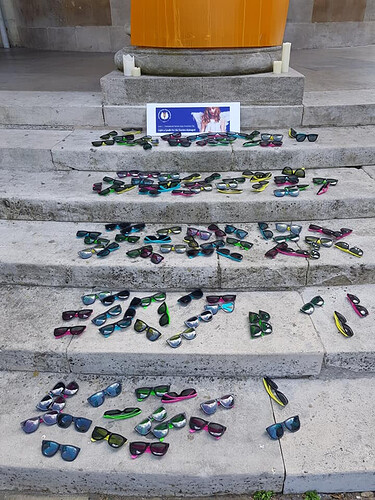 Image from Vaccine Injury UK Facebook page.
Vaccine Injury UK's Louise Fisher – Not On The BEEB with a 10-min report on the vigil not covered by the BBC. This YT channel has over 4000 subscribers but so far this nicely-done video is the only video up.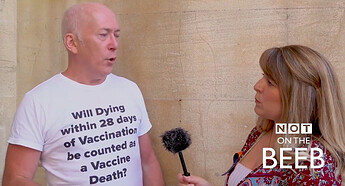 It is up to us to search for the truth.
While we won't find the thousands upon thousands of adverse reactions highlighted in mainstream media – alternative news sites like the Daily Expose, keep up on the Medicines and Healthcare Products Regulatory Agency (MHRA) reports. Vaccine Impact reports on the European Union database EudraVigilance.
Authority does not equate with truth, but Truth should be Authority.
You may also be interested in this FB page – Vaccine Awareness Gibraltar
Are Gibraltarians brave enough to share their vaccine adverse reaction stories? We know they are happening; and are being shared privately as Gib is a small connected community.
Deut. 19:15 One witness shall not rise up against a man for any iniquity, or for any sin, in any sin that he sinneth: at the mouth of two witnesses, or at the mouth of three witnesses, shall the matter be established.
Think about the Parable of the Persistent Widow Luke 18:1-8. Will The Son of Man also avenge the Persistent Mothers, Brothers, Sisters, Dads and Friends of victims of vaccine injury?