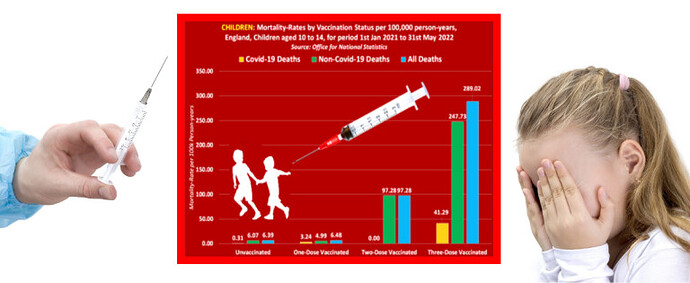 The latest dataset from the ONS is titled 'Deaths by Vaccination Status, England, 1 January 2021 to 31 May 2022', and it can be accessed on the ONS site here, and downloaded here.
Table 6 of the dataset contains data on deaths involving Covid-19, deaths not involving Covid-19 and all-cause deaths by age group in England between 1st January 2021 and 31st May 2022, and it includes the number of deaths among children aged 10 to 14 by vaccination status, and teenagers aged 15 to 19 by vaccination status.
However, it is quite clear from the data that the ONS are not being as transparent as we would like to believe. This is because they fail to provide the death rate per 100,000 person-years among children or teenagers, whereas they have provided it for all other adult age groups in every other table contained in the dataset.
For example, here's a snapshot of the data from table 1 of the dataset showing the death rate per 100,000 person-years by vaccination status in April 2022 –

Continued at link.