A copy of the 191 pages (14MB) filing is available at https://303.fi/tmp/vcc-statement-of-claim-2020-redacted.pdf
E.g. first page: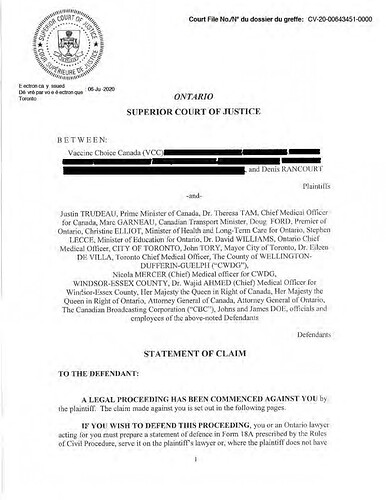 Rocco Galati & Dr. Sherri Tenpenny on current world events
In this video from Sept. 21, Rocco Galati brings up some interesting numbers about the transfer of wealth this covid 19 hoax has delivered upon humanity. In regards to the Canadian Govt., 5 trillion, is equivalent to $6,872,000 a day for every day of the year since Christ was crucified. This scheme to vaccinate over 7 billion human beings = $90 trillion dollars which means, $127 million a day or $1/2 million dollars an hour for 2 thousand years, a wealth transfer that is unimaginable.
Dr. Reiner Fullmich Starting Litigation on Validity of PCR Test
Those of you who remember the Berlin protest on 29th August, 2020 featured Robert F. Kennedy Jr. Well this speech of Dr. Reiner Fullmich flew under the radar at the time ... UNTIL NOW!!
Here is Claudia translating a speech made by Dr. Reiner Fullmich…