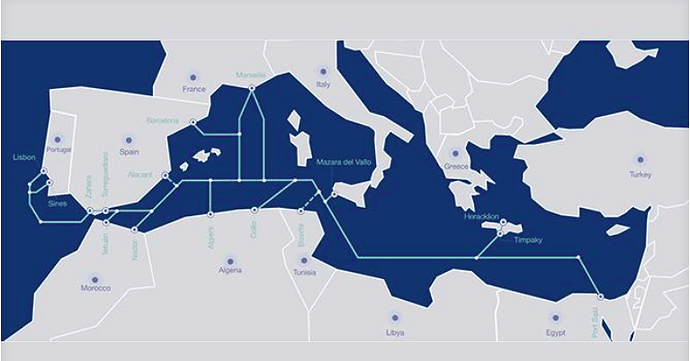 The underwater cable of the Medusa project arrives in Campo de Gibraltar.
This is the largest fibre optic connection in the Mediterranean, which will have two connection points in Atlanterra and Torreguadiaro.
AFR-IX Telecom (based in Barcelona) and Alcatel Submarine Networks (ASN, part of Nokia) are installing the Medusa underwater cable to connect southern Europe and North Africa with fibre optics, which now passes through the Strait of Gibraltar.
The project involves an investment of 326 million euros and will be "the longest fibre optic submarine cable in the Mediterranean".
Spain will have three connection points, two of them in the region, in Tarifa (Zahara de los Atunes was planned) and in San Roque. They are stations located around the Strait of Gibraltar, in addition to the Barcelona Cable Landing Station (Barcelona CLS).
Today, Monday, following its publication on Friday in the Official Gazette of the Andalusian Regional Government (BOJA), the period for public exhibition of the concession for the occupation of maritime-terrestrial public domain property in San Roque requested by AFR-IX Telecom, S.L.U. for the installation of the underwater fibre optic cable of the Medusa project, with landings at Atlanterra beach, in Tarifa, and at Torreguadiaro beach, in San Roque, opens today.
The cable will also strengthen communications between the Mediterranean and the Atlantic Ocean, and will link the main Mediterranean islands such as Sicily and Crete. It will start in Lisbon and end in the Egyptian city of Port Said, passing through Mediterranean countries, with 16 landing points in countries such as Portugal, Morocco, Spain, France, Algeria, Tunisia, Italy, Greece and Egypt. The new generation cable is expected to be operational in 2024, with the activation of the first section connecting Lisbon, Barcelona and Marseille.
It will reinforce the underwater fibre optic cable network in the face of a growing demand for data traffic - increasing by 40% per year - and in a context where underwater cables support 98% of internet traffic. It will make it possible, for example, for the latency of the connection between Barcelona and Sicily to be only 5.57 milliseconds.