Biden = more regulations, more rules. more fines, more mandates, more taxes, more restrictions.
Biden also plans to regulate the internet: from https://joebiden.com/gunsafety/#
"
Establish a new Task Force on Online Harassment and Abuse to focus on the connection between mass shootings, online harassment, extremism, and violence against women. As President, Joe Biden will convene a national Task Force with federal agencies, state leaders, advocates, law enforcement, and technology experts to study rampant online sexual harassment, stalking, and threats, including revenge porn and deepfakes — and the connection between this harassment, mass shootings, extremism and violence against women. The Task Force will be charged with developing cutting-edge strategies and recommendations for how federal and state governments, social media companies, schools, and other public and private entities can tackle this unique challenge. The Task Force will consider platform accountability, transparent reporting requirements for incidents of harassment and response, and best practices. "
Of course they will define what extremism is.
46. Guns – Your God Given Right
September 8, 2014 · by . · in Social
The legislation that restricts or prevents your God given right to gun ownership is fraudulent. Easily defend yourself against their lies – Jforjustice.net "Challenge" (British countries) & bulletprooflaw.wordpress.com. (Rest of world – Jurisdiction Challenge).
The New World Order's goal is to reduce the world population to 500 million (as per their Satanic Georgia Guide Stones) by killing everyone off, which is why they want to disarm everyone. But the author at the JAHTruth.net/plan site has exposed who they are, and has found their Achilles' heal. They are all bound by the 1953 Coronation Oath, which guarantees your right to guns etc. See the above two sites.
FIREARMS PURCHASES REPORTEDLY BEING BLOCKED BY CREDIT CARD COMPANIES
"Charge declined RESTRICTED CARD Customer bank does not allow this card to be used at this type of merchant."
The latest fascist approach to attacks on businesses and the right to keep and bear arms sounds like Operation Chokepoint 2.0. Remember when the usurper-in-chief, Barack Hussein Obama Soetoro Sobarkah, and his Justice Department started to target certain "risky behavior," among which was the purchase of firearms? Well, it's happening in "Obama's third term" under the illegitimate sniffer-in-chief, Joe Biden. Several reports have surfaced where credit card companies are denying firearms purchases.
Zero Hedge reports:
Gun rights advocates warned that a new change to the credit card industry to add a firearm and ammunition-specific Merchant Category Code (MCC) for gun stores wasn't about tracking guns necessarily, but could lead to the denial of lawful firearms purchases by law-abiding citizens.
In September, Visa, Mastercard, and American Express all said they would adopt the MCC code to categorize sales at gun shops; months later, several social media posts of alleged gun stores and customers claim they experienced card issues.
Twitter account "Battlecock Tactical" tweeted, "Federal Firearms License [gun shop] in a Facebook group shared this. Looks like the doomers accurately called how that new firearms merchant code would go down."
Battlecock Tactical's images show what appears to be a retail POS system at an FFL that reads $913.70 transaction was "declined." The error code on the merchant's computer read:
"Transaction declined: Charge declined RESTRICTED CARD Customer bank does not allow this card to be used at this type of merchant."
Someone with the handle "AnarchyCoiner" tweeted:
"I had this happen with my PayPal credit card. I tried to use it to buy ammo at my local FFL and it was denied."
Another person said:
"Tried to buy a psa dagger slide a bit ago and had the same issue ordering from their website with my debit card – credit card let me order tho."
And perhaps the gun advocates were right from the get-go…
As credit card companies were rolling out the new code in mid-September, National Shooting Sports Foundation lawyer Lawrence Keane explained:
"It was never about gathering data to aide law enforcement. It is, and always has been, a concerted effort to pressure credit card companies to deny lawful purchases of firearms and put every single gun purchaser on a watchlist."
Could these be some of the first examples of backdoor anti-gun policies enforced through big corporations?
Sad realization is; they already have the child in their grips by parents allowing the toddler to have a phone, the phone is the killer and no gun can protect from it's use to kill.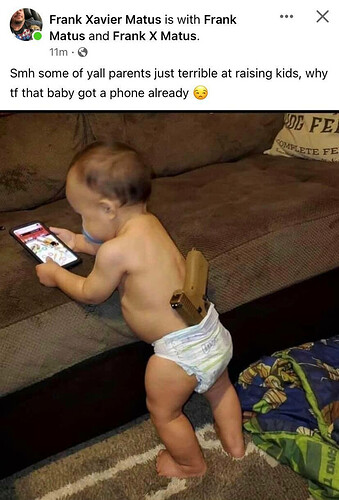 Global Elites Goading Americans Into Violence Against Transsexuals
The official story of the Nashville shooting does not add up
Transgender Colorado woman, 19, is arrested over plot to shoot up THREE schools and churches by cops who found detailed plans and communist manifesto four days after Nashville massacre
A transgender teen was arrested after she allegedly plotted to shoot up three of her former schools
William Whitworth, 19, who goes by Lilly, was arrested just four days after the recent massacre in Nashville
Among her possessions, police found a 'kill list' and a copy of The Communist Manifesto
A transgender teen is in custody after authorities say they recovered a manifesto detailing her plan to attack three schools and churches in Colorado just four days after Audrey Hale murdered six people at the Covenant School in Nashville.

William Whitworth, 19, who goes by the name Lilly and is referred to with female pronouns in arrest documents, was arrested on March 31. She was a student in the school district that she planned to attack between 2014 and 2016, authorities say.

In a manifesto that was recovered in her home, Whitworth called Columbine killers Eric Harris and Dylan Klebold 'losers,' said that Sandy Hook shooter Adam Lanza was 'smart' and that ex-President Donald Trump was a 'con man.' She was also in possession of The Communist Manifesto.

The suspect is charged with two counts of criminal attempt to commit murder in the first degree, criminal mischief, menacing and interference with staff, faculty or students of educational institutions.

Police were called to Whitworth's home by the suspect's sister who reported that the suspect was exhibiting violent behavior and making threats. Someone at the home told responding officers that Whitworth was 'very upset' and had 'punched holes in a wall.'
50 kids playing outside at the time, but apparently did not see them, so had to break in for the crime. Some of the children went home and told their parents "there was a golden dome over the playground today" - Father protecting them