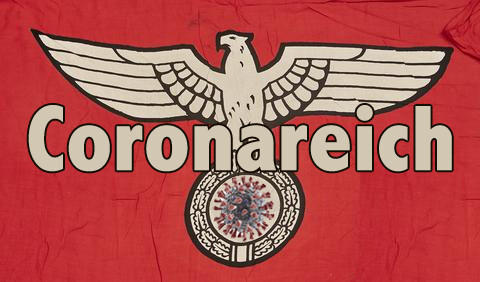 by Ross Nelson

"It's very hard to not adopt the conspiracy notion that the Coronareich is all about control, not our health...

People were beginning to resist its despotism, small businesses were beginning to thrive somewhat (large corporations battened on the pandemic all the while)...

Omicron. Be patient, folks. The Greek alphabet still has 20 letters to go...

For those with eyes to see, there's a world of data out there which throws doubt on many of the Coronareich's claims. Do vaccines work? CDC Director Rochelle Walensky, looking at all of the vaccines' quick waning and hence ineffectiveness, remarked that the U.S. "may need to update" what full vaccination means...

But transmission is the whole purpose of vaccination of small children, since they're already virtually immune to serious COVID effects. So what's the point of vaccinating everyone if transmission is inevitable, other than tyranny?

Austria, appropriately the home of the new Fourth Reich, will mandate full (whatever that means) vaccinations for everyone or levy huge fines. Two-thirds of its population is vaccinated but COVID is still on the rise. One might think that the higher the vaccination rate the lower the infection and serious illness rates—not on a one-to-one ratio since no vaccine is perfect, but to have some significant effect. Vaccines have failed in places such as Gibraltar with a 99% fully vaccinated rate but is now in the midst of a large upward spike in cases. Or Singapore and Denmark. Or Vermont, with its 71% vaxxed rate, still having its highest single-day caseload ever on Nov. 10th.

Read entire opinion piece at the link.