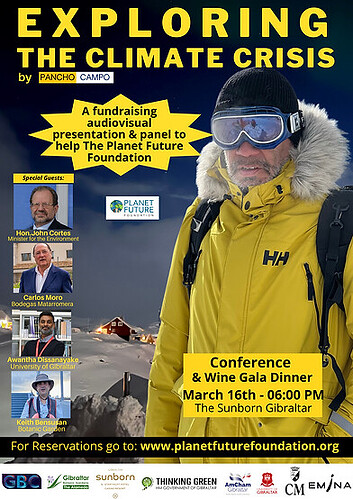 The Planet Future Foundation, an international non-profit organisation registered in Florida will premiere a documentary at the conference on the impact of climate change on Gibraltar.
On March 16th, 2023, at the Aurora Ballroom of the prestigious Sunborn Hotel, Pancho Campo will show the data collected in the expeditions and the amazing video footage recorded about the impacts of the climate crisis. Most importantly, he will show the solutions being implemented in different parts of the world.
Join us on March 16th at the Aurora Ballroom of the Sunborn Hotel in Gibraltar for the "Exploring the Climate Crisis Panel & Wine Gala Dinner" featuring Pancho Campo, President of Planet Future Foundation and host of Planet Future Documentaries. With a panel of 4 local experts, including Hon. John Cortes, Minister for the Environment, and a moderator discussing sustainability initiatives, this event will inspire and educate.
This is a fundraising event to help our Foundation to continue organizing expeditions around the globe to study the climate crisis and to produce more documentaries.